Who's Speaking at BizBash Live: The Expo, South Florida
A new lineup of speakers will educate attendees at the Event Innovation Forum and Workshop Series on May 25.
May 6, 2016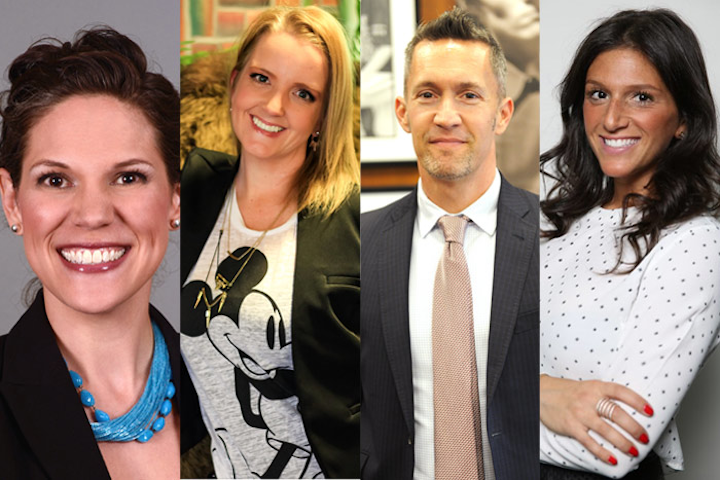 Photos: Courtesy of Speakers
From creating attention-grabbing brand activations to developing successful social media strategies to upping your wedding-planning game, sessions at BizBash Live: The Expo, South Florida, are designed for a variety of event planners coming to the Greater Fort Lauderdale/Broward County Convention Center on May 25.
The Event Innovation Forum, a single-track education conference, and the Workshop Series, a collection of hour-long seminars, will tackle a variety of topics, from fund-raising to sponsorship, as well as introduce thought-provoking subjects such as how to design an event for an introvert versus an extrovert. Registration for the Event Innovation Forum and the Workshop Series includes admission to the trade show floor.
EVENT INNOVATION FORUM
The Anatomy of an Immersive Experience
Ivan Druzic, creative director, Mosaic
Matt McCoubrey, vice president/creative director, Mosaic
Truly immersive experiences are disruptive and stimulate each of the five senses. And when done right, they are one of the most effective ways to capture and keep the attention of audiences today. In this session, Ivan Druzic and Matt McCoubrey of Mosaic, an experiential marketing agency, will share how they created a feast for the senses by reimagining what a meal could be for the Stella Artois brand. Druzic and McCoubrey will explain what they call sensory architecture, and the important steps needed to create immersive, unexpected experiences that engage without overwhelming attendees.
What Event Pros Can Learn From the World of Weddings
Julie Lindenman, senior event producer, Colin Cowie Celebrations
Whether designing a conference, marketing activation, fund-raising gala, or wedding, event producers all share the same goal: to create a lasting impression that's meaningful to attendees. In this session, Julie Lindenman, senior event producer at Colin Cowie Celebrations, will share the techniques she applies to all her events. From putting the attendee first and making sure the goal of the event is understood by everyone involved to paying attention to the smallest of details while keeping an eye on the big picture, Lindenman will share the important steps industry professionals should keep in mind when crafting memorable live experiences.
What Event Sponsors Really Want
Barbara Cobas, director of special events, trade marketing, and trade strategy, Royal Caribbean International
The ever-changing nature of technology, the greater emphasis on R.O.I., and the need to grab event guests' attention in person and online all show that sponsor expectations are constantly changing. In this session, Barbara Cobas—the director of special events, trade marketing, and trade strategy at Royal Caribbean International—will share how she and her team view sponsorship for the cruise line's signature events. Whether hosting 6,000 partners onboard the newest and largest ship at sea or 30 V.I.P.s on the Great Wall of China, she will share how her team is always striving for innovation. Cobas will explain why today's sponsors seek custom opportunities rather than "value meal" menus, where industry professionals can rethink programs to attract big brands while still providing value, and how organizers can develop long-term relationships with sponsors.
Experience Mapping: Rethinking the Attendee Journey
Kristine Yapp, event marketing manager, Twitter
As events become an integral part of marketing strategies, creating fresh and innovative experiences is more important than ever. Join Kristine Yapp, event marketing manager at Twitter, as she explores experience mapping and shares how to take your event attendees on a journey. Yapp will share insight into identifying gaps in event strategies, ensuring attendees are engaged throughout the entire experience, and important touch points to create a thorough customer journey.

Introvert vs. Extrovert: Creating Experiences for Every Personality
Sharon Fisher, C.E.O. and chief ideasparker, Play With a Purpose
When designing live experiences, today's organizers have to keep in mind the needs of different generations, learning styles, and attention spans. But what about personalities? Events and meetings attract all kinds of characters, which includes both social butterflies and wallflowers. In this session, Sharon Fisher, C.E.O. and chief idea sparker at Play With a Purpose, will share insight into how to mindfully turn meetings and events inside out and upside down, accommodating different personality styles in truly inclusive ways. Fisher will explore how white space, experience excursions, wall walking, and other engagement techniques can help event and meeting professionals create an environment that will appeal to all characters, charging and recharging each individual.
Is This the Future of Fund-Raising?
John Clark, vice president of development, National YoungArts Foundation
The world of fund-raising and nonprofit events is continuously changing with the emergence of new technologies, increased competition, and numerous entities striving to capture the attention––and dollars––of a limited population. In this session, John Clark, vice president of development at the National YoungArts Foundation, will discuss the shifting landscape of fund-raising events, and how YoungArts is finding success by focusing on mission-driven events. Clark will discuss how to cultivate philanthropy and long-term sustainability, ways to focus on a new generation of donors, and important goals every fund-raising professional should consider not only reaching, but also surpassing.
What's Missing From Your Experience Technology Strategy?
Christina French Houghton, senior strategist, Jack Morton Worldwide
Joe Panepinto, senior vice president and head of strategy, Genuine
Creating live experiences with technology seamlessly woven throughout isn't about creating a separate strategy for activating the latest app, social media channel, mobile gadget, or other digital elements. It's about understanding that technology is, and always has been, a powerful way of meeting people's needs, hopes, and desires and must be an intrinsic part of event strategy. In this session, Genuine's Joe Panepinto and Jack Morton Worldwide's Christina French Houghton will explore how industry professionals can uncover new ways to add value and meaning by fusing human empathy, creativity, and technology from the outset. Houghton and Panepinto will discuss their four key principles of technology-mediated experiences, sharing case studies on how to integrate digital-experiential thinking through their work with leading brands including Reebok.
WORKSHOP SERIES
Delivering a Budget to Impress Your Client, Team, and Boss
Howard Givner, founder and executive director, Event Leadership Institute
A strong budget is one of the most important tools in a planner's arsenal, yet most event organizers struggle to master this crucial skill. In this workshop, Howard Givner, founder and executive director at the Event Leadership Institute, will share important budgeting techniques to ensure that events stay on track. Learn tips on tracking various expenditures, deciphering between fixed and variable costs, creating formulas, and designing comprehensive layouts. In addition, he'll also discuss how to calculate the difference—in dollars and percentages—between the current year and prior year, as well as the actual budget and the projected budget.
How to Spread Your Event Message Across All Social Media Platforms
Terra Spero, C.E.O. and co-founder, RealTime Marketing Group
As social media has allowed events to increase reach, businesses have begun to shift nearly 25 percent of their marketing budgets to support events. Now an integral part of the planning process, incorporating a social media strategy and creating key social moments have revolutionized the event experience. In this workshop, Terra Spero, C.E.O. and co-founder of Real Time Marketing Group, will discuss new ways to increase event reach across social media platforms, including tapping into newer channels such as Snapchat and Periscope and expanding a brand's presence on the more established platforms. Discover new ways to stretch your budget across the social realm and engage attendees before, during, and after each event.
The Sponsor Checklist: Are You Delivering What Your Client Wants?
Nancy Stewart-Franczak, executive director and co-owner, Festival Management Group
Sarah Vallely, assistant executive director, Festival Management Group
Sponsorships are more than just a logo on a step-and-repeat; they have evolved into activations, integrations, and experiences, becoming make-or-break factors in a live event. Nancy Stewart and Sarah Vallely of the Festival Management Group have this down to a science—from understanding sponsor needs, objectives, and goals, to evaluating every asset to ensure maximum exposure and revenue. Listen as Stewart and Vallely share steps every event organizer must implement to amplify sponsor value, uncovering new ways to create multi-year packages that will keep sponsors engaged and returning year after year.
Tapping Into Your Creativity: Rethinking the Brainstorming Process
Audrea Hooper, head of fungineering, Zappos
Brainstorming is one of the most powerful tools in an event organizer's arsenal, serving as a catalyst for creativity, innovation, and broadening perspectives. Audrea Hooper, head of fungineering at Zappos, and her team have mastered innovative techniques to keep ideas fresh and the creative juices flowing to improve company events. In this interactive workshop, Hooper will share hands-on methods for more effective ideation and collaboration. This not-to-miss session will feature games that promote out-of-the-box thinking and event brainstorming activities that will inspire and motivate event departments to tackle the challenges of live experiences with a new point of view.
Featured Venues/Suppliers: