Butterfly Effect
For its fifth anniversary gala, the Harris Theater for Music and Dance imported ballerinas from San Francisco, design cues from Palm Beach, and 60,000 feather butterflies from China.
September 22, 2008
On Thursday night, the Harris Theater for Music and Dance celebrated its fifth anniversary with a gala benefit. The evening began with an hour-long performance from the San Francisco Ballet, which is celebrating its own 75th anniversary with a four-city tour that kicked off in Chicago on September 16.
"Putting those two moments together is just blockbuster," said Cheryl Shure, Harris Theater's executive vice president of external affairs. "[With this event], we have the opportunity to showcase the oldest ballet company in the country, which hasn't performed in Chicago for almost three decades. [And] launching our own fifth anniversary season really represents a milestone moment for a theater that [initially] had a lot of naysayers."
The planning process for the gala took a year, and Shure says that challenges included convening all the gala committee members and co-chairs. "There's a whole new age of social benefit planning in Chicago," she said. "In the old days, everyone would meet in a room twice a week and talk about the details. Now, we have a committee of such accomplished women and couples, their work takes them everywhere, and they're often traveling for business." 
Ultimately, the planning crew settled on once-a-month conference calls, which typically involved eight to 10 people calling in from all corners of the country. As the event drew nearer, Shure says the calls became more frequent, until committee members were conversing once a week, and—in the home stretch—several times a day.
According to Shure, much of the discussion time was devoted to developing a program for the evening that wouldn't run longer than an hour, in order to "accomplish goals in a time frame that keeps the energy flowing." Ultimately, speeches were kept to a minimum, with the theater's president and managing director and chairman of the board of trustees making brief remarks before the dance performance began. 
Since Chicago's social set has a packed gala schedule in September, Shure and the committee also focused planning efforts on attracting philanthropists' attention and confirming their attendance. To accomplish this, they sent out save-the-date cards three months prior to the actual invite. Along with publicizing the event, this measure turned out to be effective from an expense standpoint, bringing in $50,000 in early revenue from table reservations. For the formal invite, the committee settled on a smoky Lucite rectangle printed with gold ink, which was presented atop an image of two ballerinas. "We wanted something that people couldn't just toss aside," Shure said.
Two of the event's co-chairs, Caryn and Stephanie Harris, developed the idea for the decor in the tent on Millennium Park's Chase Promenade, where guests headed after the performance for a Blue Plate-catered dinner and dancing to the Gentlemen of Leisure Band. While visiting a store in Palm Beach last year, the mother-and-daughter team spotted some striking organza butterflies. "They both looked at each other," Shure relayed, "and said, 'these look like they're dancing across the sky in the way that dancers cross the stage.'"
To bring that vision to life, design firm Heffernan Morgan imported 60,000 white-feather butterflies from China. Designer Bill Heffernan led his crew in hanging the butterflies from the roof of the tent, where they were strung up with mirrored disks and illuminated with automated spotlights that gave them a fluttering effect.
The event raised $1.4 million for the theater, exceeding the $1.2 million goal.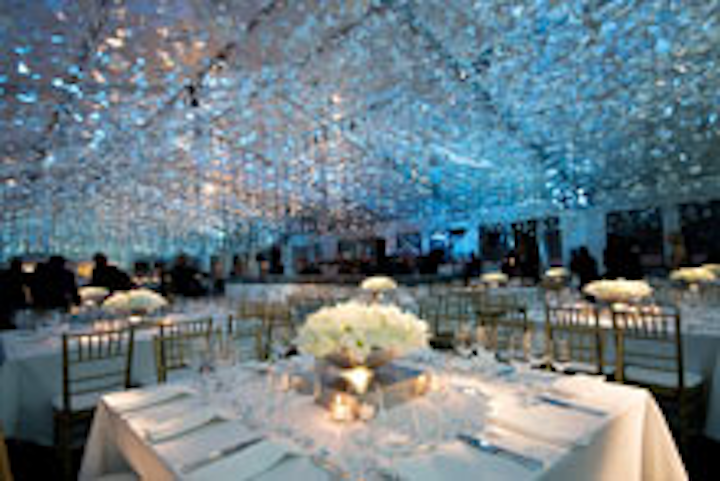 Photo: Photography by Tay Kaune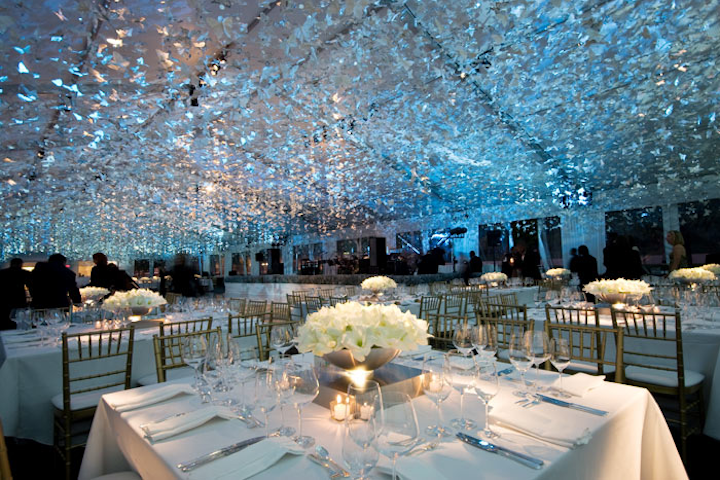 Photo: Photography by Tay Kaune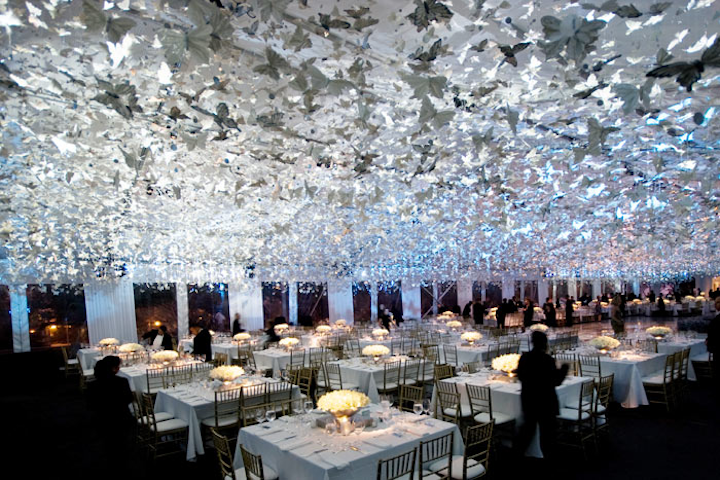 Photo: Photography by Tay Kaune
Featured Venues/Suppliers: