Outside In
The design team for Miami Fashion Week's opening night affair had to rethink its decor and entertainment plan when rain forced the poolside party indoors.
March 23, 2009
The rain threat from clouds hovering overhead before Miami Fashion Week's opening night party for 500 on Thursday forced event producers to move the outdoor party inside just 28 hours before its start time. The team at E Squared Concepts had to reconfigure the event's logistics and decor and entertainment elements from the original poolside plan to the new ballroom location at the Eden Roc.
Beth Sobol, the founder of Miami Fashion Week and president of Sobol Fashion Productions Inc., met E Squared's owner and executive producer, Craig Goldstein, through a mutual friend at a fashion party on South Beach, and later hired him to design and create the annual party. "Craig has an incredible talent and ability to pull off a party like this," Sobol said. "We were really excited to be partnering with him."
The producers came up with a rock 'n' roll-meets-Versaille concept for the party, complete with mannequins in period costumes with modern accents such as oversize crystal embellishments and leopard fabric peeking out from corsets. Hundreds of yards of pink draping—not part of the original decor scheme—lined the walls, accented with a baroque damask gobo pattern.
"We'd originally designed the event for outside, where the natural atmosphere of the Eden Roc's pool, palm trees, sandpit, stars, and ocean were going to be the perimeter of our party," said Goldstein. "But we got moved to a ballroom so we had to create that all ourselves."

Originally intended for a V.I.P. lounge area, gold tufted furniture with rhinestone buttons decorated the middle of the room. Highboys throughout the ballroom were draped with three layers of fabric inspired by lingerie: gold with a black damask print, fuchsia taffeta, and black sheer overlays with feather trim. The lanterns, votives, and candles planned to top each of the tables outside were replaced with nearly $25,000 of additional flowers.

"When I found out we were going inside, I realized I had no palm trees or any of the natural foliage that was outside, so all the centerpieces had to be created," said E Squared's creative design director, Myron Wolman. Fourteen three-foot-tall centerpieces of hydrangea, cymbidium orchids, roses, and lilies hand-dipped in gold glitter and accented with strategically placed Swarovski crystals were added to the room.

The Lucite stage, intended to be over the pool and lit with floating black lights, was set up in front of the ballroom's floor-to-ceiling windows overlooking the Intracoastal Waterway. Wolman skirted the front with sheer white taffeta, topping it with gold tulle and monarch butterfly accents. The Urban Gypsies and DJ Misha performed together throughout the night, wearing theme-appropriate costumes.

"The juxtaposition of having these gentlemen dressed in baroque costumes and playing contemporary music is the whole vibe we were going with for the party," said Goldstein.

That contrast continued as opera singer Rachel Whitman emerged on stilts, capturing guests' attention with large balloons tied to her back, abstract pink and white makeup, and an aria. Following her, a performer known as Grinder Girl—a woman in a corseted chrome bodysuit lined with LED lights—led guests onto the terrace for a sexually charged dance performance.

In Marie Antoinette-style mini dresses, black knee-high platform boots, full white face makeup, and tall white wigs accented with ostrich plumes, drag queen and club entertainer Ms. Corey strutted throughout the party with two similarly-dressed models who's original posts at the entrance to the V.I.P. area were no longer required for the indoor affair.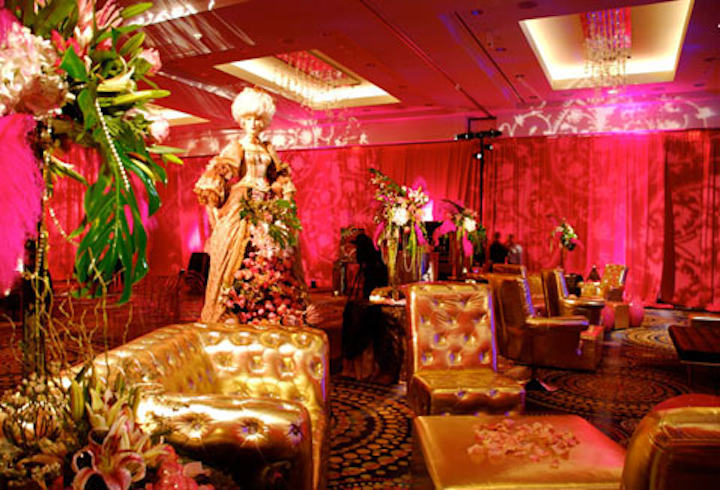 Photo: Pedro Galvez for BizBash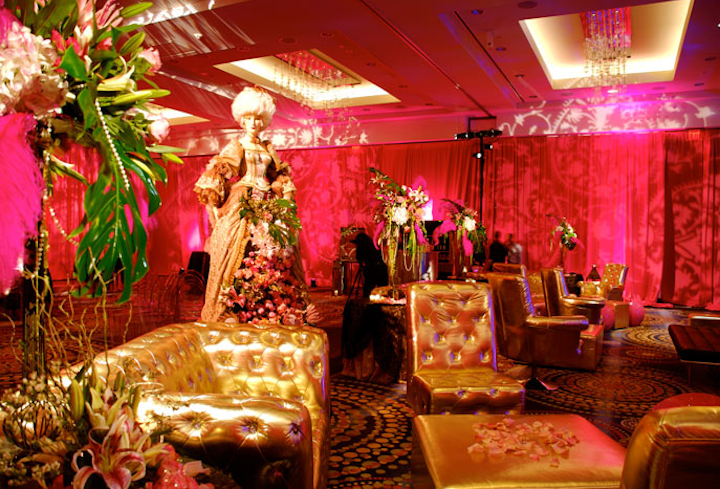 Photo: Pedro Galvez for BizBash
Photo: Pedro Galvez for BizBash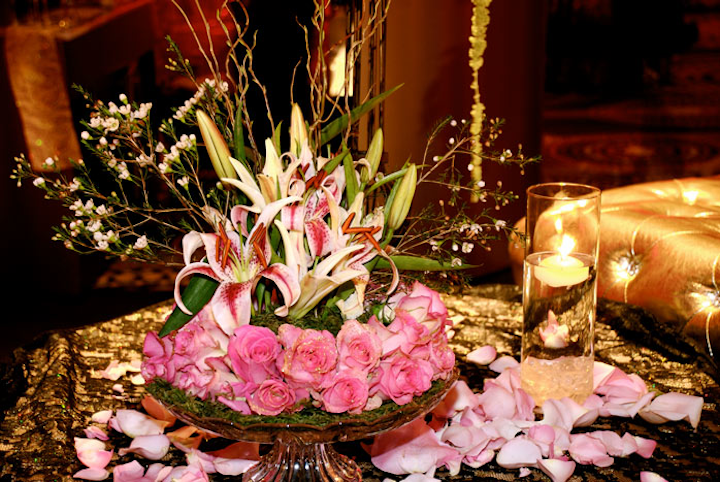 Photo: Pedro Galvez for BizBash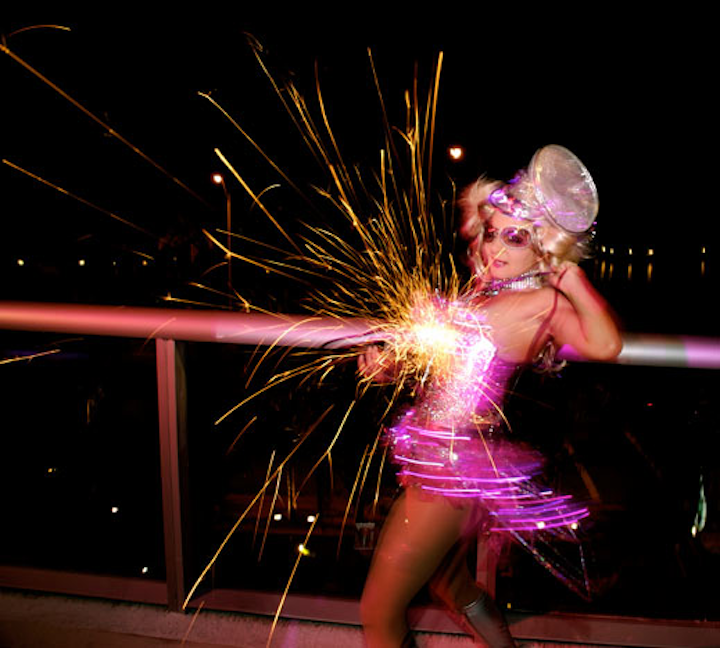 Photo: Pedro Galvez for BizBash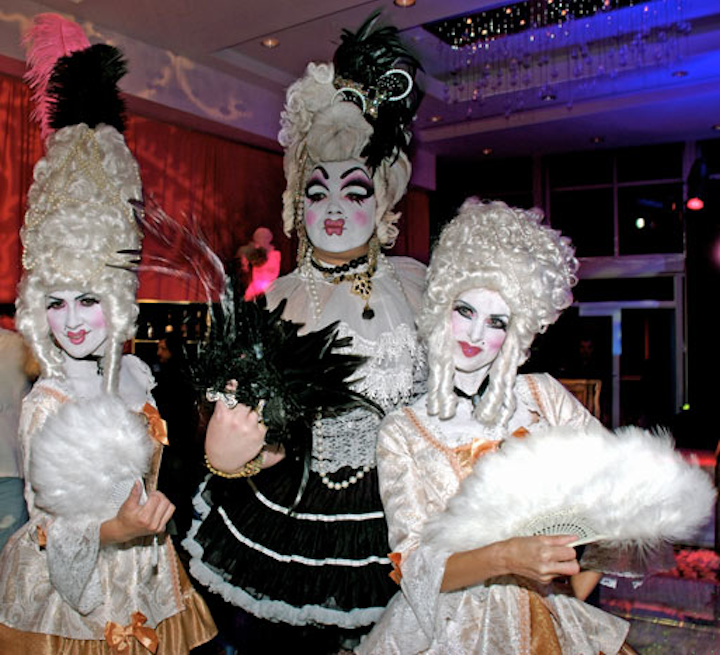 Photo: Pedro Galvez for BizBash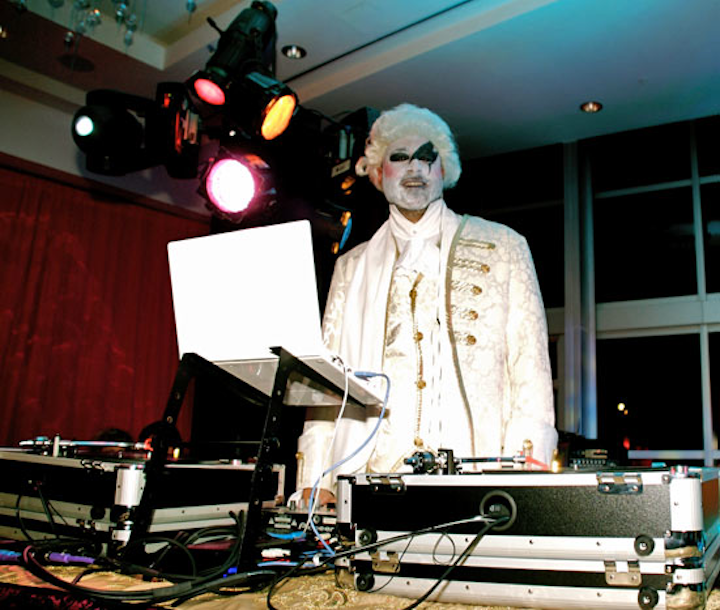 Photo: Pedro Galvez for BizBash
Featured Venues/Suppliers: