Full Metal Ceiling
Hennessy Artistry, the cognac-maker's annual concert series, returned to New York this week with performances by Ne-Yo, Leona Lewis, and Fabolus, as well as some crafty decor to play with the latest choice of venue.
October 17, 2008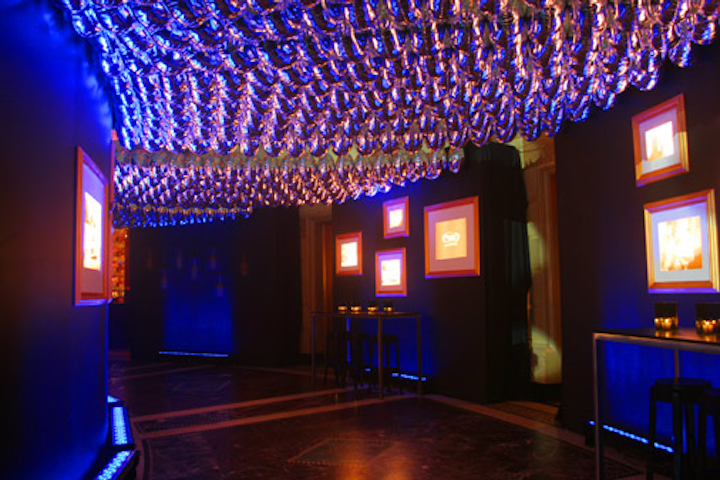 Photo: Shira Agmon/LensGirl Photos
The final stop of this year's Hennessy Artistry concert tour landed at Manhattan's Gotham Hall on Wednesday night, ending a series of six shows across the country that kicked off in Los Angeles on September 17. A crowd of more than 1,000, including Ludacris, Rosie Perez, and Joshua Jackson, lined up for the hot ticket and bottomless cognac.

Having hopped from Capitale to Nikki Beach in 2007, this year found Hennessy moving to Gotham Hall—its third venue in just as many years. Producers at Strategic Group set up the stage in the former bank's main hall, but to break up the space, a makeshift lounge area lined much of the rotunda's perimeter. Black walls covered in framed LCD monitors severed the two areas, and an awning made of hundreds of metallic balloons gave the lounge its own ceiling.
Also new this year was Hennessy's decision to hand over part of the planning duties. Not only did hip-hop artist Ne-Yo perform at the event alongside Leona Lewis and Fabolus, he curated the lineup. Ne-Yo worked with Hennessy on the five other shows, which included performances from LL Cool J, Ashanti, and Fat Joe.
Featured Venues/Suppliers: