BizBash Inducts New York Event Professionals Into Hall of Fame
The honorees, as well as rising stars in the event industry, will be celebrated Wednesday at a ceremony at the Manhattan Center.
May 22, 2017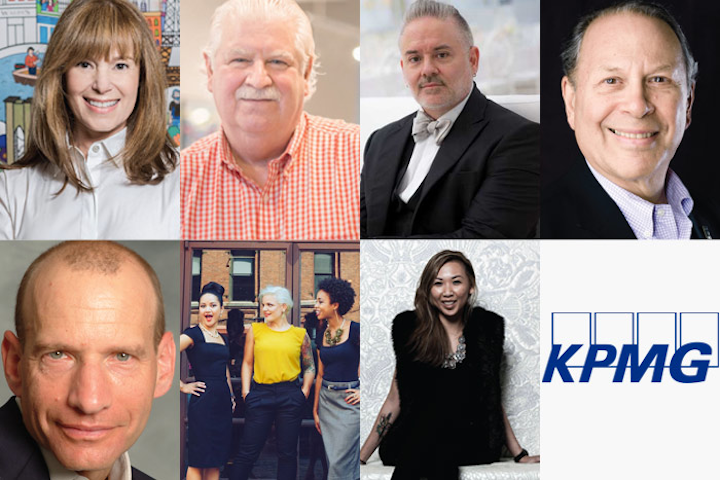 Photos: Courtesy of Honorees
A group of trailblazing event and meeting professionals in New York will join the BizBash Hall of Fame on Wednesday. The honorees are Matthew David Hopkins of 360 Design by Matthew David; Steve Paster of Alpine Creative Group; Chris and Jill Drury of Drury Design; the KPMG Events & Meetings team; and BizBash president Richard Aaron.
The ceremony, to be held Wednesday in the Grand Ballroom at the Manhattan Center, will also recognize rising stars in the industry: Victoria Lee of Estée Lauder Companies and Liz Castelli, Adette Contreras, and Erica Taylor Haskins of Tinsel & Twine.
Chosen by the BizBash executive committee for their work, accomplishments, and contributions to the industry, the honorees join a distinguished group of industry professionals. The full list of BizBash Hall of Fame inductees can be found here.
Richard Aaron
President, BizBash
At BizBash, Aaron operated the special events, expos, conferences, and meetings as well as coordinated industry relations with more than 12 associations. He has served on several international boards for industry organizations such as ILEA, NACE, G.M.I.C., and M.P.I. He served as a founder of the International Special Event Society (now ILEA) and was its first New York president. Aaron was named M.P.I. International Planner of the Year and named to the New York M.P.I. Hall of Fame; in 2016, he was inducted into the Convention Industry Council's Hall of Leaders. In 2015, he co-edited an update to the Convention Industry Council manual used for meeting planner certification. He updated the guidelines regarding sustainable practices, technology, and event production. Aaron is an adjunct assistant professor in event marketing at New York University's Preston Robert Tisch Center for Hospitality and Tourism and Sports Marketing, where he teaches both graduate and undergraduate classes.
Chris Drury & Jill Taub Drury
Co-founders, Drury Design
Partners in life and work, Chris Drury and Jill Taub Drury founded Drury Design, a full-service, integrated communication and brand experience agency. Chris Drury serves as president and chief creative officer, and Jill Taub Drury is C.E.O. Founded in 1981, Drury is an industry leader in producing large-scale, multi-tiered global events, from branding and event conception to digital and multimedia production to booking entertainment and strategizing partnership activations to scenic and environmental design and implementation. Drury's clients include some of the world's foremost companies: IBM, Walmart, J&J, and Samsung, among many others. Drury has won more than 240 major industry awards and accolades worldwide. Drury Design is certified as a Women's Business Enterprise, working to foster diversity, expand opportunities, and eliminate barriers in the marketplace. The firm also is an industry leader in environmental sustainability by creating educational opportunities and encouraging partners and clients to adopt ever-higher standards of sustainable behavior. Jill Taub Drury served as chairperson and executive producer of the award-winning NYC Sustainability Summit. In 2016, BizBash recognized Chris Drury an Event Innovator, highlighting him as one of the "visionaries, pioneers, and creatives pushing this industry forward with new ideas for live experiences."
Matthew David Hopkins
Creative director, 360 Design by Matthew David
Hopkins moved to New York in 1992, after graduating with a Bachelor of Science in Architecture from the University of Maryland, to look for an inspiring future in design. His first design job was creating flower sculptures for restaurateur Pino Luongo. This led to creating floral designs in venues all over New York, expanding into Philadelphia and Washington D.C. After a client asked him to design a party, he eventually set up Matthew David Events and designed and planned events for celebrities like Madonna, Robert De Niro, and Jamie Foxx, as well as corporations including Bloomberg LP, Target, and Hearst. Hopkins also designed two inaugurations for former New York City mayor Michael Bloomberg. In 1994 Hopkins created his first installation, and that company evolved into 360 Design Events, an experiential design and marketing firm. The company produces brand experiences, pop-up shops, benefits, and experiential environments for corporate clients such as Nickelodeon, Hearst, Martha Stewart, and Target, and benefits for the National September 11 Memorial & Museum, the Public Art Fund, and the Ad Council.
KPMG
Events & Meetings Team
KPMG is a leading professional services firms, providing business solutions and audit, tax, and advisory services to many of the world's largest organizations. With a rich history and values-driven culture spanning 120 years, KPMG is ranked #12 on Fortune's list of the 100 Best Companies to Work For. Its people share a sense of purpose in their work and a strong commitment to community service, inclusion and diversity, and eradicating childhood illiteracy. The Events & Meetings team at KPMG's U.S. firm is comprised of more than 100 business professionals who power the team's mission: to deliver energizing and powerful experiences through innovation and standards of excellence. Its full, in-house model—which encompasses everything from sourcing and contracting to event design and delivery to data analytics and digital solutions—is designed to help the firm's professionals serve clients and cultivate its teams.

Steve Paster
President, Alpine Creative Group
Paster is the founder and managing partner of Alpine Creative Group. For 30 years, Alpine Creative Group has been an industry leader in artisan printing on luxury papers. All companies start with an idea, and Paster's was to develop the only invitation company in New York with a retail showroom that not only designs all of its products, but manufactures and distributes them, as well. Paster is president of the New York Metro Chapter of the International Live Events Association. He is also a consultant specializing in small businesses, with clients in the U.S., France, and Africa. He has served on numerous nonprofit and advisory boards, including for the John F. Kennedy School of Government at Harvard University and Gilda's Club of Northern New Jersey on the founding board. He founded and volunteered at a martial arts academy in the South Bronx. Paster has three children, and lives with his wife Erika and two cats.
Rising Star Honorees

Liz Castelli
Chief operating officer, Tinsel & Twine
Before Tinsel, Castelli trained for seven years as a designer and florist under the tutelage of an established New York floral shop, providing the foundations for Tinsel's event design work. Now with more than 12 years of experience, Castelli has expertise with installation design and floral design, and a background in jewelry design, furniture-building, and leather- and metal-work. A background in science allows her to engineer complex installations and bring concept sketches to life. Beyond Tinsel, Castelli commits time each week to science education, using her master's degree in education from Columbia University and her previous career as a science teacher at one of the most rigorous and selective schools in the country: the Equity Project Charter School in New York City. She coaches and does program development for CityScience, a nonprofit, inquiry-based organization in Brooklyn. For Tinsel, Castelli oversees all operations, production design, event execution, project management, and finance.
Adette Contreras
Chief creative officer, Tinsel & Twine
Before Tinsel, Contreras was an award-winning creative director in advertising and web design, with expertise in branding and identity, user interface design, and 360-degree customer experiences. Her background with managing teams at large advertising agencies and small start-ups alike has allowed her to bring brand-building expertise to Tinsel's business development and creative process. Beyond Tinsel, Contreras was chosen by the Philippine Ambassador as a 2014 Filipino-American Young Leader, one of 10 delegates in the United States. Contreras is working on projects with Philippine development through her ceramics line, Baleine Bleue. Contreras is also a graduate of the Goldman Sachs 10,000 Small Businesses Program, focusing on business development and strategy for entrepreneurs. For Tinsel, she oversees business strategy, business development, creative marketing events, branding, and Web/graphic design.
Erica Taylor Haskins
Chief marketing officer, Tinsel & Twine
Before Tinsel, Taylor Haskins worked in account management and business development at a number of luxury and niche advertising agencies. With this professional experience, her expertise lies in her ability to manage in-house and vendor teams throughout the creative process. Her experience has also given her a deep understanding of how to leverage social media to reach clients and target audiences. Beyond Tinsel, Taylor Haskins is the Northeast Regional Coordinator for the Jackie Robinson Foundation's Alumni Association, which was founded with the mission to perpetuate Jackie Robinson's legacy through scholarship, leadership, and service. She was recently honored as one of JRF's "42 Under 40" distinguished alumni and is actively engaged within the JRF community. For Tinsel, Taylor Haskins oversees marketing, social media, press outreach, partnerships, staffing, event planning and coordination, and weddings.
Victoria Lee
Global Travel & Meetings Services, the Estée Lauder Companies 
Beginning her career at STAMP Event Management, Victoria Lee worked on high-profile events for Amfar, Glaad, and the Tony Awards. She joined the Global Travel & Meetings Services team at the Estée Lauder Companies in 2012, leading the expansion and maturation of their Strategic Meetings Management Program globally. Since then, she has evolved the program by driving an 18 percent year-over-year increase in meetings registered since 2013, and negotiating $2.1 million in first-rate savings in 2016. Her efforts have been recognized as a recipient of Cvent's "Savvy Sourcing" Planner Award (2015, 2016), P.C.M.A.'s 20 in their Twenties (2016), and Connect Corporate's 40 Under 40 (2016). She served on alpha Kappa Delta Phi's National Board as the officer of internal affairs from 2014 to 2016 and currently is the director of programming for P.C.M.A. Greater New York Chapter and Student Task Force chair for P.C.M.A. headquarters.
Featured Venues/Suppliers: