Window Shopping
To herald the opening of its 20,000-square-foot Midtown store, Diesel is producing a weeklong guerrilla marketing campaign that puts dinner guests in a window display.

February 19, 2009
In October, thousands of people—from Tokyo to Dubai—celebrated Diesel's 30th anniversary with multiple circus-themed blowouts. Rather than outdo that large-scale effort, the Italian denim company is trying a different tactic for the promotion of its new Fifth Avenue store. Dubbed Five on Fifth, Diesel's guerrilla marketing campaign for the Midtown emporium combines window displays and street teams with free goodies and guests like Richie Rich and Arden Wohl. The effort isn't just aimed at the public—the label also wants to catch the eye of the press, who are busy covering Fashion Week shows and parties.
Unlike Giorgio Armani, which marked the opening of its 40,000-square-foot flagship with an exclusive cocktail reception Tuesday night, Diesel is seeking to pique people's curiosity by allowing them a glimpse into what would have been a private affair. The fashion label has dressed the 18- by 8-foot west-facing store window as a dining space, and each night this week will host a small party of famous (or, at least, semifamous) New Yorkers. On Monday night, club kids Richie Rich, Kenny Kenny, and Patrick McDonald ate in full view of the street; last night saw players for the New York Giants; and tonight will entertain a handful of girls from Ford Models.
The promotion doesn't stop there. To get even more attention, Diesel has teams handing out free branded merchandise—thousands of magnets, stickers, buttons, and posters—as well as men with Mohawk hairstyles canvassing the area around the store.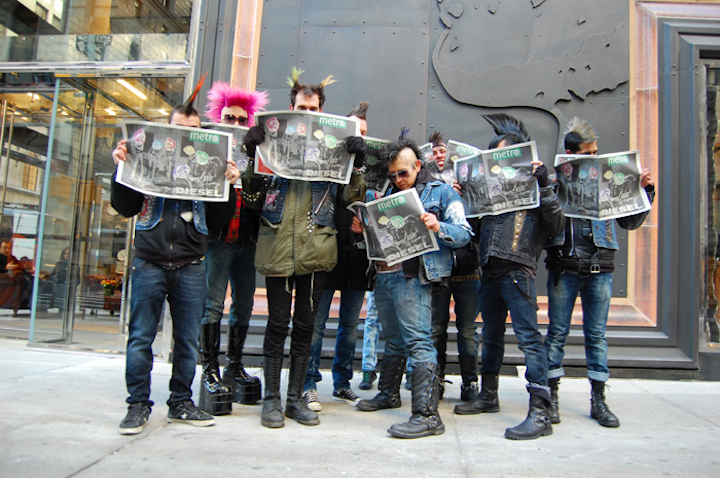 Photo: Courtesy of Diesel
Featured Venues/Suppliers: