How One Event Withstood a 6.0 Earthquake
It was an event producer's nightmare scenario—but proper engineering ensured GoPro's massive event went on safely and as scheduled.
October 1, 2014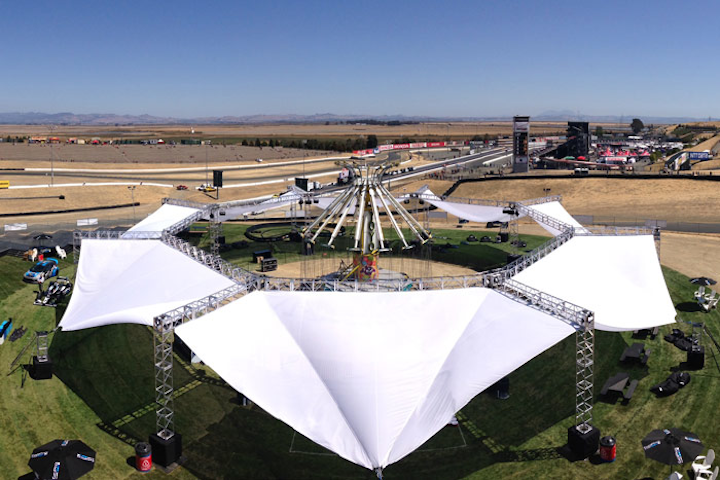 Photo: Ryan Elliot
Video camera maker GoPro is a brand synonymous with action and adventure, so it was only fitting that a major event it hosted came with a little more excitement than was planned—in the form of a 6.0-magnitude earthquake.
The GoPro Grand Prix IndyCar race at the Sonoma Raceway in Northern California got underway last month with significant build out and production elements. Los Angeles-based Pen & Public also produced and designed a hospitality experience for guests during the 85-lap race on August 24. The experience, known as "GoPro Land," was set up like an amusement park and offered activities such as a swing ride that gave guests a 360-degree view of the races, race simulators, a custom RC car track, games like tetherball and horseshoes, fair-style food, a DJ with a live GoPro feed, and a track-viewing deck.
Sonoma in the summer is bathed in intense sunlight, and a shade structure was a must. Pen & Public president and creative director Liam Smith said, "We knew a tent was off the table, so we set out to build something that's never been done before. We landed on a geometric design that was inspired by the iris of a camera." The final structure had a total span of 180 feet and was 20 feet tall at points.
The Pen & Public team sourced the truss from Accurate Staging and worked with Dazian to produce the fabric panels after engaging partners at Clark Reder Engineering to run calculations based on build documents. All the while, the team kept firmly in mind that Sonoma is subject to high winds and that the structure was "essentially a giant sail," Smith said. "We looked at the historic activity in the area and formulated benchmarks that we knew we needed to hit. California has some of the strictest engineering and building codes in the country, because of the frequency of earthquakes that strike the area."
And it turned out it was indeed the earth movement—and not the wind or sun—that proved the greatest risk to the event. At 3:20 a.m. on event day, the earthquake hit the Napa Valley region. It was less than seven hours from the doors opening.
"I will never forget emailing our engineers with the subject line 'Earthquake,'" Smith said. "They responded quickly, even at that hour."
Assessing the event's production elements, the team checked every bolt and put a level to every span of truss to ensure nothing had shifted. "A couple bolts had rattled loose but the structure stayed in place, which is a testament to the accuracy of the engineering and the build," Smith said.
Various other event elements were knocked over but there was no significant damage, and nothing that kept the event from going on as scheduled.
"The biggest takeaway is the responsibility we have to the people that attend our events," Smith said. "We need to make sure that the structures and other event elements we are building meet and exceed safety standards, even in an earthquake. Hope for the best but prepare for the worst. Always have an emergency response plan in place because you never know what's going to happen. Make sure your team and all event staff know where to go, who to contact and how to direct guests in an emergency."
Featured Venues/Suppliers: