BizBash to Honor Toronto Event Professionals at Hall of Fame Induction
The honorees, as well as two rising stars in the event industry, will be celebrated at a ceremony on November 9.
November 7, 2017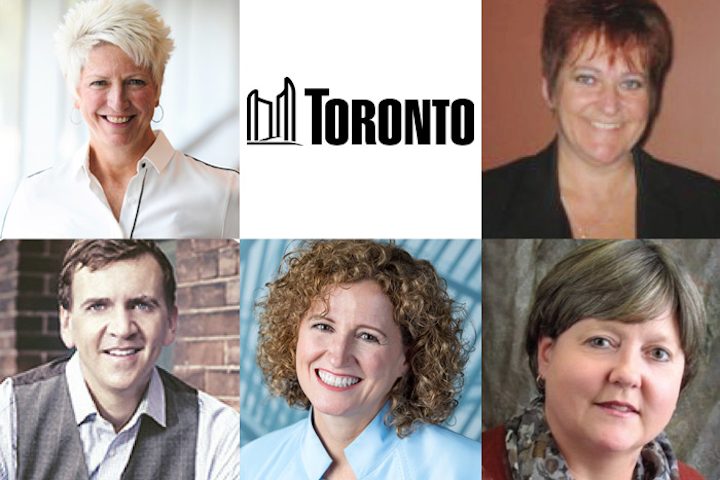 Photos: Courtesy of Inductees
BizBash will celebrate a group of accomplished event and meeting professionals in Toronto by inducting them into the BizBash Hall of Fame. The 2017 honorees are Johanne Bélanger of Tourism Toronto; Heather Broll of SickKids; Virginia Ludy of the Canadian National Exhibition; Francine Miller of Scotiabank; Jeff Rogers of Mosaic Canada; and the City of Toronto. The ceremony, to be held Wednesday at the Liberty Grand Entertainment Complex, will also recognize two rising stars in the industry: Hasheel Lodhia and Carly Silberstein.
Chosen by the BizBash executive committee for their work, accomplishments, and contributions to the industry, the honorees join a distinguished group of industry professionals. The full list of BizBash Hall of Fame inductees can be found here.
Johanne Bélanger
President and C.E.O., Tourism Toronto
Bélanger joined Tourism Toronto in September 2015 as President and C.E.O. Formerly as President of Freeman Audio Visual Canada for 10 years, she has received numerous industry accolades, including the 2014 International Association of Exhibitions and Events Outstanding Achievement in Industry Leadership Award and an induction into Meetings + Incentive Travel's 2014 Hall of Fame. In 2016, Bélanger was recognized by the Canadian National Exhibition Association as a Woman of Distinction. Prior to joining Freeman Audio Visual, she spent 18 years in a variety of roles including finance, operations, purchasing, sales, and marketing. In service to the industry, Bélanger co-founded Freeman Women's Development, a program established to advance women as leaders at Freeman and contribute to an environment where the best talent goes to succeed. She is also a charter member of the Women of InfoComm Network, a global community of members and professionals committed to supporting and empowering women in audiovisual and technology. Most recently after joining the Tourism & Hospitality Industry, she has co-founded a networking group called With It Women in Tourism & Hospitality in Toronto. She currently serves on the Advisory Board of the Ted Rogers School Hospitality and Tourism Management; the Board of the Metro Toronto Convention Centre, and of TIAC (Tourism Industry Association of Canada).
Heather Broll
SickKids Foundation
Over Broll's career, she has led and executed fund-raising, marketing, event, and sponsorship strategies in both business-to-business and business-to-consumer environments. She began her career at IMG with one of the world's largest sports marketing agencies working on many large-scale events with top athletes. From there she moved to Sears Canada, progressing to be the director of strategic initiatives, which included sponsorship and cause marketing. Next she became the director of national marketing for Cushman & Wakefield, where she delivered business development marketing strategies and provided national presentation coaching. As vice president of events at SickKids Foundation, Broll provided strategic leadership in fund-raising support for Toronto's Hospital for Sick Children.  By her last year at SickKids, her portfolio was raising more than $18 million annually by engaging and developing community and event donor relationships; building awareness of the foundation's mandate through the number, size, and scope of events; and by providing direction and leadership to the event fund-raising team. After nine years of service raising almost $140 million, Broll stepped down from her SickKids duties in June 2017. An avid sailor, Broll serves on the board of directors of the Royal Canadian Yacht Club.
Virginia Ludy
C.E.O., Canadian National Exhibition Association
An event industry veteran of more than 30 years, Ludy currently serves as the chief executive officer of the Canadian National Exhibition Association, which is the organization responsible for producing the annual Canadian National Exhibition, Canada's largest community event. She also oversees the Canadian National Exhibition Foundation. Ludy has played a leadership role in defining new strategic plans for both the association and the foundation and is currently overseeing the development of a new master plan for the organization. She also leads the organization in the area of business development, a new portfolio created as a result of the association's recent independence from Exhibition Place and the City of Toronto. Prior to her appointment as C.E.O., Ludy was the association's assistant general manager and director of operations. In this role, she managed a team with responsibility for emergency planning and preparedness; security, parking, and traffic management; gate operations; midway; food services; safety engineering; visitor services; guest relations; information services; volunteer services; site planning; and event services. Prior to this, Ludy held a variety of positions at the exhibition, including operations manager, senior concessions coordinator, and marketing coordinator. Before embarking on her career in the event industry, she was employed in the financial sector. Ludy has served as the chairwoman of the Amusement Devices Advisory Council for the provincial Technical Standards and Safety Authority, and was the president of the Canadian Association of Fairs and Exhibitions. She also served as a director of the International Association of Fairs and Expositions. Ludy holds a Bachelor of Applied Arts in Geography from Ryerson University. She earned the Certified Fair Executive designation from IAFE and graduated from its Institute of Fair Management. She also successfully completed the Certified Exposition Manager program with the Canadian Association of Exposition Managers.
Francine Miller
Director of Global Event Management, Scotiabank
Miller began her hospitality career in Ottawa in sales and catering departments of various boutique and downtown hotels in the early 1980s.  Prior to her move to Toronto, she was employed by CAA North & East Ontario, where she managed the event marketing strategy for eight years. She completed her education in Event Management at Algonquin College and obtained her Certified Meeting Professional designation with the U.S. Convention Industry Council. In 2005 Miller moved to Toronto continuing her career as senior event manager at the Canadian Institute where she managed more than 200 annual events with a team of 10 employees. In 2007, she accepted the position of senior manager of events at Scotia Capital where she managed the team that produced 175 annual corporate events for senior executives, V.I.P. clients, and internal staff. She was promoted to the position of director of marketing services at Scotiabank in 2010 where she oversaw the event team plus all sports and entertaining tickets for Global Banking & Markets. In 2014, Miller was promoted to director of global event management, managing a team of 22 planners producing more than 300 events globally per year.
Jeff Rogers
Chief Operating Officer, Mosaic North America; President, Mosaic Canada
Rogers is one of the early pioneers of the experiential industry in Canada. He was one of the first employees at Mosaic and rapidly progressed through a series of senior positions over the last 23 years. He has grown the company from a 20-person sampling business to the largest integrated marketing agency in Canada with more than 1,000 full-time employees, 10,000 part-time employees, and more than $250 million in revenue. Today, Mosaic is among the fastest-growing sales and marketing agencies in North America, delivering branded experiences and B2B events to consumers on behalf of clients in-store, in the community, and online. Rogers is responsible for overseeing all aspects of Mosaic's marketing services. He shapes the vision of the company, which has resulted in double-digit growth year-over-year. Over the last 20 years, Rogers has been greatly involved with Mosaic's Anheuser-Busch InBev client. His expertise has contributed to award-winning event platforms such as Bud Camp, Stella Sensorium, and Alexander Keith's Birthday. One of the fastest growing services has been the growth of business-to-business events. Some event productions include Microsoft's World Partner Conference, Oracle OpenWorld, and Rogers Talks, a small business platform. Rogers's leadership helped the team add eight new clients to Mosaic's b-to-b service in 2017 alone. Rogers is an avid baseball fan and coaches little league in his spare time. He is honorary chair for Princess Margaret's OneWalk Toronto and sits on the Holiday Helpers Organization board.
City of Toronto
Accepting for the city will be Mike Williams, General Manager of the Economic Development & Culture Division, City of Toronto
Williams oversees the Economic Development and Culture division at the City of Toronto including arts and culture services, museum and heritage sites, film and entertainment industries, program support, and business growth services. The division is responsible for the production of numerous free cultural programs and events including Winterlicious/Summerlicious, Doors Open Toronto, Nuit Blanche Toronto, Cavalcade of Lights, and New Year's Eve. In 2017, the division spearheaded the "TO Canada with Love" program on behalf of the City of Toronto, in honor of Canada's 150th anniversary, offering more than 30 city-produced free events to the public.
Rising Star Honorees

Hasheel Lodhia
Operations Manager, JM Hospitality
Lodhia is a hotelier, wedding planner, event designer and decorator, festival manager, and volunteer coordinator. In addition, he is a professional Indian classical musician—he is a classical vocalist and player of the bansuri, the bamboo Indian flute—often traveling around Ontario for concerts and private gigs. Earlier this year, he performed as a soloist at the Sony Centre for the Oscar-winning composer A.R. Rahman. As the operations Manager for his family's company, JM Hospitality, he helps oversee the production and day-to-day management of several Hilton properties. Lodhia serves as the director of programming on the board of directors for ILEA Toronto as well as holds the position of C.F.O. for the Liberal Board of Directors. He holds a double major in mathematics and biology as well as a Bachelor in Commerce from the Ted Rogers School of Hospitality and Tourism Management.
Carly Silberstein
C.E.O., Redstone Agency
Silberstein is the driving force behind Redstone Agency, a millennial-owned event and association management company. Her experience includes leading marketing and event teams that service corporate clients, not-for-profit organizations, and professional associations in a variety of industries. Among her accomplishments was being named to the Top Forty Under 40 (2016) by the Association Forum of Chicagoland, which recognizes 40 up-and-coming association and not-for-profit professionals. She completed the Digital Event Strategist Certification from P.C.M.A.'s the Digital Experience Institute, a designation that makes her an authority on live streaming, digital, and hybrid events. She also served as a course instructor in Event and Project Management at Western University. Silberstein is a member of the Canadian Society of Association Executives, Canadian Society of Professional Event Planners, and Meeting Professionals International. She was a nominee for MPI Toronto Event Planner of Year Nominee in 2016 and 2017.
Featured Venues/Suppliers: