This Week In Toronto: the Great Jewellery Heist, the Grand Cru Wine Festival, the Christmas Market Sets Up
BizBash's new Toronto column from Calvin Barr covers the week's biggest event news.
November 6, 2019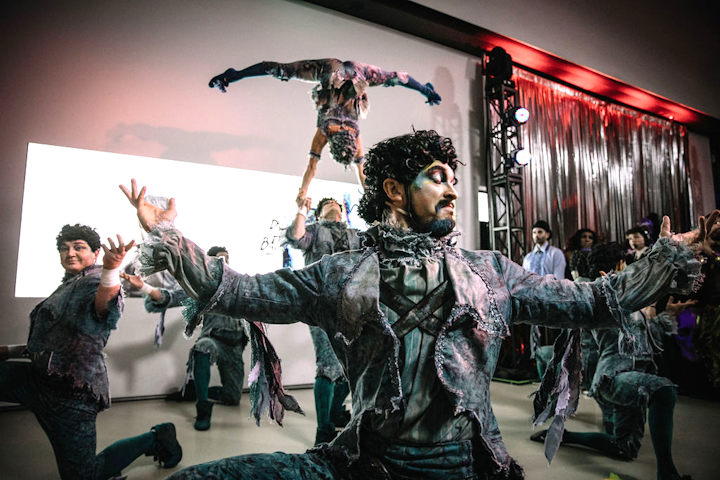 Photo: Connie Tsang
TORONTO—Welcome to BizBash's Toronto-based column, where Calvin Barr covers the week's biggest local news. Got a tip? Get in touch!
Moves and Milestones
On November 28, the Harris Institute will celebrate its 30th anniversary with a fund-raiser for music enrichment charities Unison and MusiCounts at the Berkeley Church. The evening will feature the Harris Alumni Awards ceremony, a raffle, a silent auction, and performances by The Invigilators and electronic turntablist Sara Simms.
In Case You Missed It
To celebrate the Toronto Raptors' home opener, Adidas brought its "Free to Create" campaign—which encourages young athletes to find their individuality through sports—to the York University basketball team. The company partnered with Dream Chaserzzz founder Justin Alliman and Raptors 905 head coach Jama Mahlalela to run the team through a special practice, which ended with Toronto Raptors point guard Kyle Lowry inviting the team to the opening game at the Scotiabank Arena.
News
Sinai Health Foundation concluded its ninth annual Great Jewellery Heist on November 1. More than 50 unique designer jewelry items from luxury brands, as well as vintage and estate collections, were included in a live online auction that opened on October 16, with bids finalized at Friday's luncheon at the Ritz-Carlton Hotel. The program supports Bridgepoint Active Healthcare, the foundation's rehabilitation and special care center that supports complex health conditions. This year's collection was curated by event chair Isabelle Fish, founder of Rue Pigalle and recognized jewelry expert.
The Grand Cru Culinary Wine Festival ran for the 15th year from November 1 to 2 at the Beanfield Centre in Exhibition Place and raised more than $33 million. The event, which features wine from estates around the world, raises funds for medical research and hospital programs in the Toronto area. Roughly 5,000 people attended a wine-tasting experienced presented by Halpern Wines as well as a live auction on Friday. On Saturday, fund-raising dinners took place in 26 private homes and venues across the city. Chefs participating in the event included Café Boulud creator Daniel Boulud, George Restaurant executive chef Lorenzo Loseto, and internationally recognized pasta expert chef Evan Funke.
Venue Buzz
The Christmas Market's traditional 50-foot Balsam Fir Christmas tree was installed in the heart of the Distillery District on Monday morning. Delivered from Bancroft, Ontario, it's set to be decorated with 40,000 lights, 800 ornaments, and one kilometer of ribbon before the market opens on November 14. For its 10th year, the market is expected to include nearly 500 performers, including carolers, dancers, and Santa and his elves.
Turn of Events
Toronto's ImagineNative is now the world's first Indigenous film festival whose prize-winning live-action shorts are eligible for Oscar consideration, according to CBC. Films that either have a theatrical release or win a qualifying award can apply to be evaluated by the Academy of Motion Picture Arts and Sciences.
Overheard
"We always say that Eataly is about three things: eating, shopping, and learning. Toronto is probably the best at having so many cultures in one city living peacefully together. And just like there is food biodiversity, there is human biodiversity."
—Nicola Farinetti, the global C.E.O. of Eataly, speaking to Toronto Life about the franchise's first Toronto location, which opens on November 13.
On the Scene
Pumpkins Parades marking the beginning of November took place at locations across Toronto, including Sorauren Avenue Park, this weekend.
The Royal Agricultural Winter Fair opened at the Enercare Centre this weekend. Horse and farming events will run through to November 10. 
Let's see what's happening at your events. Tag #bizbashto on Instagram.
What's Next?
Canada's L.G.B.T.+ Chamber of Commerce will host the 4th annual Black and White Gala at the Carlu on November 8. This year's "Mission: Unstoppable" theme will use action movie motifs to illustrate the organization's commitment to fostering networking and business development opportunities for more than 300 L.B.G.T.+ entrepreneurs and their partners. Air Canada is the presenting sponsor, and local event partners include Studio Downey, Hoax Couture, Patrick Hunter Art & Design, and Snow Collective. 
Whole Life Expo, Canada's largest natural health event, returns to the Metro Toronto Convention Centre from November 8 to 10. About 175 exhibitors are expected to attend, with more than 80 lecturers speaking on a range of topics such as superfoods, the therapeutic use of cannabis, anti-aging and immunity-boosting techniques, and illness prevention.