This Week in Toronto: Social Media Week, a Canada-Wide Hockey Doc, the Walk of Fame Awards
BizBash's new Toronto column from Calvin Barr covers the week's biggest event news.
November 20, 2019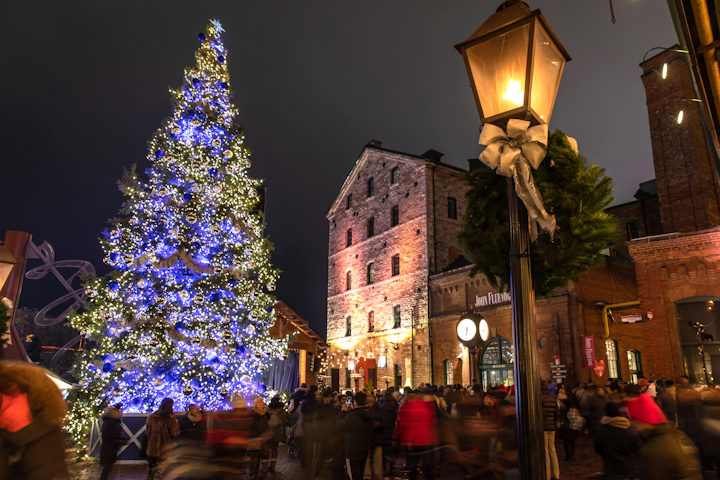 Photo: Laura Rossi
TORONTO—Welcome to BizBash's Toronto-based column, where Calvin Barr covers the week's biggest local news. Got a tip? Get in touch!
Moves and Milestones
Brampton author Ian Williams took home the 2019 Scotiabank Giller Prize for his novel Reproduction at Monday night's gala, which was hosted by singer Jann Arden. In his acceptance speech, Williams credited The Handmaid's Tale author Margaret Atwood with inspiring him as a writer.
The Influence Agency, North Strategic, and Wattpad were among the Toronto teams to take top prizes at the 2019 InfluenceTHIS awards. The ceremony, which recognizes outstanding influencer marketing campaigns, took place at Artscape Daniels Launchpad on November 13.
In Case You Missed It
Shameless magazine celebrated its 15th anniversary with the inaugural Talking Back Feminist Media Conference, which took place at the Toronto Media Arts Centre from November 16 to 17. Presented by the Toronto Arts Council, the conference focused on the future of feminist thought and critique in media, explored through different mediums, locations, lenses, and activist spaces with a series of lectures, exhibitions, and artwork. The event also featured an art market with more than 20 vendors. 
News
Presented by Pinch Social, the fourth Social Media Week Toronto ran from November 12 to 15, with support from more than 25 Canadian organizations leading social influence and marketing trends. Local influencers, including Toronto Raptors superfan Nav Bhatia, HGTV host Scott McGillivray, and Toronto drag star Dan Clay (a.k.a., Carrie Dragshaw) addressed this year's theme on how brands can leverage social connectivity to make a positive impact through human-driven stories. Following the opening party at Thompson Toronto, events took place at CBC's Glenn Gould Studio and presenter head offices, with the closing event taking place at Stackt Market.
Over the weekend, Canadians were invited to take part in creating a new documentary, Hockey 24. Until November 30, filmmakers are asking for community hockey teams to submit game footage taken on November 17 in order to capture how people all over the country play the sport over the course of a single day. The film will premiere in partnership with Scotiabank at the 2020 Hot Docs Canadian International Documentary Festival in Toronto, and teams who submit footage will have a chance to win $24,000 to support their local hockey league. 
Venue Buzz
After a series of successful pop-ups, North America's first Kitkat Chocolatory opened at the Yorkdale Shopping Centre on November 14. Visitors are invited to shop for limited-edition chocolate bars or curate their own confectionary creation, watch chocolatiers prepare it in an open concept kitchen, and customize the packaging for the final treat.
Turn of Events
Two women who've accused Louis C.K. of sexual misconduct have criticized Mark Breslin, the C.E.O. of Yuk Yuk's Comedy Club, for an op-ed explaining his decision to book the comedian at the club's Toronto location, according to CBC. Julia Wolov, one of the accusers, stated that contrary to Breslin's account, she never consented to C.K.'s behavior.  
Overheard
"In order to address the labor challenges, it's smart to speak to the up-and-coming generations. We keep telling the students, it can be anything you want. You can be the restaurant manager, chief engineer, director of finance, marketer, [or the] revenue director."
—Hani Roustom, general manager of the Hazelton Hotel and co-creator of Be Our Guest, speaking to NOW Toronto. The co-op program aims to give students exposure to career options in the hospitality industry.   
On The Scene
Standing at 108 feet, Canada's largest Christmas tree was lit in the Eaton Centre on the evening of November 14. 
Let's see what's happening at your events. Tag #bizbashto on Instagram.
What's Next?
Canada's Walk of Fame Awards will take place at the Metro Toronto Convention Centre on November 23. Honoring Canadian achievements in entertainment, athletics, business, and science, inductees this year include Will Arnett, Alessia Cara, Mr. Dressup, Frank Gehry, Mark Messier, Jim Treliving, Cindy Klassen, Triumph, and Dr. James Naismith. Show presenters include N.H.L. players Paul Coffey and Craig MacTavish, Sharon Lois and Bram stars Sharon Hampson and Bram Morrison, Me to We founders Marc and Craig Kielburger, Olympic medalist Susan Auch, and rising basketball star Elijah Fisher.
The Cannabis Consumer & Business Expo will run November 22 to 24 at Exhibition Place's Queen Elizabeth Building. This event invites licensed cannabis growers, producers, investors, and health care providers to network and participate in more than 35 expert-led seminars and workshops. In addition to more than 200 vendor booths, newly launched cannabis products and services will be available for sample and purchase.