This Week In Toronto: a Blue and White Maple Leafs Gala, a Harry Potter-Theme Drag Brunch, a New Retro Arcade Bar
BizBash's new Toronto column from Calvin Barr covers the week's biggest event news.
January 15, 2020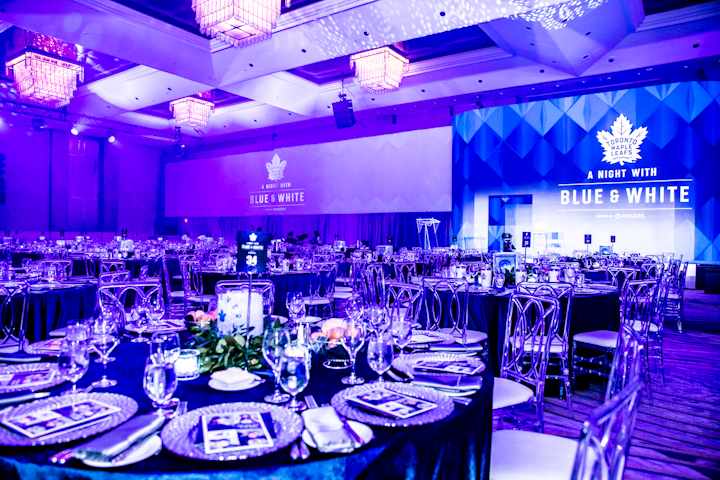 Photo: Courtesy of Maple Leaf Sports and Entertainment Foundation
TORONTO—Welcome to BizBash's Toronto-based column, where Calvin Barr covers the week's biggest local news. Got a tip? Get in touch!
Moves and Milestones
Toronto-based PR house TARO has announced Brianna Hurley as senior director of publicity and Maria Novok as publicist. The agency—which represents film clients such as Walt Disney Studios Canada, Elevation Pictures, and Sony Pictures Television—has managed publicity for submissions to numerous local film festivals, including TIFF, Inside Out, and Hot Docs.
In Case You Missed It
Freeplay, a new retro arcade bar, hosted an opening party on January 9. The Kensington Market-area venue features a dance floor, a DJ booth, vintage VHS movies, and classic arcade and Nintendo console video games such as Pac-Man, Mortal Kombat, and Mario Kart. The menu includes a candy bar, fried and breaded finger foods, game-theme cocktails, and beer selections from Toronto-area breweries Mill Street, Bellwoods Brewery, Flying Monkey, and more.
News
The Maple Leaf Sports and Entertainment Foundation's annual "A Night With Blue & White" fund-raiser took place January 9 at the Fairmont Royal York. Donors were invited to mingle with current and prior members of the Toronto Maple Leafs during a three-course dinner and cocktail reception. World Class offered a menu of hockey-theme cocktails, including a sweet and bubbly Johnnie Walker mix called "The Powerplay"; a maple syrup and Bulleit Bourbon beverage called "The Faceoff"; and a citrusy Don Julio Blanco Tequila creation called "The Breakaway." The evening also featured a mobile auction, a live segment by former Hockey Night In Canada host Ron MacLean, and a game of Family Feud with past and present Maple Leafs players.
Following its debut last November, the Harry Potter Drag Bunch ran its second show at Glad Day Bookshop on January 11. The two-hour event—which featured a brunch buffet with vegan and gluten-free options, as well as "polyjuice potion" and "butterbeer," was hosted by drag kings ZacKey Lime and QAPTAIN. Due to demand, a second show was added for this Saturday; the venue will also host its weekly drag brunch with Erin Brockobić on Sunday.
Venue Buzz
The site of Queen West's live music and classic rock hotspot Cadillac Lounge, which closed after nearly two decades in July, may be redeveloped into a seven-story tower with hotel suites, event spaces, and retail outlets, according to Now Toronto. Plans will be revealed at the Parkdale Library on January 23, where the unknown developer, in conjunction with city planners, will present the proposal and respond to questions from community members. 
Turn of Events
After its popularity drew an estimated 750,000 people for Canada's 150th birthday celebrations in 2017, the "World's Largest Rubber Duck" will appear at the Redpath Waterfront Festival's 10-year anniversary this summer. "Mama Duck," who floats at six stories tall and weighs 30,000 pounds, will be on display at the waterfront June 19 to 21.
Overheard
"I would like to see more cultural diversity in food, where chefs dig into not just cuisines from a specific country, but also from different regions to share an understanding of where food comes from. Food is a great way to impart more cultural knowledge, and Toronto, being as diverse as it is, makes for the perfect classroom to learn and understand one another through food. We may not have time to travel to every country, but we can visit the many different restaurants in the city."
 —Nuit Regular, executive chef and co-owner of Pai, Kiin, Sukhothai, and Sabai Sabai, speaking to Toronto Life about changes she'd like to see in Toronto's restaurant industry in 2020. 
On the Scene
Prior to the "A Night With Blue & White" fund-raiser, the Toronto Maple Leafs participated in an outdoor hockey practice at Nathan Phillips Square and signed autographs for and took selfies with fans.
Let's see what's happening at your events. Tag #bizbashto on Instagram.
What's Next?
Former U.S. President Barack Obama will be speaking at the Metro Toronto Convention Centre on January 23. The Economic Club of Canada and the Global Institute for Conscious Economic is hosting the talk as part of their Future of Work & New Economy Series in partnership with PwC, CPA Ontario, Green Shield Canada, and Bell Media. President Obama will be addressing how modern economic policies can influence greater inclusion, incorporate the voices of multiple generations, and promote national physical and mental health.
Combining fairytale romance with classical architecture design, the 2020 WedLuxe Wedding Show will take place at the Carlu on January 19. The annual luxury wedding exhibition, hosted by WedLuxe Magazine, is expected to draw more than 100 designers, event planners, caterers, decorators, and other industry professionals, and offer immersive experiences and customizable deluxe packages for couples preparing to wed. Guests are also invited to attend a couture runway show and shop at the WedLuxe gift bar.