This Week in Toronto: the Distillery District's Emergency Fund, Foodora Leaves Canada, a New Women's Hockey Team, and More
BizBash's Toronto column from Calvin Barr covers the week's biggest event news.
April 30, 2020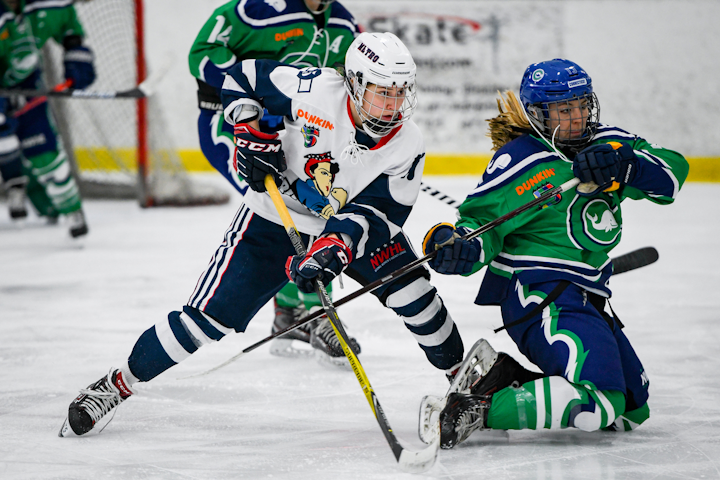 Photo: Kate Frese and Ashley Intile
TORONTO—Welcome to BizBash's Toronto-based column, where Calvin Barr covers the week's biggest local news. Got a tip? Get in touch!
Editor's Note
It's the last chance to register for BizBash's Toronto-focused virtual conversation, taking place today at 2 p.m. ET. Industry leaders—including Anthony Vade of FMAV, Natasha Mytnowych of The Globe and Mail Centre, Qasim Virjee of StartWell, and Marc Dorfman of CN Tower—will discuss the impact of COVID-19 in the Toronto market, new strategies moving forward, and more. Can't make the live discussion? No problem; the conversation will be available on-demand following the broadcast.
Turn of Events
On April 22, National Women's Hockey League announced that it is launching a team in Toronto for its sixth season. "We are driven every day to increase the opportunities available to women's hockey players of all ages, and that's what this expansion is all about," said team co-owner Johanna Neilson Boynton. "There is so much potential, and Toronto is the logical next step. I look forward to working closely with players, staff, sponsors, and fans to give Toronto the team and the community [it] deserves." Fans are encouraged to submit ideas for the team's name, colors, and designs online.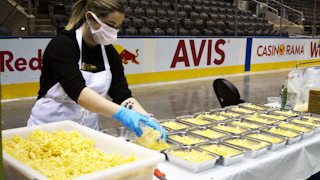 Scotiabank ArenaPhoto: Courtesy of Mapleleaf Sports and EntertainmentMeanwhile, Scotiabank Arena, home stadium to the Toronto Raptors and Toronto Maple Leafs, has been converted into a kitchen with the goal of preparing 10,000 meals per day for frontline healthcare workers over the next eight weeks. Mapleleaf Sports and Entertainment, Bell, Rogers, Scotiabank, and Tangerine are founding sponsors of the project, dubbed "Bringing Toronto Back to Its Feet."
In Case You Missed It
Myseum of Toronto, a non-profit group focused on preserving the city's history, hosted an online presentation of speculative fiction imagining Chinatown in 2050. Authors read short stories hypothesizing how COVID-19 may re-shape public policy and social behavior in 30 years, while Friends of Chinatown—a citizens group advocating for rent affordability and anti-racism in the neighborhood—co-facilitated. Although Myseum's annual festival was postponed this month, online programming is running weekly.
Meanwhile, The Millennial Dater hosted a Toronto virtual happy hour event on April 24, inviting guests to mingle via video conference and direct messaging. Founded in 2018, the company provides personalized matchmaking and event management services. 
News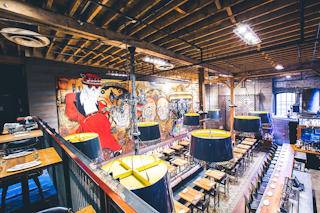 El CatrinPhoto: Ryan BoltonThe Distillery Restaurants Corporation—which operates El Catrin, Cluny Bistro, Pure Spirits Oyster House & Grill, Archeo Trattoria, Madrina Bar y Tapas, and Distillery Events—has revealed new initiatives to support its staff, businesses, and city-wide hunger relief. The company has internally developed an emergency fund providing $28,000 in interest-free loans for laid-off staff members, released online gift card packages with proceeds going towards meals for local shelters, and donated 35,000 gloves for Second Harvest's programs that are feeding frontline healthcare workers. Next month, in addition to new take-out options from multiple restaurants, Cluny Cafe will add a grocery store extension allowing customers to pick up ingredients and chef kits inspired by menu favorites. Distillery District chefs will also be doing various online cooking and cocktail demonstrations on Instagram. 
Following last week's announcement that Toronto may impose service fee caps on food delivery apps, Foodora confirmed that it will be leaving the Canadian market after five years, effective May 11. In a statement, the Berlin-based company, which has operations with more than 3,000 Canadian restaurants and 10 cities, said it was "unable to get to a position which would allow us to continue to operate without having to continually absorb losses." The announcement comes months after the Ontario Labour Relations Board ruled that Foodora's couriers had the right to unionize, categorizing them as dependent contractors. Justice for Foodora Couriers, which led the unionization efforts, issued a response stating that the company would "rather leave thousands of vulnerable workers without any income than to fix glaring issues with management and tech/infrastructure."
Toronto's Corby Spirit and Wine and Diageo Canada announced a partnership to donate $100,000 to the Bartenders Benevolent Fund, created in 2013 to support bar and hospitality staff suffering financial hardship due to unforeseen circumstances. According to the announcement, Restaurants Canada currently estimates that roughly 800,000 bartenders, servers, hosts, and kitchen staff—or two-thirds of the national foodservice workforce—are now out of work. 
Overheard
"The whole concept with Uber and SkipTheDishes was [that they were] an ancillary source of revenue. But if that's your sole source of revenue and you're relying on them to be your facilitator for delivery, what's the point? You're losing money. I think fundamentally now the whole industry is flawed, but there are opportunities obviously for people to figure out how to make it work within the environment that it's soon going to be."
—Michael Summerfield, owner of Prohibition Gastropub, speaking to blogTO. The restaurant is going out of business after 13 years. 
On the Scene
Hotels across downtown, including the Fairmont Royal York, Sheraton Toronto, and Hilton Toronto, emitted heart displays through windows to show support for frontline healthcare workers. 
What's Next?
Toronto's First Post Office, Canada's oldest operating mail facility, will host a virtual lecture exploring the city's theater roots this evening. "Once More, With Lamplights" examines how lighting and stage techniques were used by Victorian theater companies and performers, and how they've evolved into auditoriums today. The event is hosted by Jackie Mahoney, a Toronto-based actor and expert on theater studies and 19th century Canada.
Beginning on May 2, Toronto Flower Market opens for the eighth year as a digital marketplace, with deliveries happening throughout the following week. More than 15 vendors will offer various local blooms and other items through the market's website, while virtual greenhouse tours, floral talks, and kids activities will take place through Instagram. According to a report from CBC, flower growers across Canada have already been forced to throw out significant portions of their produce due to low sales.