This Week in Toronto: Citywide Reopenings, Collision From Home Tackles COVID-19, Pride Weekend Festivities, and More
BizBash's Toronto column from Calvin Barr covers the week's biggest event news.
June 25, 2020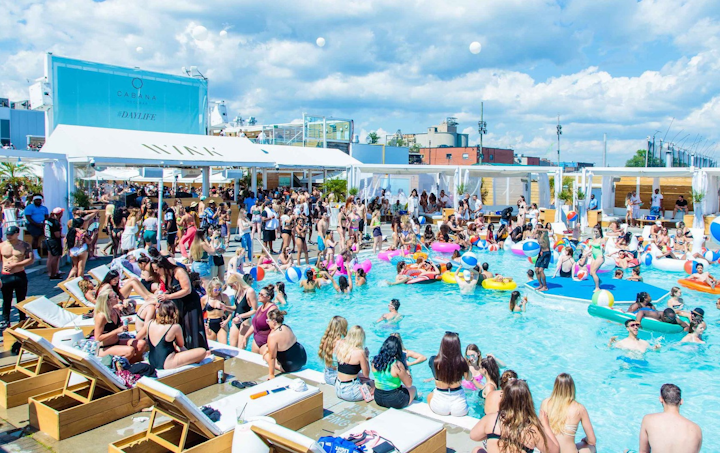 Photo: Courtesy of Cabana Waterfront Patio
TORONTO—Welcome to BizBash's Toronto-based column, where Calvin Barr covers the week's biggest local news. Got a tip? Get in touch!
Open Doors
Restaurants, venues, and small businesses celebrate as Toronto moves into stage two of Ontario's reopenings strategy this week. Some of the city's most well-known destinations have announced plans for welcoming the public back.   
Art Gallery of Ontario
Effective tomorrow, both members and annual pass holders can purchase tickets for 30-minute timeslots in the gallery starting on July 2. Tickets for the general public will be available on July 16 for entry on July 23 or later. Reopening hours are set from Thursday through Sunday, from 10:30 a.m. to 5:00 p.m, and the AGO Bistro, Café AGO, the Espresso Bar in Galleria Italia, and the Norma Ridley Members' Lounge will remain closed for the time being.
Cabana Waterfront Patio
Tonight, the 50,000-square-foot patio at Rebel opens for outdoor dining. As many as 400 guests—out of the space's 2,500-person standard capacity—can access the reservation-only area with strategically distanced tables. Groups of up to six are permitted to enter, and all staff are required to follow new PPE, low-contact, and sanitization protocols. The reopening features a relaunched menu by Oliver & Bonacini. 

CN Tower
The CN Tower will reopen for guests on July 15; timed tickets for the observation levels go on sale starting July 1. The 553-meter-high tower will have enhanced cleaning and disinfection procedures, reduced overall capacity, a requirement for facemasks, floor decals to reinforce physical distancing, and more. 
Ripley's Aquarium
The attraction opens tomorrow, and it will be open seven days a week from 10 a.m. to 8 p.m. According to BlogTO, general manager Peter Doyle says the guest experience will be similar to what it was before COVID-19, with the exception of touch tanks, exhibits, and playgrounds remaining closed. The venue will also operate a 30-percent capacity and offer disposable masks for guests.
Casa Loma
While operations inside the castle remain shut down, the Casa Loma Terrace and BlueBlood Steakhouse began taking reservations this week. The outdoor terrace offers al fresco dining, a city-cape view, and complimentary access to the estate gardens. 
News
Collision From Home took place June 23-25, with attendees invited to watch more than 450 speakers and take part in over 100 hours of talks, workshops, and roundtables via a mobile and web app developed for the event. Speakers focused heavily on COVID-19 topics, with Shaquille O'Neal pledging $2 million dollars in financial relief, WHO director-general Tedros Adhanom's report that misinformation about the pandemic is 70-percent more likely to be shared on some social media sites, and Arianna Huffington's talk on how ideas of flattening the curve apply to combating mental illness and chronic disease. After 1,500 students took part in the 2019 conference, the event offered university enrollees free online access to the 2020 edition.
On June 22, Audi Canada unveiled its annual innovation series, which was recorded in-studio and posted to the company's social media channels. This year's keynote speaker, president of the Toronto Raptors Masai Ujiri, discussed leadership within the NBA, his work as founder of the Giants of Africa, a youth basketball program, and the importance of diversifying workplaces and hiring out-of-the-box thinkers. Since launching in 2016, the event has hosted Tommy Hilfiger, Netflix co-founder Marc Randolph, and Apple co-founder Steve Wozniak. 
Turn of Events
On June 23, TIFF announced that it would be laying off 31 full-time employees—a 17-percent staff cut. "The pandemic has had a huge impact on every Canadian organization that welcomes audiences in large numbers," said co-heads Joana Vicente and Cameron Bailey. "With our cinemas at TIFF Bell Lightbox temporarily closed since March, our festival affected by restrictions on travel and large gatherings, and a projected slow return to normal, TIFF has felt these effects."
Yesterday, more details for the hybrid physical-digital 2020 festival, which runs September 10-19, were announced. Fifty film premieres are slated, with both physically distanced in-person screenings and online viewing available through a new partnership between TIFF and video streaming platform Shift72. Attendees can also look forward to drive-in and outdoor experiences, and some of the special guests this year include Ava DuVernay, Taika Waititi, Anurag Kashyap, Nicole Kidman, and Martin Scorsese.
Overheard
"Physical distancing has changed my Pride plans dramatically. Usually I'm out and about showing my support for fellow performers, making new friends, and headlining shows. This year, I'm putting my energy into my online shows that can now be seen across the world. Even though the connection isn't the same, I've gotten the opportunity to perform with some of the world's best drag queens in virtual performances, which may not have happened otherwise."
—Toronto-based Canada's Drag Race queen Tynomi Banks, speaking to Flare about celebrating Pride virtually this year
On the Scene
Evergreen Brick Works announced that it's yearly Saturday Farmers Market has returned. 
What's Next?
Pride Toronto's annual weekend events begin tomorrow, with virtual editions of the annual Trans Pride March; the Alterna-Queer drag series; and Yes Yes Ya'll, a hip-hop and R&B online block party. On Saturday, Dyke March takes place at 11 a.m., followed by Rangeela, a South Asian, Bollywood-inspired dance party, and Lavender, a reoccurring event for queer women, trans, and nonbinary folks. Sunday features the annual Pride parade; LatinXplosión, featuring Latinx DJ and drag performers; and Blockorama, a local black performance space and the festival's longest-running stage.