10 Toronto Private Rooms for Events and Meetings
July 4, 2011
These new restaurants in Toronto have private rooms and semiprivate spaces for groups both big and small, appropriate for events, meetings, business dinners, presentations, and other types of entertaining.
1.
Toca
opened in February inside the brand-new Ritz-Carlton. The restaurant features a private dining room for 12, as well as a chef's table for 10 in an enclave off the kitchen. The glass-enclosed private room has dark leather chairs, walnut floors, and a red accent wall. At the granite chef's table, guests can watch the kitchen at work and enjoy a menu customized by chef Tom Brodi. Both spaces require groups to spend a minimum of $1,800 for dinner.
2. Hôtel Le Germain reopened its restaurant Victor this past April. The redesign transformed the space, making it modern, casual, and comfortable. A new private room was unveiled toward the back of the restaurant. Encased in glass, the space seats 40 or holds 60 standing. The main dining room can also be rented, with space for 100 for dinner or 150 for a cocktail reception.
3. Chef Scott Conant opened the first Canadian location in his string of fine-dining restaurants, Scarpetta, in July 2010. In the Thompson Hotel, the Italian restaurant offers a private dining room for 18 that is full of natural light and furnished in dark wood. The private room shows off part of Scarpetta's large wine collection.
4. Brassaii reopened in March 2010 with new owners and a brand-new look. The 8,000-square-foot restaurant has three private event spaces and is available for buyout. The cozy study holds 22 for dinner or 30 for a reception and has glass doors that can open to the dining room. The library can seat 88 or hold 140 for a reception and has a private bar. In between the two private rooms is the Rack, a small side lounge that can be combined with either the study or library.
5. E11even opened in November and filled the fine-dining gap on the waterfront. The venue has a private dining area on the second floor that can accommodate 55 for dinner or 95 for a reception. The space can also be divided into two rooms for groups of 25. Floor-to-ceiling windows offer views of downtown Toronto and the Air Canada Centre.
6. Emerging from a million-dollar renovation, Canoe reopened in February. The two private rooms now have improved soundproofing and new sheet metal artwork. Canoe West can accommodate 24 seated or 30 for reception, while Canoe East has space for 40 seated or 50 for reception. The rooms can be combined for larger groups, and both offer lakeside views from the restaurant's prime location at the top of the TD Tower.
7. Enoteca Sociale opened in June 2010 in the Dundas West neighbourhood. The relaxed and rustic Italian restaurant and wine bar have a private room that can accommodate 10 diners. In the wine cellar, the room is completely isolated from the upstairs dining room. Guests in the private space have a view of the restaurant's cheese cave, where chefs regularly come to prepare platters. There is no booking fee.
8. West Coast chain Earl's Kitchen and Bar opened its first Toronto location in February. The 10,000-square-foot restaurant has a private dining space for 45 diners or 100 for a reception. The space can be booked between 4 and 9 p.m. daily. The lounge can also be booked Monday through Wednesday and has space for 200. With a wide-ranging menu, Earl's offers a variety of options for events.
9. The 25,000-square-foot Real Sports Bar and Grill opened in July 2010 and has four private rooms and a V.I.P. lounge for sports enthusiasts. On the upper floor, three private spaces divided by retractable walls have a view of the 39-foot HD screen and can accommodate 15 to 50. The versatile Gardens Room is completely closed off and can hold 130, theatre-style. On the main floor, the V.I.P. Players Lounge is normally reserved for Toronto's athletes and coaches, but can be booked for private events for 35 to 50.
10. Chef Claudio Aprile opened his second restaurant Origin in April 2010. The semiprivate dining room, dubbed the Warhol Room, seats 14. A custom chandelier is constructed from Japanese monster toys, warring with the army tanks and solider that decorate the table surface. The food matches this playful, whimsical style.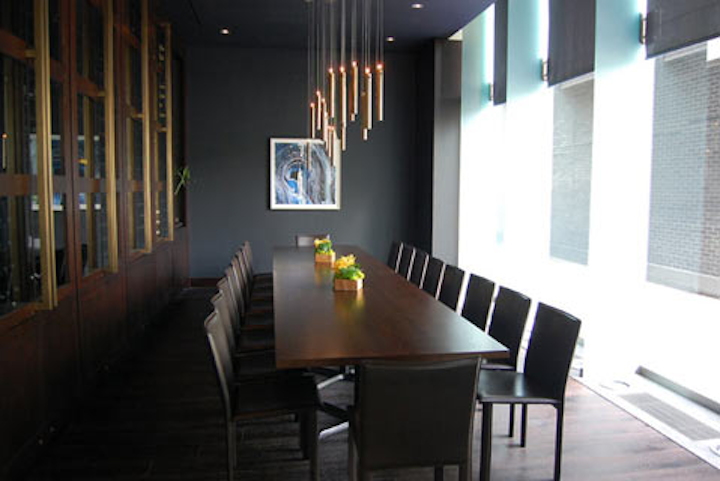 Photo: BizBash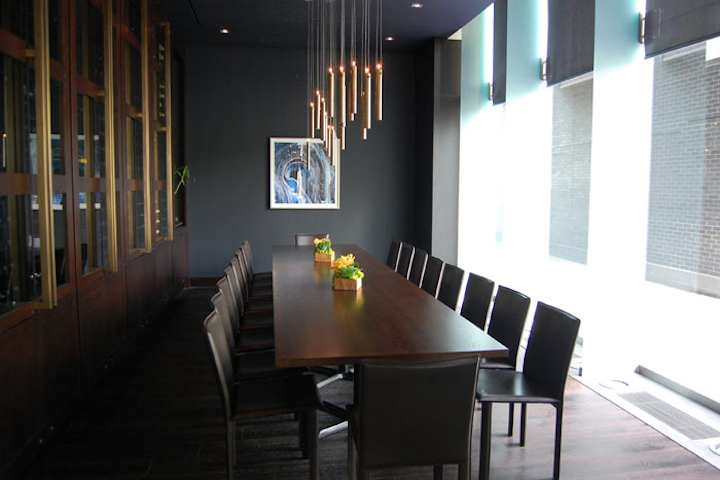 Photo: BizBash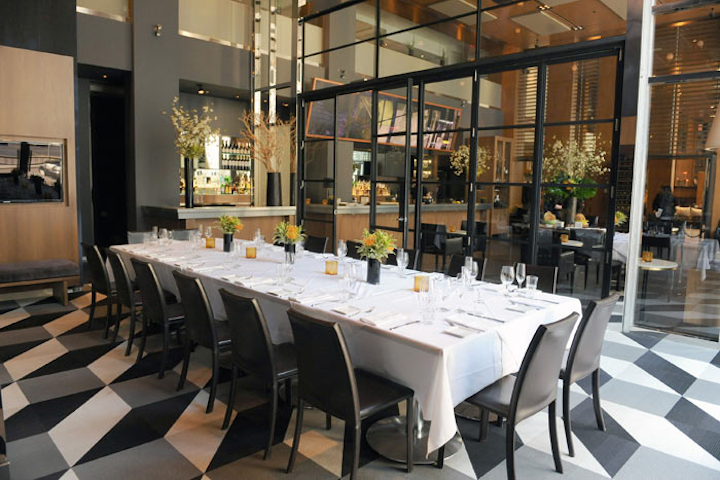 Photo: Courtesy of Victor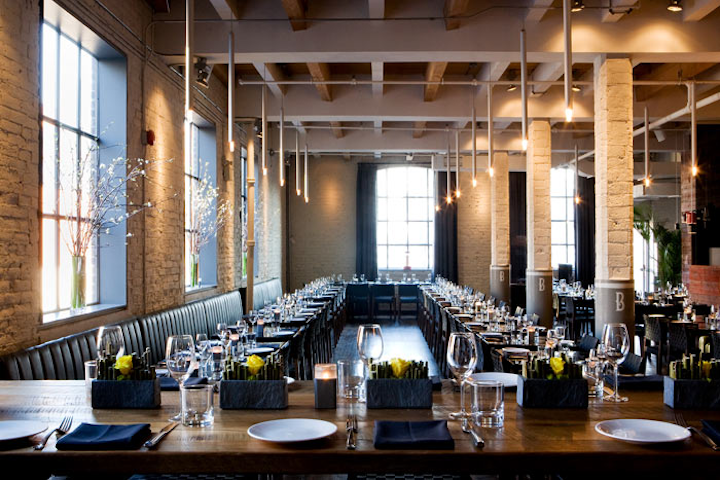 Photo: Courtesy of Brassaii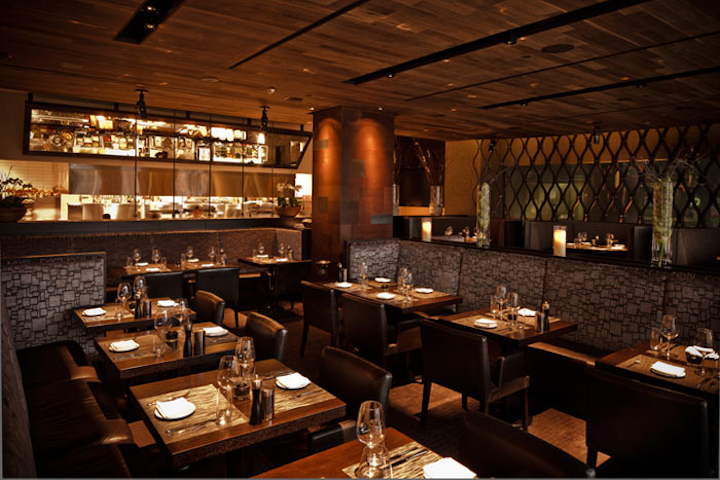 Photo: Courtesy of e11even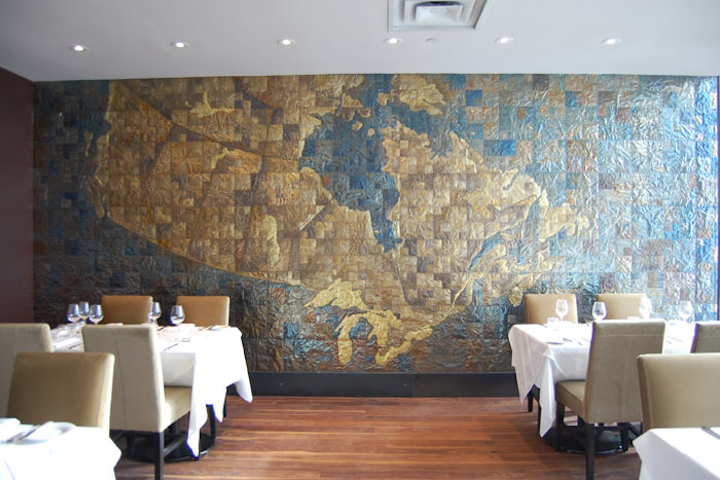 Photo: Erin Letson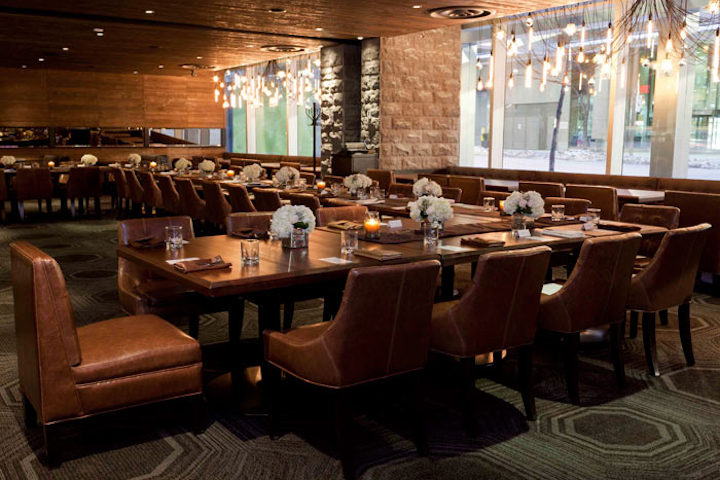 Photo: Courtesy of Earl's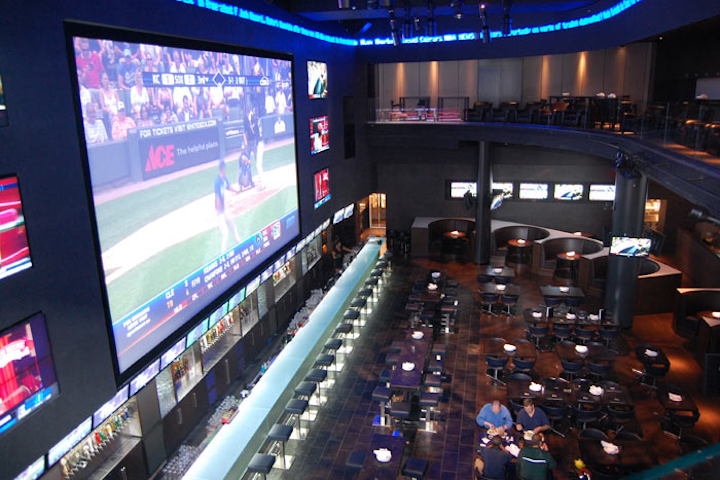 Photo: BizBash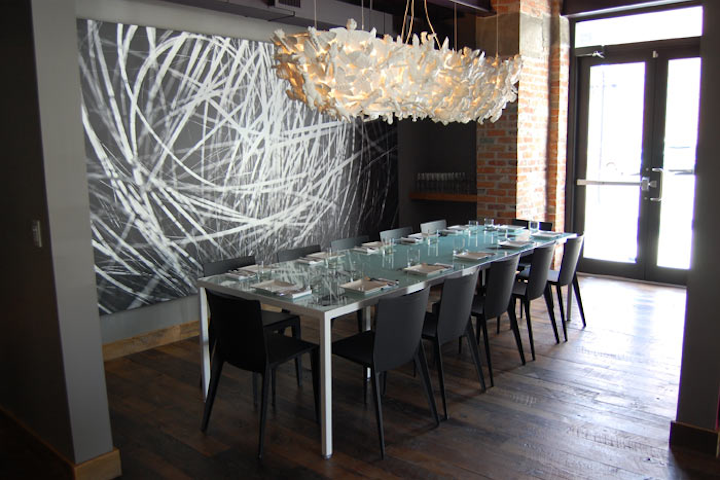 Photo: BizBash
Featured Venues/Suppliers: