Hot New Trends for Outdoor Activations This Year
June 12, 2018
As event production companies and marketers look for new ways to create standout experiences for large audiences, they look for innovative ideas to showcase brands. SilverStream, a fully renovated and customized 1963 Airstream trailer from Silver Lining Design Group, gives clients the opportunity to capture attention and create social media buzz. Whether a craft cocktail bar, photo booth experience, delicious food truck concept, or fully branded product promotion vehicle, this iconic high-luster Airstream has been turning heads and trending on social media.
SilverStream was conceptualized when a client asked Silver Lining Design Group to find an Airstream for an upcoming event. "We looked all over the East Coast and there was nothing available, so we just decided to get one ourselves," said Marielle Shortell, founder of Silver Lining Design Group. While the West Coast has several companies offering these unique restored Airstreams, Silver Lining found that there were no great options available on the East Coast. So it tracked down an old Airstream in Florida and set about restoring and customizing it. "It had to be versatile and come with many different configurations to suit a client's needs," Shortell said. "We wanted it to have many uses, since it was the only one of its kind here."
Since adding the SilverStream to its portfolio, Silver Lining Design Group has used the Airstream as a craft cocktail bar in an aircraft hangar, hot apple cider station in a busy D.C. boutique shopping neighborhood, V.I.P. lounge and greenroom for talent, and even as an over-the-top DJ booth for a music festival. "It's great to see clients get excited about how they can use it for an event," Shortell said.
The SilverStream is based in the Washington, D.C., metro area but has traveled as far as New York City. For more information, please visit silverstreamrental.com or contact Silver Lining Design Group at 888.334.5133.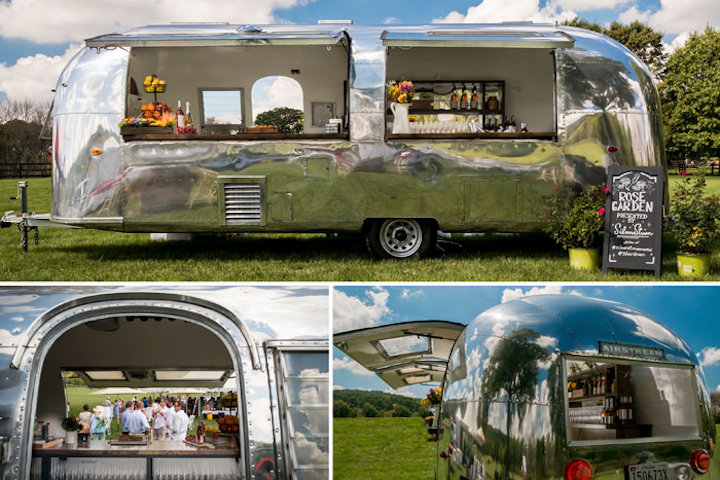 Photo: Pepe Gomez
Featured Venues/Suppliers: