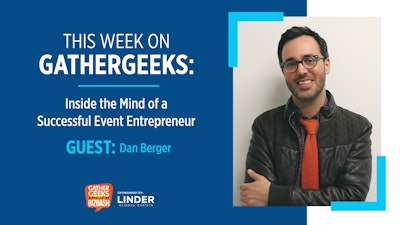 Hosts: David Adler, Beth Kormanik
Guest: Dan Berger
In this episode of GatherGeeks, BizBash chairman and founder David Adler and editor in chief Beth Kormanik sit down with Dan Berger, the founder of Social Tables who recently stepped away from the company after an acquisition by Cvent. Berger dives into what makes a successful entrepreneur, tips for building a strong team, how he developed a successful company and made the decision to sell it, and more. He also shares insights into fund-raising and dealing with investors, what he'll be doing post-Social Tables, and why he recently invested in a New York-based event production company.
Sponsored by Linder Global Events. Running time: 40:46
Show Notes
Roundtable Discussion: how to incentivize a team; how to understand your leadership identity; what makes the Elements Music & Art Festival unique
Further Reading:
Event Innovators 2014: Dan Berger https://bit.ly/3arXzz3
Learn more about Elements Music & Arts Festival elementsfest.us
Who by Geoff Smart and Randy Street https://amzn.to/39kaeUy
This Episode Is Sponsored By:
Linder Global Events
A leading events agency based in Washington, D.C., Linder has a global footprint. Since their founding in 1996, they have partnered with internationally recognized clients such as the Smithsonian Institution and the iconic National Cherry Blossom Festival to produce and manage innovative and experiential events that don't just engage—they inspire. To learn more about Linder Global Events, visit linderglobal.com.