Q&A: An MTV Award Show Producer Talks A.R. Strategy
Jesse Ignjatovic, executive producer of the MTV Video Music Awards and co-founder of live production company Den of Thieves, shares how to pull off A.R. moments at live events.
September 12, 2019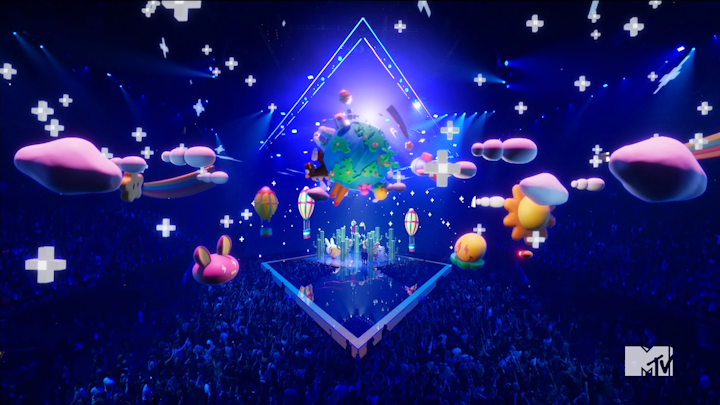 Photo: Neilson Barnard/VMN19/Getty Images for MTV
Anyone who watched this year's MTV Video Music Awards on a screen probably remembers a handful of "how did they do that?" moments during performances, such as a man getting beamed up into a flying saucer during Missy Elliott's medley of hits, or animated words popping up to the beat of Taylor Swift's "You Need to Calm Down." The surreal animations throughout the show were a product of augmented reality, which MTV used for a second consecutive year at the ceremony. Event producers from across the U.S. offered their take on the use of A.R. and more at the ceremony in August. 
MTV introduced the technology at the 2018 ceremony, with simple A.R. tie-ins that included highlighting award categories and some special effects on stage. The use of the technology this year was more pronounced, with eye-popping tie-ins used during performances as well as in the stage design and the text listing the show's performers and presenters.
Jesse Ignjatovic, co-founder of live entertainment production company Den of Thieves, executive produced this year's ceremony at the Prudential Center in Newark, New Jersey, and is responsible for helping spearhead the use of A.R. at the award show. Ignjatovic has helped produce the V.M.A.s since he launched Den of Thieves in 2007, following a 15-year stint working for MTV, where he started as a production assistant.
Along with the V.M.A.s, he and company co-founder Evan Prager also have produced events including the MTV Movie Awards, iHeartRadio Music Awards, and Taylor Swift's "Reputation" stadium tour. BizBash spoke with Ignjatovic about lessons he learned from using augmented reality at the ceremony for the first time in 2018, the strategy behind evolving the A.R. at this year's ceremony, how collaborating with each performer works, and more.
What's your history with live event production and the V.M.A.s?
I grew up at MTV. I spent the first half of my career, so far, there. I was there from 1992 through 2007, when [Evan and I] launched Den of Thieves. MTV had a startup culture back then. If you had an idea or concept, you could go and execute it. I love music, and I was there because of music and artistry. I very much was interested in capturing music through different kinds of events. Ultimately, I got to do that. When we launched the company, the transition from MTV to Den of Thieves literally involved pitching a concept for the V.M.A.s. I left MTV to start the company, and then started working with MTV continually by producing the V.M.A.s. since 2007. This year was my 13th show.
You first incorporated augmented reality into the V.M.A.s in 2018. What led to that decision?
We're always trying to elevate and progress the show. I think the V.M.A.s are a very special award and entertainment show. Every year we try to outdo the previous year or change the approach—whether that's the city, the location, the staging. The use of A.R. is the next playground to find new ways to present music and award sequences, which we did a lot this year. It's a new way to elevate the visual medium of an award show, and other shows as well.
What were some lessons you learned from using that technology in the production for the first time?
We certainly learned that you have to pick your moments and pick them wisely. To basically determine you're going to do A.R. in a live broadcast shouldn't mean you should overdo it. It's a very complicated piece of engineering. A lot of work goes into it, between the designers and the actual execution. What we learned was, first and foremost, to use it in places where we as the show can execute it properly, and control it. What we did this year—as opposed to last year—we incorporated it into all of our award sequences and house looks. That's something we knew we could manage and control. When you start introducing it into performances, it's harder to maintain. While we still did that, our best foot forward was implementing it in our house looks throughout the show.
Some of the notable A.R. moments during the show included those in Taylor Swift's opener and Missy Elliott's performance. Tell me about how you pulled off these A.R. moments in the musical performances. 
Those were definitely two of the key ones. There was also the J. Balvin performance, which was so surreal and, visually, the A.R. in the room elevated the surreality of that performance. It was working with the creatives on those performances and suggesting it would be an element that could elevate moments within those performances. Really, it was about working with the creatives and supporting them with whatever they wanted to do with the A.R.
How does your collaboration with each performance work? How much creative control do you have?
We always know the set and the room configuration. Our director knows the way these performances can be shot to execute them in the way the artist and creative team wants them to be captured. Again, it's about information; letting them know we have this ability to do A.R., and leaving it with those teams to come back to us. A lot of times, the artists will have graphics teams. We work with whoever their graphics people are and bring that into our A.R. system. Then it's incorporated into the performance. It's not defined. Sometimes our team will create the graphics. It's very much a collaborative process. It worked really well this year because we didn't try to do it too much. We did it across a handful of performances within the show, which is why it stood out. 
As a pioneer of implementing A.R. at an award show, what are some best practices you have for using tech like this in a live entertainment production?
It's about working with great creatives. We worked creative producer Paul Caslin and [Falk Rosenthal and Thomas Neese] at Gravity, who delivered the A.R. I think [Gravity] really does the best work in terms of A.R. It's about having the right team that's willing to go there and do what it takes to make sure it looks tremendous. And it's about finding the right director who knows how to capture it.
Alex Rudzinski directed the show, and the level of complexity it takes to know when to go to those shots and which cameras can capture A.R. during a live broadcast is crucial. It's easy for it to go awry. If it doesn't feel real in the moment, it's a missed opportunity. First and foremost, it's the right team to pull it off. It's also being strategic about how you're using it, how much you're using it, and the ways you're using it. All of those things are a learning process. We learned a lot from last year and applied it to this year. That's why I think we had some success with it.
How do you plan to evolve the way you use A.R. at future V.M.A.s or other live productions?
It will be similar to how we evolved it this year from last year. Again, I think where you can have the most success with it, whether it's an award show format or other format, is when you can really control how you're using it and where. That was the biggest takeaway from last year. That's why we used it in the end of the list [of performers and presenters] and those house looks. That really elevated those rejoins out of the [commercial] breaks, because it brings so much scale to the show. It's asking ourselves, how do we push it further, and how do we do it differently? Also, how do we incorporate it even further if there's potential to do that?
What events are you working on next?
We're in the middle of pre-production for the People's Choice Awards, which will be broadcast on E! in November. We're also doing a lot of work across all of the E! live red carpets, including the Emmys coming up. And then we have a bunch of events on the dockside that are in development. It's a busy time.
This interview has been edited and condensed.