Get the Inside Scoop on the High-Tech Mask Lady Gaga Wore at This Year's VMAs
The 2020 MTV Video Music Awards was a mix of live and prerecorded moments, but the most buzzed-about was the singer's sound-reactive mask.
September 11, 2020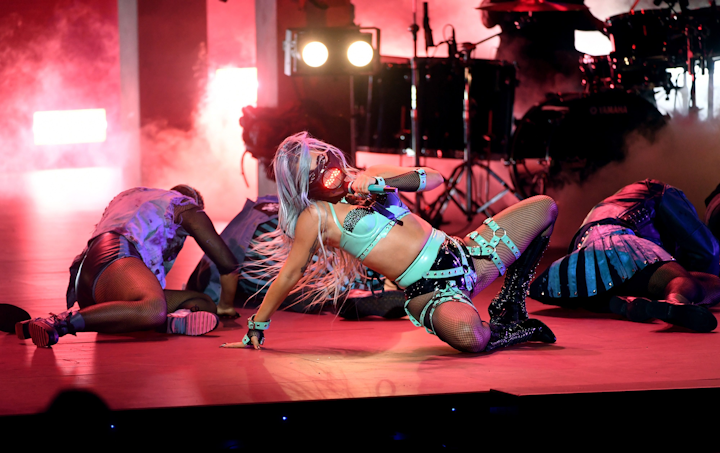 Photo: Getty Images
Of all the annual live events, the 2020 MTV Video Music Awards seemed to be the best suited for going virtual. After all, the award show is designed to celebrate video production.
So despite having to adhere to COVID-19 restrictions, the show, which was already known for its remote, off-site performances and high-tech visuals, was planned in a similar fashion to years past.
Host Keke Palmer recorded segments for the 2020 MTV Video Music Awards in L.A.Photo: Getty ImagesJesse Ignjatovic, the VMAs' executive producer, and co-founder of the production company Den of Thieves, told Billboard that the show was "produced in much the same way we do every year. We always say, 'We can do A or B or C,' and the artist will come back with what they're thinking and want to do. This year, it was just a different assortment of options."
This year's ceremony, which was originally slated to take place on Aug. 30 at Brooklyn's Barclays Center, featured a mix of live and taped performances that were filmed in New York, Los Angeles, and even South Korea, with host Keke Palmer announcing winners from a main stage that appeared to be atop a New York skyscraper surrounded by a computer-generated cityscape.
According to Ignjatovic, the majority of the performances were filmed the week of the show, with most of the XR (reality and virtual reality) clips being filmed in L.A. using green-screen technology. In New York, Maluma and CNCO performed at Brooklyn's Skyline Drive-In for fans in their cars, while The Weeknd sang atop the 17-story sky deck at the Edge at Hudson Yards with a backdrop of fireworks, something many quizzical New Yorkers noticed in the days leading up to the show.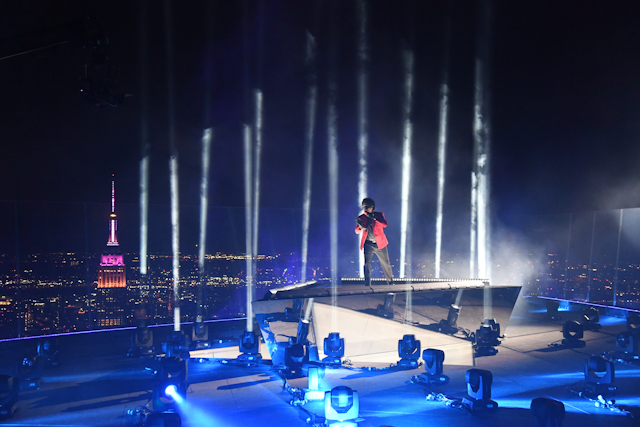 The Weeknd performed at the Edge at Hudson Yards for the 2020 VMAs.Photo: Getty ImagesThe network was then able to stitch together the prerecorded red-carpet appearances, award presentations, and performances into one cohesive show.
As expected, the big winner of the night was Lady Gaga with her stadium-worthy set that featured her songs "911," "Rain On Me," and "Stupid Love," as well as her eight outfit and mask changes, which included a fully functional sound-reactive mask. Created by Brooklyn-based experiential design company Smooth Technology, the statement piece served as a standout element of the show and in some ways epitomized the surreal moment in true Gaga style.
Smooth Technology's Dave Sheinkopf said that the singer set an example by wearing a mask. "She's kind of sending a message that no matter how powerful you are, you can't make your own rules." (Although the backup dancers were required to wear masks while performing, the artists were not.)
Sheinkopf and the team have helped design costumes for other musicians such as Nicki Minaj, Katy Perry, and Mariah Carey, as well as for Gaga for her "Enigma" shows in Las Vegas. That previous work led to the VMA gig. Smooth Technology was tasked with building the show-stopping mask in a week, and although the singer was in L.A., the team was able to meet with her costume designer Diego Montoya in Brooklyn to make sure the mask matched the aesthetic of her new album Chromatica.
The sound-reactive technology behind the mask isn't new (Smooth Technology first created it for Taylor Swift's LED costumes on her 1989 World Tour), but it was the first time that the team had used it to build a functional mask, which is controlled wirelessly from the lighting board. The animated waves that appear on the display reflect the frequency and volume of Gaga's actual singing.
"Obviously when Lady Gaga does something in fashion, it's very important that it's the first time it's ever been done," Sheinkopf explained. Adding that, "it's a good example of a project that is perfect for us because we like doing stuff that's never been done before. We like doing stuff that is a challenge, but that has a story behind it."
In addition to working with musicians, the tech collective also designs activations and pop-up installations for companies like Hasbro and is currently working on an interactive museum that's set to open in Houston later this year. And just like other event pros, the group pivoted during the pandemic and lent their talents to the medical industry—inventing a non-invasive breathing device that just received FDA approval.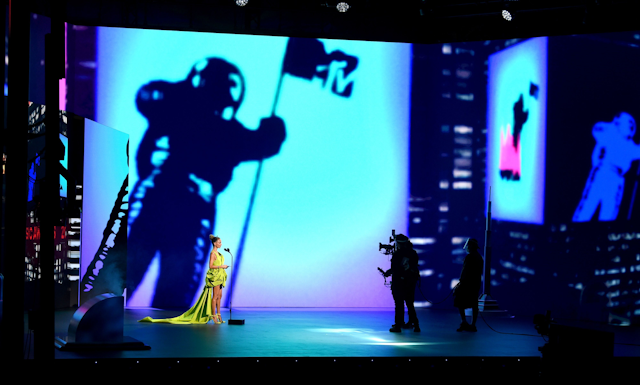 Nicole Richie presented onstage during the 2020 MTV Video Music Awards.Photo: Getty Images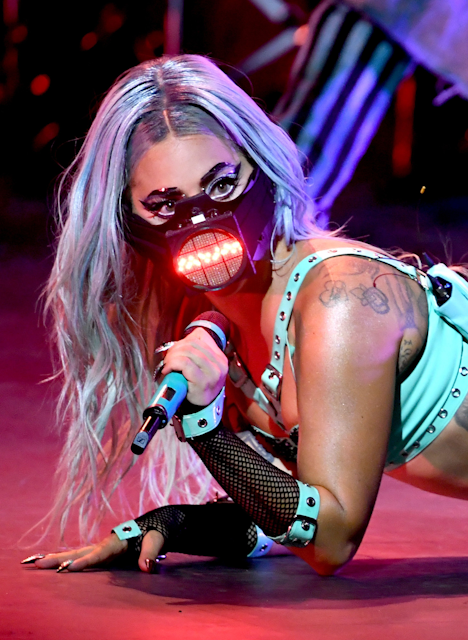 "Obviously when Lady Gaga does something in fashion, it's very important that it's the first time it's ever been done," Smooth Technology's Sheinkopf said.Photo: Getty Images