Rating the MTV V.M.A.s: Event Producers Give 2019 Show a B+
Event pros from across the United States praised the ceremony's flexible stage and use of augmented reality during memorable performances, but would have preferred a different host.
August 27, 2019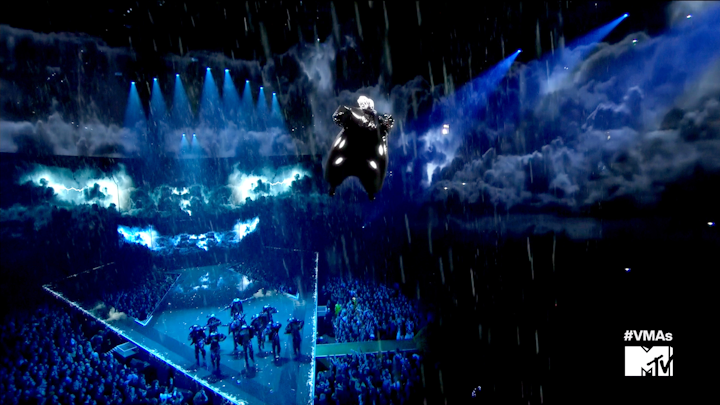 Photo: Neilson Barnard/VMN19/Getty Images for MTV
NEWARK, NEW JERSEY—The MTV Video Music Awards have taken place in cities like Los Angeles, Miami, and New York, but on Monday, the ceremony went across the Hudson River to take place in New Jersey for the first time.
Held at the Prudential Center, the 36th annual ceremony was hosted by comedian Sebastian Maniscalco and featured high-energy performances from artists such as Taylor Swift, Lizzo, Lil Nas X, and Missy Elliott, who accepted the Video Vanguard Award. The event also featured a tribute to New Jersey, with a closing number that featured hometown heroes such as Queen Latifah, Naughty by Nature, and Wyclef Jean. Additionally, the event streamed a pre-taped performance by The Jonas Brothers at Asbury Park. 
Industry experts provided their thoughts on moments such as the New Jersey tribute and Missy Elliott's technology-infused medley of hits, as well as the ceremony's increased use of augmented reality on stage, the lighting design, and Maniscalco's performance as a host. 
Yvonne McNair
The biggest win of the evening was the set design, hands down, but I'm not surprised because MTV does a great job designing the stage each year. Always unique, this year's design didn't disappoint and the lighting was stunning. 
I have to also give two thumbs up on the performances. They were all solid and, for the most, well placed. Taylor Swift had a big opening that was beautifully produced. The cameraman loved Taylor and actually stayed enamored with her the whole show. She got major face time. Lizzo has been a welcomed staple on most of the big awards shows this year and her performance here didn't disappoint. She's a badass and the people love it. 
Missy Elliott was the perfect choice for the Vanguard Award and had the best performance of the evening. She even brought out an all-grown-up Alyson Stoner, from her "Work It" video. It was also a big moment for Missy to dedicate the award to the dance community and acknowledge their passion and effort. MTV should definitely bring back the award for choreography.
If I had to offer a suggestion for the show, I'd suggest they take notes from the Oscars. Earlier this year, they went without a host and I think the V.M.A.s could've done the same. The host fell flat. 
Letter grade: A-
McNair is the founder and C.E.O. of Captivate Marketing Group, a New York-based event management and production company. Clients have included Apple Music, BET, and Coca-Cola.
Alana Zinn
What I liked was the fans. Real fans win every time. Awards shows are long and can be tedious to sit through, especially for an audience who has to deal with stage changeovers and commercial breaks. This year's show moved swiftly from one beautiful stage to the next, and the crowd was genuinely loving every minute. Camera shots of the crowd showcased the authenticity of a great live show, inclusive of dancing, singing, smiling faces, and celebrations with friends made the show a fun dance party versus a forced corporate affair. Also, the artists owned those stages tonight. I was impressed with their level of commitment: Lizzo commanding the world's attention, Rosalía's vocals, Normani's dance solo, and Missy Elliott's career spanning theatrics.
What surprised me was the actual music. MTV was once the home for new music discovery, groundbreaking video releases, and once-in-a-lifetime collaborations. But over the years, that all slipped away to make room for reality TV programming. Not to mention that V.M.A.s of the past few years have been focused on rule-breaking antics and bad behavior. But tonight, the music was resurrected. Miley's powerhouse vocals under that sexy lighting, H.E.R. slaying an electric guitar, Rosalía's breakout Spanish performance, Naughty by Nature and Queen Latifah—there were so many great performances. Probably the most surprising thing about the show, for me, was the pop music that we've seen performed countless times this year. It all felt new again with the use of smaller stages, intimate tight shots, and fast pacing. 
I'm sure that there wasn't too much to have been done, as it seems producers tried their best to make Billie Eilish a part of the show. But not having her there was definitely a missed opportunity. Her visuals on stage and videos are everything, not to mention her best new artist nomination and win. It would have been nice to have seen her darker presence on stage, live.
I would have changed the host. I don't understand why the New Jersey-based show, which had so many nods to its location, used an L.A.-based comedian, whose jokes didn't land all that well. He didn't have a connection to any of the music or the audience, and wasn't needed to keep the show moving. Next time, I'd like to see a younger star who represents the community.
Letter grade: A
Based in New York, Zinn is senior director of client services at IMG Live, an Atlanta-based experiential marketing agency within Endeavor Global Marketing. Clients have included Marriott International, T-Mobile, and Kia. 
Tomos Evans
The stage felt like a leap forward. It was flexible, scalable, and modern—all before Missy. No one else worked it as hard, making it feel custom to her unique futuristic and visionary fun. With attention spans shorter than ever, the stage held the audience with a fresh look and twist every 30 seconds.
Letter grade: A for Missy's performance and B+ for everyone else. 
Evans is co-founder of We Are Swell, a New York-based experiential marketing agency. Clients have included Aperol, Amazon Prime Video, and Skyy Vodka. 
Anthony Coppers
I loved the mechanical arms and the royal arrival corridor—it was superb. The dispersed lighting gave great perspective to the size of the room while keeping things intimate when necessary. They also did a great job getting raw and basic at times, like with the small concert venue for the Jonas Brothers, or simple presentations like the mini round lighting setup for Fetty Wap's performance. Sometimes, less technology helps ground things before flying right back up in the air.
They used A.R. from the start and throughout the show. It truly delivered an experience that felt real. Similarly, including the sky as an intricate part of the show and performances was surprising and very well done. I also loved how they asked the audience not to use their phones to record the performances. It made for a more involved and immersive experience for both the spectators at the venue and those watching from their homes.
The stage allowed for many different configurations—it was impressive in so many ways. There was a true landscape feeling that brought lighting projection, A.R., LED, and more together. Whether A.R. aliens, planes, and helicopters, or real people, it was magnificent and very well transitioned.
The lighting in the back of the main stage was great, but the same cannot be said about the front lighting. It made some artists look like they were in the dark and a little lost.
Letter grade: A-
Coppers is founder and head of innovation at Gradient, a New York- and Los Angeles-based experiential marketing agency. Clients have included TikTok, Yves Saint Laurent, and Air France. 
Valerie Bihet
I thought the opening was really colorful, dynamic, and kind of outrageous in a good way. I wish Taylor Swift's song was a bit more upbeat. That part seemed like a bit of a disconnect with the overall theme. 
I liked the versatility of stage and how they were able to go from fun and outrageous decor for Lizzo's performance to a more intimate feel for Sam Mendes to a futuristic look for Lil Nas X. While shifting to more organic scenes during the tribute to Missy Elliott continued to show the flexibility—and I loved the tech elements—it seemed really disconnected from the overall futuristic theme, even if it was very politically appropriate.
Overall, the ceremony seemed like a patchwork of moments to me, from Missy Elliott's way-too-long pre-award speech, oddly timed performances in relation to the commercial breaks, and the inclusion of The Sopranos cast members—which only seemed to happen because the show was in New Jersey. It was very disconnected from a programming perspective, which really took away from the creativity of the staging for me.  
Letter grade: C+ 
Bihet is owner of Vibe Agency, a Miami-based event planning and destination management company. Clients have included Swarovski, La Mer, and McDonald's.
Jessica Abel
Taylor Swift was the perfect choice to open the show, and she set the stage, quite literally, to promote equality and self-love throughout the night. The fact that she later took home the "Video for Good" and fan-voted "Video of the Year" awards was fitting. From her music to her performance to her acceptance speeches, Taylor made every moment count by showing fans how she relies on the people in her circle being their truest selves, and by putting the Equality Act petition she championed in June back in the spotlight. Similarly, "It's 2019, and not caring is not cute" was my favorite line of the night. Delivered by Queer Eye's Jonathan Van Ness before announcing Swift as the winner of the "Video for Good" award, it highlighted the importance of giving a damn, and the message resonated with fans. If #NotCaringIsNotCute isn't trending already, it should be. Also, Missy? I didn't realize how much I've missed her. More please.
What I would have done differently is get a host that can host. The best thing about Sebastian Maniscalco was his sequin bomber jacket. His jokes were rough, at best, his personality dragged, and his apathy was, well, who cares?  
You can't ignore the success of Lil Nas X's "Old Town Road"—especially after 19 weeks at No. 1 on the Billboard Hot 100. It was fun seeing him give a nod to his record-breaking hit, before going into his new single with a performance that—from the special effects to the choreography—was one of the most unique performances to grace the V.M.A. stage.
New Jersey might have been the true winner last night. Don't get me wrong, I love Jersey, but wow; I don't think location has ever been such a central theme for a show like this. All the same, the Jonas Brothers' performance from Asbury Park was fun and a nice change of scenery.
Letter grade: B+
Abel is senior director of growth and development at G7 Entertainment Marketing, a Nashville-based experiential and event marketing agency. Clients have included Pax Labs, SmileDirectClub, and F1.