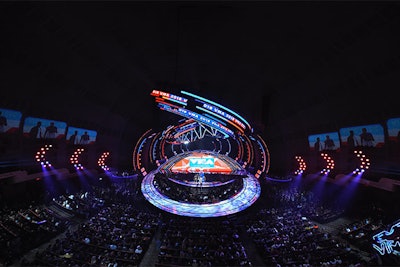 Photo: Dia Dipasupil/VMN18/Getty Images for MTV
On Monday, MTV's Video Music Awards returned to New York's Radio City Music Hall—the venue that has been home to the ceremony's most memorable moments, including Madonna's performance of "Like a Virgin" at the first show in 1984 and Kanye West interrupting Taylor Swift's speech in 2009, when they last took place at the venue. The 35th edition of the event was highlighted by Jennifer Lopez receiving the Michael Jackson Video Vanguard Award; a flashy performance by Nicki Minaj at the Oculus; and Madonna's tribute to Aretha Franklin, which wasn't necessarily well received by event producers.
Industry experts provided their thoughts on moments such as the tribute, as well as the event's futuristic set design, the order of performances, lack of a host, use of different New York institutions, and augmented-reality tie-ins.
Shane Terenzi
What I Liked: The overall set design by Julio Himede worked very well for the legendary Radio City Music Hall. He incorporated the venue's round proscenium stage into his set elements, which included protruding circles rigged from the ceiling. These circles were LED panels that transformed for each act. Sometimes this was with the presenter or performer, other times during a performance as they acted as decor. The stage design provided an easy transition between presenters, main stage performances, and a secondary stage positioned in the back of the mezzanine.
What I Would Have Done Differently: I would have pushed event trends and tried to bring in new and fresh ideas on the red carpet. Although the overall look was cohesive and fun, we have seen the string backdrops in a lot of festivals and the painted garage doors with bright colors in a lot of pop culture today. I wanted to see something that was out of the box. Also, I really think a show benefits with a host or hosts to keep consistency throughout the evening. Even with all the presenters, a host would do a better job of introducing them as opposed to a voiceover.
What Felt New: It was great to see the V.M.A.s back in New York after its brief hiatus in Los Angeles. As a kid growing up with TRL, that is where I think it is meant to be. The Moon Man installation as the back of the second stage was revamped with a New York nod—holding the Lady Liberty Torch. Finally, since the venue has confinements on space, they used different pre-recorded New York spaces to expand the visual experience for the audience, such as the Oculus for Nicki Minaj. It brought in different aspects of New York and let the audience see more of the city.
What Surprised Me: One of the strongest performances was Logic's, who had immigrant families and activists join him onstage to demonstrate that families belong together and not in cages. During the performance, immigrant families were briefly separated from their loved ones, eventually reuniting on stage as Logic performed. A simple LED wall created a barrier from the front of the stage to the back, and as the video of the wall crumbled it was lifted up and everyone was united. It was very powerful.
What Felt Like a Missed Opportunity: From a show production aspect, it was the lack of collaboration between artists. The final number was a song of Post Malone, 21 Savage, and Aerosmith. There have been past years when several legends paired up with new artists, as a thread through the show, and I think this was that idea, but it missed the mark for me. Digitally, the slides for each category were not consistent. For some of them they used old images of New York subways with the categories on them, but other times there wasn't any visual representation. If you are going to do it for one, then it should be a thread throughout the show.
Letter grade: B+
Terenzi is the director of events at High Beam Events, an Austin-based full-service production firm that handles experiential, corporate, and social events, as well as destination management. The team also handles design, production, and location scouting for South by Southwest. A transplant from New York City with a background in theater, fashion, and award show production, Terenzi is now based in Austin.
Alexandra Jensen
What I Liked: First and foremost, the V.M.A.s represent an exceptional orchestration of production from sound and light to talent and V.I.P. management, all while broadcasted on live TV. My hat's off to the teams who brought this year's show to life. The piece of the show I will keep thinking about tomorrow was J.Lo's performance. No one can attempt to suggest that woman is lazy on stage. For her mashup of hits, I was impressed to see her songs receive their own unique stage treatment in quick succession, each wildly different from the last. Also, Ja Rule: Welcome back to the world, old friend.
What I Would Have Done Differently: Aretha deserved a much more thoughtful tribute. Madonna may have fallen under the category of "can't be tamed," but MTV ultimately held the responsibility to create a proper pause in the cadence of the show to share a proper remembrance for the queen. This, unfortunately, fell very flat.
What Felt New/What Surprised Me: I look forward to the V.M.A.s every year—to see the event's new graphic identity leading up to the event; to see how that look carries into the environmental and stage design of the evening; to see what elements will be so shocking that they stick in pop culture enough to be the Halloween costume that October. In terms of what felt new or what surprised me this year, beyond returning to New York, I felt as though it was business as usual. I guess I will need to find my 2018 Halloween costume inspiration elsewhere.
What Felt Like a Missed Opportunity: With the exception of a quick Trump dig from Tiffany Haddish and Kevin Hart, I expected there would be more commentary around the country's political climate. I wonder if this was a symptom of the show being sans host or if those accepting awards felt they would save their thoughts for another environment.
Letter grade: D
Jensen is a senior designer and producer at Tinsel Experiential Design, a New York-based full-service event design, production, and planning agency. Clients include Spotify, Squarespace, and Anheuser Busch.
Devon Spierling
What I Liked: The staging, truss, and physical production at Radio City was everything in the opening shots. The way production hung the LEDs on a curved, non-geometric, futuristic stage set felt amazingly fresh. It reminded me of Blade Runner, however, it showed through the best during J.Lo's performance. The laser and hologram effect when she first came on stage was so impressive and they were able to play simultaneous curved video on the house walls to create an immersive experience.
What I Would Have Done Differently: Honestly, not much. The speeches were a bit long, I think they could have started off with a bigger hook—like playing in memoriam clips for Aretha Franklin. She deserved more presence in the opening. The Geico Party Pit didn't feel like quite the right experiential/sponsorship opportunity. As the industry moves from traditional sponsorship like the Taco Bell Artist of the Year presence, we as producers need to deliver ad buys that feel authentic. This is what companies want—you have to get that right.
What Felt New: I liked that there wasn't a designated host per se, because it kept things moving—although I am sure it was tough on the stage management and wranglers. It looked flawless to me and I know how tough it can be to get that number of talent to their cue times to call each award.
What Surprised Me: Nicki's performance at the Oculus—it was perfect. It was such a great way to showcase what the amazing team there can do. Thank you for making art. Nicki and her production team there really showed us how to do it.
What Felt Like a Missed Opportunity: Backstreet Boys deserved better than performing "Don't Go Breaking My Heart"—their amazing new hit during the pre-show; it was a stellar performance. Unlike most shows it didn't start with a bang, it was a slow burn—the opening didn't feel like it happened until Nicki performed and then crescendoed with J.Lo.
Letter grade: B-
Spierling is the business development manager at Toast, a Los Angeles-based entertainment production company. Clients include the N.C.A.A., Comedy Central, CoverGirl, and Pepsi.
Amanda Rockwell
What I Liked: As a semi-millennial, I identified with a solid 77 percent of the V.M.A.'s content. Sign me up for a reunion of The Hills, Jersey Shore references, and every second of the J.Lo award and performance. The performances were fun and energetic, while still being intimate enough for me to want to be there. It feels attainable, even though deep down I know I'll most likely never make it to an audience seat. The sets were beautiful. I have always loved a satellite stage, and this show did not disappoint with various stages and New York locations. This is how you do an awards show right—by going big. As a project manager, I can't imagine what a task it is to manage that budget. Another element I was feeling was the nod to the current social landscape during Logic's performance. Given the main audience of this show is a relatively aware set of the population, the V.M.A.s made good use of their opportunity to address the relevant issues. I commend them for allowing Logic to address such an important issue. It's not easy, but that's the best part of this show. They aren't trying to fit in, they aren't trying to be cool. And, because I am a human being who breathes, I loved the J.Lo Vanguard Award. She is a true queen, #Goals, whatever you want to call her. Well done by MTV for picking her. No one deserves it more, as she has been a pillar of the music community for decades. We don't deserve her, but we sure are lucky we get to live in the era of J.Lo.
What I Would Have Done Differently: I would have opened with a more upbeat performance than Shawn Mendes. Not that I don't love me some Shawn, but the energy of the night took a quick dip from the red-carpet shenanigans to when he took the stage. If it were up to me and my planning abilities, I would have switched his performance with Nicki Minaj to really start the night with a bang. Not that I want to continue the anti-Shawn Mendes train, but I feel there are other people who could have physically handed Jennifer Lopez the Moon Man. Luis Fonsi, for example, would have been an incredible choice given their shared Puerto Rican heritage. Madonna was in attendance; she was definitely worthy of handing the award out. And, if we are being quite honest, I could have seen Alex Rodriguez hand her the award, given they are both literal G.O.A.T.s in their respective industries. Shawn's placement in that part of the show seemed like he was the winner of an MTV sweepstakes and he got the elite opportunity to be in the presence of a queen. Lucky kid.
What Felt New: I loved how they incorporated local flair with the Rockettes gracing the stage during Anna Kendrick and Blake Lively's presentation. As event planners, we are always trying to infuse our events with a touch of the local scene, so this was a fresh and welcome element of the evening. I would have loved to see a bit more of a New York vibe weaved into the show to really pay homage to Radio City.
What Surprised Me: The fact that it took them until the last 10 minutes of the show to reference Aretha Franklin was a bit surprising. Madonna's story about her experience, however, was a touching tribute about how this true vanguard helped shape the industry. Long live the queen, indeed.
What Felt Like a Missed Opportunity: As much as I was enamored with the entire J.Lo moment, the only missed opportunity of the night was that she did not mention her family's home island of Puerto Rico. What has been such a hot topic after the devastation of Hurricane Maria, I was a little shocked that she didn't have a call to action for people to continue to support the island. When given a platform of that scale, just one little mention would have provided some pretty large results.
Letter grade: A-. Let's get real. In terms of award shows, the V.M.A.s is the cool show. They were the kid in high school with no curfew, they probably got their license first, and they definitely hosted the best parties. You wanted to be there. The V.M.A.s played off that vibe, and it worked well for them. The show was a success!

Rockwell is a senior project manager for the experiential marketing team at Cramer, a Boston-based brand experience agency. Clients include Walmart, I.B.M., and Johnson&Johnson.
Josh Kell
What I Liked: The augmented reality throughout the broadcast was something I started to look forward to. Trying to spot it became a little bit of a game for me (it may or may not have been a drinking game). The AR elements were relatively simple and not overdone, but it added an extra element for the people watching at home. Whether it was a stormy sky or falling snow during performances, or a simple way to highlight the award categories on the stage, it gave viewers unique content that the attendees didn't get. That's always a tough balance with award shows—how can you keep the people in the audience entertained and make them feel special, but also do the same thing for those watching at home. I felt like the AR elements helped bridge that gap that most award shows suffer from.
What I Would Have Done Differently: At a show like this, the stars and performances are what really matter. And there wasn't one star, one performance, or one moment that made this show memorable. And sometimes you really have to get lucky with one of those things (See: Madonna attacks Britney's mouth or Beyoncé announces a pregnancy). So there isn't much I would have done differently other than change the talent that was booked to perform, and the personalities who were paired up to present the awards. Controversy and shocking moments are what make the V.M.A.s memorable, and MTV didn't seem to give themselves the chance to make that happen. I also would liked to have seen one surprise performance on the Moon Man stage, just to keep people guessing and on their toes. It was highlighting new talent, so why not have Cardi B do a performance from that stage? The crowd never would have seen it coming, and she could have easily made her way to the main stage during her set.
What Felt New: It sounds obvious, but the Moon Man stage highlighting new acts felt new and interesting to me. It allowed the show to shine a spotlight on those acts that people weren't tuning in for, but in a way that didn't take away from the stars. The separate stage made it clear they weren't the main attraction, but the second stage in the middle of the audience felt authentic to live music, as more and more bands look for ways to get closer and closer to the crowd during their concerts.
What Surprised Me: Camila Cabello winning Artist of the Year and Video of the Year. I really didn't see that coming. But another thing that really surprised me was that there were no big 'moments.' There were no performances or "Kanye interrupting Taylor" moments that we'll be speaking about for years to come. The closest the show came to that was Nicki Minaj's performance at the Oculus. Watching a concert performed in the middle of that hall was really captivating. The V.M.A.s would have been better off if Nicki's performance was the entire show.
What Felt Like a Missed Opportunity: The lighting for the theater was a huge miss. Yes, viewers at home want to see the stars and who is in the crowd, but with the way the theater was set up and the lights showing off everything that was happening inside, it actually killed the energy of the show. You could clearly see when the audience wasn't engaged, wasn't paying attention, or wasn't even in their seats. When presenters announced nominees from the outer stage, you could see the crowd in the background ignoring the presenters. Or not being aware they were even there. This made the awards feel less than special, rather than the center of attention. And as the night went on (and on, and on, and on), the set up really shined a light (see what I did there) on the worn out crowd and empty seats. It was depressing to watch.
Letter grade: C-. Nothing about the V.M.A.s felt special or memorable, which is a pretty big shift from past years.
Kell is the vice president and director of digital and brand marketing for Switch, a St. Louis-based experience agency. Clients include Bosch, Coca-Cola, Nascar, and 5-hour Energy.
Washington Arias
What I Liked: As in years past, the main stage for the show was a visual spectacle. The set design was incredible—it looked like a science fiction movie about an asteroid whose collision course crashed into the Earth. The art director that designed this detonated a nuclear bomb of video, lighting, and special effects. The content creation was amazing, as most of the set was a video surface with moving lights intertwined. The special effects, from flames, smoke, and sparks that showered the stage, to lasers and aerial automation effects, were outstanding and perfectly executed. Even the second stage with the Moon Man wrapped in LED neon rope light was a cool and iconic set piece. It was an easy, inexpensive, yet effective way to get the second stage to pop, while the set changes were done on the main stage. The overall design was ridiculously amazing. J.Lo's performance was one of the best of the night and had the best choreography, projection mapping, and laser light show of the night.
What I Would Have Done Differently: The microphones that came out for the award recipients looked short and made some of the artists hunch over to give their acceptance speech. They should have adjusted the heights. Also, it looked like some of the artists had no sense of direction on getting up to the stage and exiting the stage.
What Surprised You: Why would an award show not have a host? That was a surprise to me, that there was nobody to carry the show. Aerosmith and Post Malone closed the V.M.A.s. Aerosmith is not relevant to MTV's teen audience and I seriously doubt that this experiment will pay off for them.
What Felt Like a Missed Opportunity: Madonna's return to the V.M.A.s to honor Aretha Franklin. This was no special tribute to the Queen of Soul. Madonna's speech was a lengthy self-indulgent speech, a rambling story about how she sang one of her songs at an audition. It was a missed opportunity by this cultural icon.
Letter grade: B (A for the technical production and overall design. C for the performances and celebrity appearances).
Arias is the C.E.O. of Everlast Productions, a Miami-based event production company. Clients have included Miami Swim Week, the Miami Heat, iHeart Radio, and Tales of the Cocktail.