Badge Takes on New Shapes to Tell Event Stories
August 16, 2018
As a leading supplier of customized badges and exclusive event products, pc/nametag Inc. works with planners to make their jobs easier and their events a success. One of the ways it accomplishes this twofold goal is by offering the highly popular Event Badge. This plastic laminate name tag is the company's showpiece for the customizable services it offers.


Besides a personalized name tag for meetings and conventions, the Event Badge stands out as a V.I.P. and backstage pass for concerts, a credential for sporting events, a staff badge for training activities, or an all-access pass for food festivals—the list goes on and on. It's available in two styles; Premier has the thickness of a credit card and is durable enough for multi-day events, and Standard, a slimmer more flexible version, is ideal for one- or two-day events.


With events being as much about experiences as networking these days, the Event Badge is an important part of those experiences. The name tag is typically the first thing attendees see, so it paves the way for a perfectly orchestrated event. And when the show is over, it's a memento for happy attendees.


To better capture the essence of your brand or event, the Premier Event Badge is now available in eight new stock shapes: square, triangle, pentagon, octagon, circle, oval, and snap pass—a badge with a perforated pass for a free drink. As any designer or photographer knows, shapes are as influential as color and words. And while rectangular-shaped badges are still great for meetings and events, using a new shape can help elevate your message and create a memorable symbol for your event.


Besides our in-house advanced digital printing that allows us to re-create logos, artwork, and even photos in vivid detail, pc/nametag also focuses on the texture or surface of the badge as part of the attendees' visual and tactile experience. Hence, we also offer the Event Badge in several finish options, including gloss, clear, satin, soft touch, metallic, foil accent, and holographic overlay. Customers can see and feel these finishes by ordering an Event Badge sample pack prior to making a purchase. 


Customizing options like these are taking the Event Badge in exciting new directions beyond meetings and conventions; this multifaceted badge is gaining huge appeal from other industries such as music, travel, sports, and education. And while we continue to add more customizing features based on the latest event trends, pc/nametag also relies on feedback—both positive comments and constructive ones—from customers: the hardworking planners we partner with. Through our original products and custom services, we're there to help them orchestrate the most memorable events ever.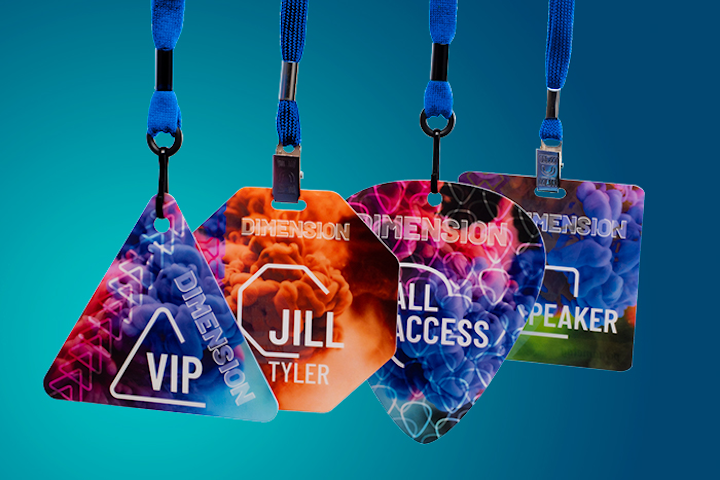 Photo: Courtesy of pc/nametag Inc.
Featured Venues/Suppliers: