One Simple, But Crucial Thing Event Planners Often Miss
August 7, 2018
In 1936 Dale Carnegie wrote the book "How to Win Friends and Influence People," containing advice about creating success, both personally and professionally. Many books and reports have been written since and all reinforce the desire within all of us for connections, engagement, and the support of community. Perhaps Carnegie's most important revelation, however, was that of a universal, human impulse — the desire to feel important.
"The desire for a feeling of importance is one of the chief distinguishing differences between mankind and the animals. This desire makes you want to wear the latest styles, drive the latest cars, and talk about your brilliant children." Carnegie wrote.
This principle can be seen in any and every aspect of people's lives. From the personal pride of accepting your high school diploma in front of friends and family to the satisfaction of refreshing Instagram to check how many likes and comments a recent post garnered, the feeling of being important is innate in everyone.
And who else has a greater professional opportunity to make people feel important than an event planner? Yet most event planners put a disproportionate amount of attention on the logistics of producing the event and forget about how each individual is going to experience it.
After all, an event is only as good as it's people. It's the guests, and the collective energy of their attitudes and personalities, who make the hard work and hustle of event planning come to life. Event planners can put Carnegie's words into action and focus on their guests' desires to feel important by:
Knowing names and showing excitement: Personalize greetings and mementos and prep your team members about guests before their arrival. If guests feel welcome (aka IMPORTANT) from the start, they will be more excited about the rest of the event and eager to share their experience on social media
Treating everyone like a VIP: Whether it's a popular Instagram influencer or a friend of a friend, give each type of guest your utmost attention and include personal touches. Segment different guest types into groups to create customized, personalized experiences while still maintaining continuity throughout the event
Managing expectations:  Events are synonymous with last minute changes. The right communication at the right time is everything. No one likes to be surprised (aka disappointed) when things change and they weren't given a heads up
The feeling of being important can make or break the guest experience — and no one knows this better than concierge.com. Our motto? Being a 'VIP' is no longer the exception. It is the expectation.
Our dynamic guest management software and event concierge team have become the 'secret sauce' for brands looking to elevate their interaction with their customers, fans, and guests. From personalized digital invites and registration to real-time communication and customized guest itineraries, every detail is managed so that event-goers feel special every step of the way. This level of customer service ensures that no one feels like just another number in a spreadsheet, but rather an important and valued guest of the host. Let the rave reviews begin!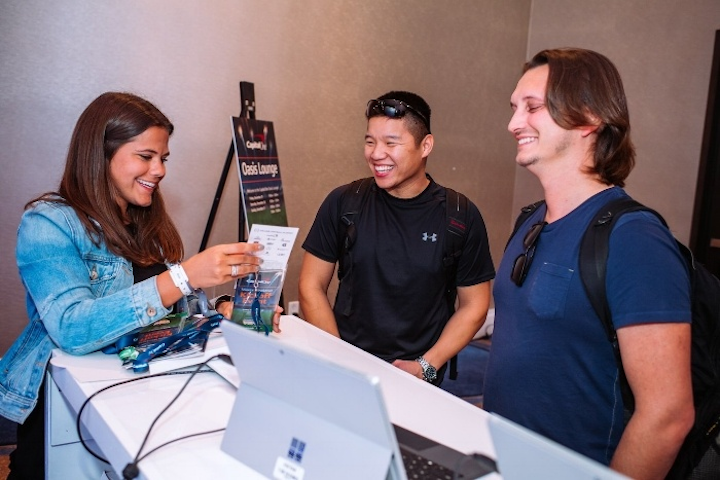 Photo courtesy of Dylan Rives.
Featured Venues/Suppliers: