Q&A: A Behind-the-Scenes Look at the MTV Video Music Awards' Ambitious Stage Design
Ric Lipson of Stufish Entertainment Architects shares the process—and the jaw-dropping numbers—behind the massive, futuristic set design and performances at this year's MTV V.M.A.s.
August 31, 2017
The numbers are jaw-dropping: Fourteen performances. Six stages. Two weeks of load-in. Twenty-two cameras. More than 8,2000 feet of LED lines, and 100,000 individual LEDs. And 340,000 pounds of equipment rigged to 560 individual points.
Those are just some of the details behind Stufish Entertainment Architects' massive set design for the 2017 Video Music Awards, which were broadcast live from the Forum in Inglewood, California, on August 27. The U.K.-based company, which specializes in permanent, touring, and temporary entertainment architecture, worked with MTV's creative team as well as several local scenery companies to design the show. The result? The network's largest award show to date, with a mirrored, futuristic stage that drew attention from event planners from around the country.
BizBash spoke to Stufish's senior associate Ric Lipson—the London-based architect for the show—about what went into designing a live, televised event of this magnitude.
First of all, how did your relationship with MTV come about?
Stufish has done about 26 MTV events over the last 20 years, and this is our third V.M.A.s. We did the last one in 2009 at Radio City Music Hall [in New York]. We've worked a lot with [V.M.A.s co-executive producer] Lee Lodge on shows for Robbie Williams, One Direction, and U2 over the last few years, and he asked us to come in. The network had an ambition to do something bigger than they've ever done before, and to take on the architectural scale of the room at the Forum. Lee knows our work, as does Jesse [Ignjatovic] from Den of Thieves—the other creative producer for the V.M.A.s—so they said, "Well, we need the guys that build big sets and arenas." That's what we do at Stufish.
Can you describe the design process for this year's show?
I came over to Los Angeles in February to have an initial site visit and had conversations [with the producers] about how they wanted to take on the scale of the room and have more performances than normal—which meant that we needed more stages. That was unconventional for the V.M.A.s, which have never had more than one major stage, so it came with a lot of technical and spacial challenges. We ended up with two main stages, plus a far stage, what we called the mosh stage, and then the central stage with the catwalk spaces that linked it all together.
Another thing we were really keen on doing was redefining the V.I.P. experience. How do you give those talent V.I.P.s a nicer experience? If you're going to have a show that involved the whole room, the talent need to be able to see the whole room. So these were sort of our starting questions.
Then we started to look at topographies and landscapes, and ways to mix the action between performer, audience member, and talent, where stages and catwalks and levels could rise and fall and wrap and surround and be cut through. How would we do that, both on a practical level and artistically? The nature of the Forum is that the bowl seating is about 10 to 12 feet above the arena floor. And so historically, it's been quite a big drop and there's been no emotional connection between the people that sat on the bowl and the people that sat on the floor. The Forum is also quite a low venue compared to other arenas, so we decided that this should be a show that was all about the horizontal surface.
And so the main stages were formed. Then we knew we wanted these catwalks and these various stages, and it sort of started to feel like a piece of origami, where the levels were being pushed up and pushed down like a piece of paper.
Where did the idea of using metallic and mirrored surfaces come from?
Materialistically, we originally were considering making everything red velour so that it would feel very warm and like an extension of the Forum. But it just didn't feel right and modern.
We realized that the architecture we had designed lent itself much better to the world of reflectivity and metallics, giving you these amazing moments of scattered reflections. The rest of the set became a slightly reflective series of silver triangles that were all picked in order to convey the feeling of intimacy, because the lights and the video and the people were all reflected in its surfaces, even if it was just in an ambient way. So the room was really connected visually. … It sort of became this environment that was fully immersive to the audience, and gave a new architecture to the show within that big room.
[PULLQUOTE]
Stufish specializes in designing live shows, particularly touring concerts. How does your design process differ when producing a concert tour versus an award show like the V.M.A.s? 
They both have very different challenges. A live concert has to a) look spectacular in the room, and b) be able to tour. So you're building it in pieces that can be taken apart each day and put into trucks to take around the world. The beauty of a show like the V.M.A.s is it has two weeks to load in, including rehearsal. The challenge of a show like the V.M.A.s is that two weeks is still not really enough time to build a show of this scale and rehearse the acts as much as they need to be rehearsed. We ended up with a situation where we could only give each act two to three hours to rehearse on stage, because there were 14 acts. 
Designing a set that has to be on the telly has its own challenges. On a TV show, the camera captures everything—and we had a fully 3-D automated spider camera, we had tracking cameras, we had people with hand-held cameras. There were 22 cameras, which meant we had to understand the set from all angles. From the back of the room you see this massive folded architecture, but when you're close up or watching on TV, and you see Ed Sheeran picking up his award, what's in the background? In a normal awards show or a normal TV show, there are a lot fewer places where presenters will stand or awards will be given, so you can control those backgrounds a lot better. Here we were deliberately using the room from all angles, so it was quite a challenge to make sure there was enough detail in every shot.
The other complication of a live show is that you're going out to millions of people, and you can't allow anything to go wrong. We were dealing with 14 different creative teams, and 14 different acts, in not a huge amount of time. There are a lot of different things going on in the show, but [all the scenery] can't store backstage in one piece. So some of the scenery is built in the car park, and during the show there's teams of hundreds of people sliding these props down the big corridor and assembling the chunks together in between performances. 
For example, if you look at stage right, that's where we started the show with Kendrick Lamar. The next time you saw that stage was when Fifth Harmony performed. After Kendrick finished, there was a team of people taking down a very, very complex series of metallic frames that had hot gas lines running through them. We had to build a special cart to lower the hot frames without burning the crew. That take-down might take 20 to 25 minutes, and then you've got to have all the Fifth Harmony scenery waiting to roll in. And that performance featured a water component, so that also had a certain amount of complexity to it. There's just a huge amount of scenery and logistics during the show that requires big teams of people—and they've only had the chance to rehearse it twice. It's quite stressful.
Speaking of big teams, did you work with many local Los Angeles vendors?
For the main set, we worked with four Los Angeles-based scenery companies: Staging was handled by All Access Staging & Production; the proscenium was built by Scenic Express; the floors were built by the Scenic Route; and ShowFX built the tunnel, the fins (the folded structures on the side of the stage), and the far stage. We used four different companies for two reasons: 1) There's so much to build that one company probably could not have managed it all in the time available, and 2) It's sometimes better to split the job up so you can play to the best qualities of each company.
All the props of course required additional vendors. We used pretty much every scenic shop available to build basketballs and hands that bob up and down and flaming walls and cars that fly and so much more.
Were there challenges to designing the show while you're based in London?
Yes and no. I have a wonderful relationship with the producers, and then I worked with three art directors, including Matthew Steinbrenner, the main art director. He's worked on the V.M.A.s for the last five or six years; he takes the design and works it up technically, making sure it will work for all the riggers and the people that will load it in, and he deals with all the shops. He and I worked closely from day one—once the design was done, I would have a daily call with him, sometimes twice a day. I had a lot of 2 a.m. phone calls!
What's next for you and Stufish?
Tomorrow, I fly to Germany for a show we designed for [singer] Helene Fischer. We also have touring shows coming up for the Rolling Stones, U2, and Queen and Adam Lambert, as well as a Pink Floyd exhibition here in London. So we have quite a few live projects opening soon—and then we're starting to work on projects for next year.
Photo: Courtesy of Stufish Entertainment Architects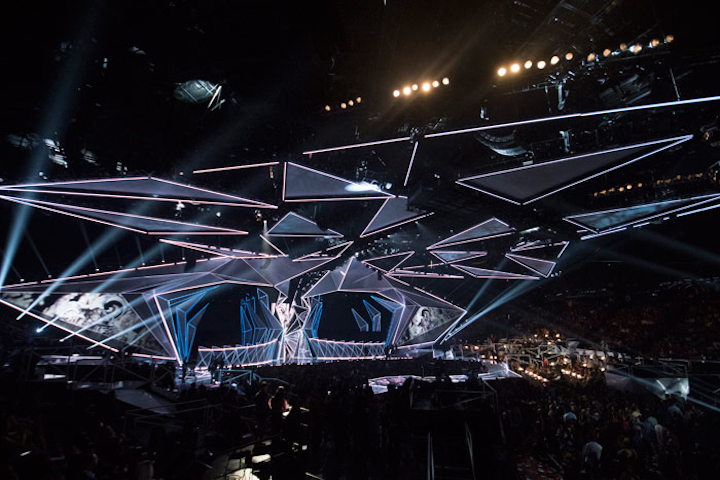 Photo: Courtesy of Stufish Entertainment Architects
Photo: Courtesy of Stufish Entertainment Architects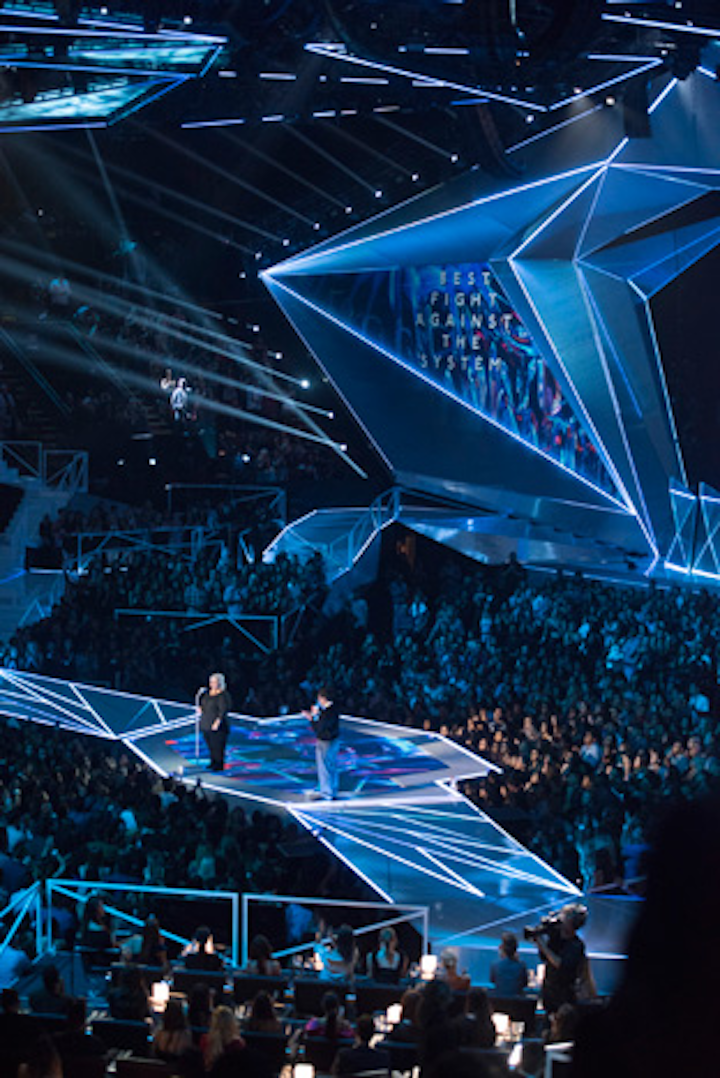 Photo: Courtesy of Stufish Entertainment Architects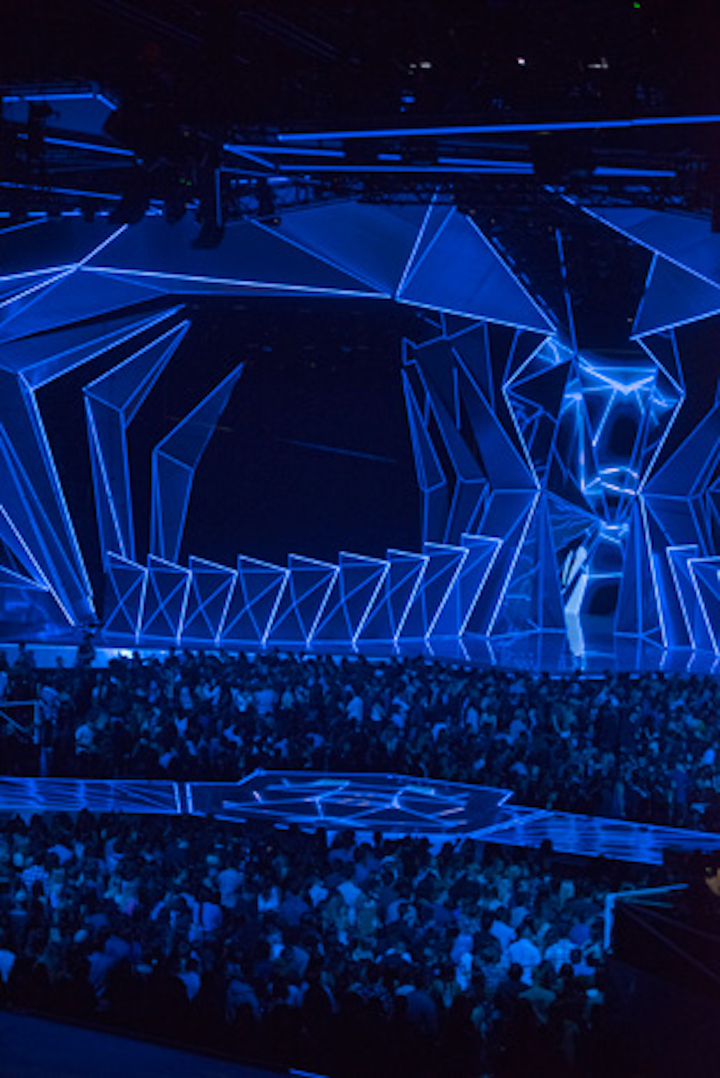 Photo: Courtesy of Stufish Entertainment Architects
Featured Venues/Suppliers: