How Did You Get a Client to Try Something New?
Event planners from the U.S. and Canada shared experiences and advice for getting clients to try new ideas.
November 7, 2018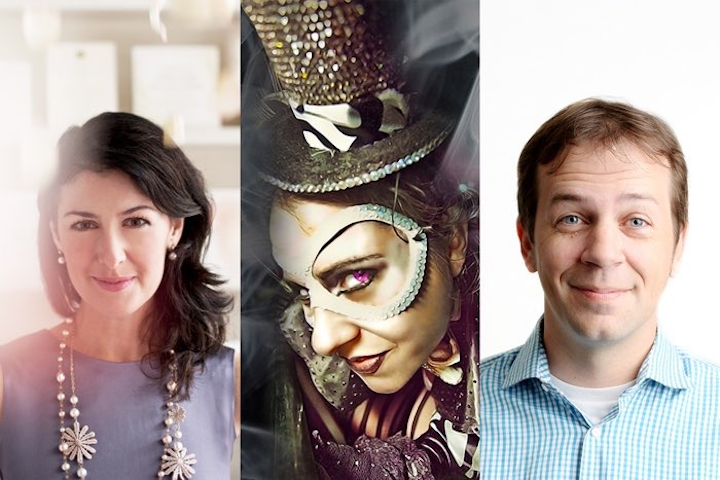 Photos: Courtesy of Readers (All)
"We travel to Paris two to three times a year to source design trends at Maison & Objet trade show, as well as research food and cocktail trends, floral trends, and more. Clients ask us to scout new ideas, flavors, and styles for their upcoming events, and bring back all the white hot 'new' for their upcoming celebrations."
Debi Lilly, chief eventeur, A Perfect Event, Chicago
"It's easier to have a client trying something new when you are excited and passionate about that new thing. I was at a meeting with a brand-new client who said they wanted to have an ice cream truck in the middle of a square in Downtown Los Angeles and invite all their own clients from buildings in the area to enjoy the ice cream break. I offered the idea of a nitrogen ice cream station to create a disruptive moment—and to have a few brand ambassadors go to each client's office and grab them from their desks. This was new for the client and it was very appealing, as I added the experience factor to it with a level of hospitality, which can stand out and make the client remember that moment days later." 
Valerie Combet, founder and event director, Next&Neat, Los Angeles
"By doing all the proper research so that way there is no reason whatsoever to say no. For instance, my client wasn't comfortable being on stage so they wanted to do an eight-hour conference (with other speakers) using teleprompters. They wanted to use the big, bulky ones that were actual monitors on a pole.... Instead, I researched the presidential monitors where the monitor is at the base where glass reflects content up to be read through a piece of glass. For an eight-hour conference, your audience must feel heard, important, and have nothing obstructing their view. If you do research and find several reasons that what you are suggesting is the better, smarter, more innovative route, then your client cannot deny what you are proposing." 
Kristin Uptain, event manager, Eventti, Temecula, California
"Specializing in theatrical, immersive, and interactive entertainment, I've had clients that are sometimes hesitant of incorporating this into their event. Sometimes they don't understand what it is or what it looks like. [Once] when I pitched a client a rainforest-theme event, I took off my heels and business jacket and started to crawl around the floor like a lizard. I stayed in character for about 30 seconds, then jumped back and stated, 'That is what our inter-actors do.' We got the job." 
Diana Andrew-Lozano, founder and creative director, Circ X, Miami
"I find many of my clients can't visualize the new idea. It's like when someone walks into an empty house for sale and can't imagine their furniture in the space. So, like staging a house, I build a replica, develop a drawing or mock-up, or show my client a photo of something similar. The visual representation of my new idea is usually enough to get an initial buy-in." 
Krista Benoit, president and C.E.O. iSpark Consulting, Ottawa
"It is all about incremental growth. If you offer or show too much, the client can feel overwhelmed both by possibly the cost and/or by the concept itself. It is always best to lay out a plan of how you see their project, experience, trip, and technology evolving over time. This allows them the freedom to look at it from a relaxed position. This also allows them to take into consideration future ideas and possibly apply them to the present plan."
Jenna Linnekens, director of business development, Extraordinary Events, Sherman Oaks, California
"F.O.M.O. All kidding aside, we inspire and use appropriate levels of education—i.e., market and target audience research—to evolve our client by defining why doing something new and different will promote positive action and results. We use a 360-degree holistic approach that identifies exactly which tactics are best utilized and in what portions across pre-, during-, and post-event phases to measure against their K.P.I.s. So, how do we gain the client's trust to do something new? We pair the right people and talent from the client's target audience on the project that offers authentic credibility and trust. It's that simple." 
Christopher Joseph, founder and chief experiential officer, Vokare X, Venice, California 
"I always present a moonshot idea in addition to the ideas the client asked for.... If they entertain the moonshot idea the next step is to speak confidently about the concept. Clients in today's corporate mindset are hesitant to take a risk when they're deciding for other people, i.e. the attendees of their event. They need you to be confident so that the risk feels less risky." 
James Bennett, C.E.O. and co-founder, FireFly Team Events, Huntington Beach, California
"A great way to get clients to think outside their own box is to establish trust before you ask them to believe in something new. Build trust with your clients by setting deadlines, meeting them, and doing things that they expect and are happy with. Then as you get them comfortable with your planning services and expertise, start introducing innovative, new, and interesting ideas. They then will trust you to execute these things, even if they've never seen them before." 
Lilli Black, owner and wedding planner, Sweetly Paired, Denver 
This story appeared in the Fall 2018 issue of BizBash.
Featured Venues/Suppliers: