Why Is This Cranberry Bog Shaped Like a Giant Whale?
Ocean Spray joined forces with Vineyard Vines to bring attention to women's health with an eye-catching stunt.
October 16, 2019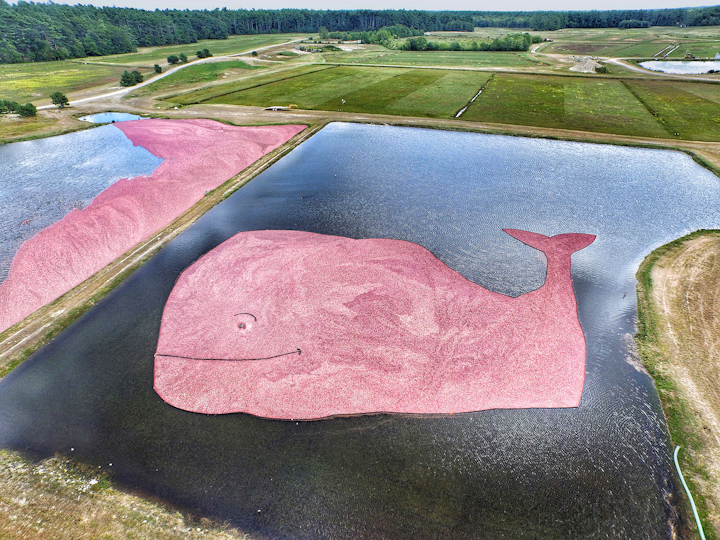 Photo: Courtesy of Ocean Spray
ROCHESTER, MASS.—Ocean Spray and Vineyard Vines recently teamed up to host a whale of a time in a cranberry bog, as part of the brands' joint effort to support Bright Pink, a nonprofit organization dedicated to the prevention and early detection of breast and ovarian cancer in young women.
To announce the new partnership, the brands invited media and influencers to Beacon's Bog in Rochester, Massachusetts, on September 18. Attendees strapped on waders and learned about the cranberry harvesting process, alongside a giant whale outline filled with about 15.5 million pink cranberries. (Many cranberries, depending on the amount of sun exposure and temperature, remain a blushing pink color, not red.)
Inspired by the classic Vineyard Vines logo, the whale was constructed by four farmers, plus six Ocean Spray team helpers, who corralled the berries into the shape. Last year, to show its support for breast cancer research, the brand created the ubiquitous pink ribbon out of the floating fruit.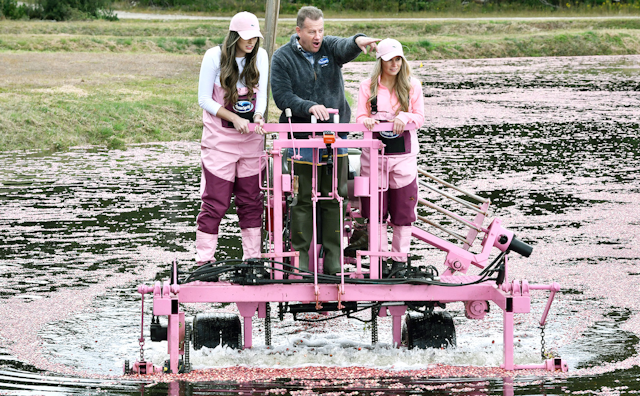 Attendees learned about the cranberry harvesting process from one of Ocean Spray's farmers.Photo: Courtesy of Ocean Spray

Ocean Spray's work with Vineyard Vines is a new kind of collaboration for the cranberry brand, which, under the leadership of recently appointed C.E.O. and president Bobby Chacko, is aiming to forge "partnerships that make an impact for a better world," explained Christina Ferzli, director of global corporate affairs for Ocean Spray.
As part of the partnership, Vineyard Vines plans to create items incorporating the Ocean Spray logo, while Ocean Spray will add the Vineyard Vines logo on some of the brand's cans and bottles.
In addition to the products, the brands are also launching a women's health program, in conjunction with Bright Pink, across college campuses and community centers to encourage young women to be proactive about their health through pop-up events and educational programming.
"We love working with Bright Pink because of their focus on both awareness and action, as well as on both breast cancer and ovarian cancer," Ferzli said. "As a cooperative of 700 family farmers, many of our farmers are survivors, and we are dedicated to joining the fight against cancer and empowering women to take charge of their health."