Guerrilla Battlefield
Summer is the perfect time for stunt marketing and street promotions, but you can\'t just stand with a sandwich board on any old corner. Here's a look at prime spots to find (and hook) consumers in six big cities.
June 2, 2009
Chicago
Where to Go: One of the Windy City's most iconic locales, the Daley Center, allows marketers to reach consumers—including the lunching masses—under the watchful eye of a 50-foot untitled Picasso sculpture. A few blocks northeast, and just outside the Loop, is Pioneer Court. The petite, extremely busy plaza sits where the Chicago River meets Michigan Avenue and sees most of the 40 million tourists who visit Chicago annually.
What It Takes: The Daley Center's plaza is owned by MB Real Estate (312.603.7981), which prices permits individually. Pioneer Court is controlled by the Equitable Life Insurance Company and the Chicago Tribune Company, but any event using the streets around it would require permits from the City of Chicago (Office of Special Events, 312.744.0626). Months of red tape and a 28-page application packet might persuade you to go guerrilla instead.
Recent Stunt: When More put future first lady Michelle Obama on its October 2008 cover, the magazine deployed 100 readers to the streets around Pioneer Court to pose with issues—and it didn't spend a penny on permits.
Who Can Help: Based in Chicago, Legacy Marketing Partners has earned a lot of attention from experiential campaigns like the Stoli Hotel and the mobile Burger King/NFL Challenge.
Los Angeles
Where to Go: The City of Angels isn't exactly known for a bustling downtown, so the best way to reach locals and tourists alike is to camp out in one of the many outdoor shopping hubs. Santa Monica's Third Street Promenade, the Venice Beach boardwalk, and the Grove retail complex are all sure bets for intercepting foot traffic in a city of drivers.
What It Takes: There's no one-stop shop for permits in Los Angeles, and the only spot the city is actually in charge of is the boardwalk (Venice Beach Recreation and Parks, 310.396.6764). The Third Street Promenade, though nearby, is run by the Bayside District Corporation (310.393.8355), which assigns fees on an individual basis. Invading the Grove (or its newer Glendale counterpart, the Americana at Brand) requires working with retail developer Caruso Affiliated (323.900.8101).
Recent Stunt: DirecTV took to the Grove and the Third Street Promenade to tempt Time Warner Cable subscribers to switch to its satellite service, with beach cabanas offering free smoothies and subscriber information. 
Who Can Help: San Francisco-based marketing and promotions firm Attack Marketing operates a southern outpost in L.A., which is quickly becoming its epicenter. Attack has worked for clients such as BBC America, Best Buy, and Levi's.

New York
Where to Go: You'll attract your critical mass of pedestrians (nearly a quarter million a day) in Times Square, particularly at the easily reserved Military Island, but plenty of other spots work well for reaching crowds, too. Grand Central Terminal's Vanderbilt Hall hosts marketing stunts on almost a weekly basis—and offers shelter from unforeseen weather issues. If the frenzy of a transit hub seems like too much, there's always Union Square Park, where a more laid-back crowd takes breaks from shopping.
What It Takes: Taking over Military Island, Times Square's only outdoor real estate, (Street Activity Permit Office, 212.788.7441), will set you back $35,000 for a normal business day and requires at least one month's notice. The average package for Vanderbilt Hall includes on-site advertising and a complimentary media blast to alert local press. Union Square requires a little more finesse, as any request needs to be approved by the New York City Department of Parks and Recreation (212.408.0226).
Recent Stunt: Just before New York Fashion Week, Sony deployed living mannequins in Grand Central Terminal with the brand's new Vaio P Series notebook computer.
Who Can Help: New York suffers no shortage of event and guerrilla marketers. TH Outdoor and Events, the Michael Alan Group, and Jack Morton Worldwide have all teamed up with big brands for stunts at these locations.

Toronto
Where to Go: A high-traffic outdoor location across from one of Toronto's busiest shopping centers also hosts much of the city's stunt marketing. Each day Yonge-Dundas Square sees 62,100 pedestrians and 55,500 vehicles pass by the intersection. The venue has a 5,400-square-foot stage with a retractable canopy for the unpredictable Canadian weather.
What It Takes: Stunts in the warmer months will set you back a little extra, at a base price of $3,250 for a daily permit (which books you from 7 a.m. to 2 a.m.). Prices shrink in the off-season, though, with a permit only costing $1,375 from January 2 through March 13. Deep discounts are offered to charities, nonprofits, and repeat customers.
Recent Stunt: To boost Canadian interest in the 2009 Super Bowl—and beer—Budweiser brought a bar, a replica of a branded jet, a street team, and a giant inflatable football player to the square in January.
Who Can Help: International event marketer GMR Marketing runs a Canadian outpost in Toronto and has worked with McDonald's, PepsiCo, and Visa.

Washington
Where to Go: The go-to spot for any sort of experiential marketing in the capital is Union Station. The transit hub draws 90,000 visitors a day on their way to the city, the suburbs, airports, and other East Coast cities. One outdoor locale to deploy a street team is Georgetown, where you can find weekend crowds congregating on the Potomac's Washington Harbor boardwalk.
What It Takes: Union Station Events (202.289.8300) welcomes sponsored gatherings, product launches, and promotions, requiring just a brief
application to get a quote. Depending on the size of your initiative, all you may need to descend on Georgetown is a courtesy heads-up to the Georgetown Business Improvement District (202.298.9222).
Recent Stunt: During inauguration week, Swedish furniture behemoth Ikea set up shop in Union Station with a cost-conscious replica of the Oval Office, filled with the store's merchandise.
Who Can Help: Street Sampling is a D.C.-based experiential marketing group that has deployed teams locally and across the country for brands such as Chevrolet, Tylenol, and Lacoste.

Miami
Where to Go: The most obvious place to reach anyone in Miami is by the water, and no spot sees more traffic than the stretch of Miami Beach along Ocean Drive—that's probably why the space is zoned for events hoping for crowds as high as 250,000.
What It Takes: The City of Miami (305.673.7300) is happy to let you book a spot on Ocean Drive at Lummus Park Beach, but just make sure you put in an application for a permit 60 days in advance. Rates vary depending on the time of year.
Recent Stunt: Sony Ericsson bolstered attention for it's Key Biscayne tennis tournament by sending tennis pros Venus Williams and Andy Murray to play a short match atop two parked Mercedes-Benzes on Ocean Drive.
Who Can Help: Just over 20 miles north of Miami Beach, in Fort Lauderdale, event marketer Team Enterprises services Miami with product launches, street teams, and guerrilla stunts. The company also enlists bilingual brand ambassadors for the city's large Spanish-speaking population.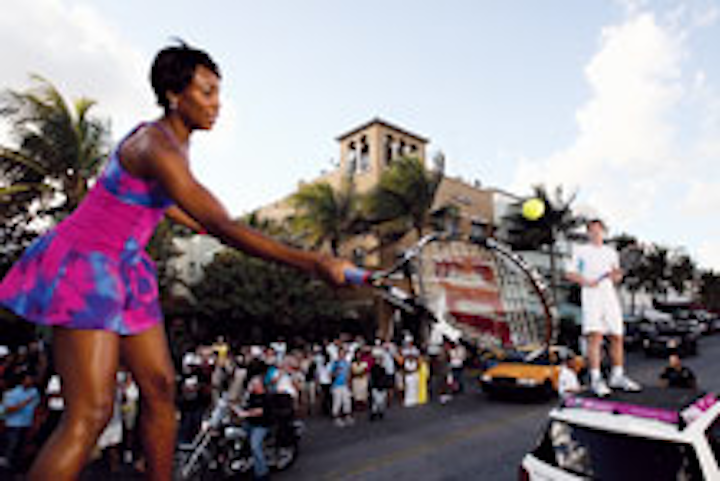 Photo: Getty Images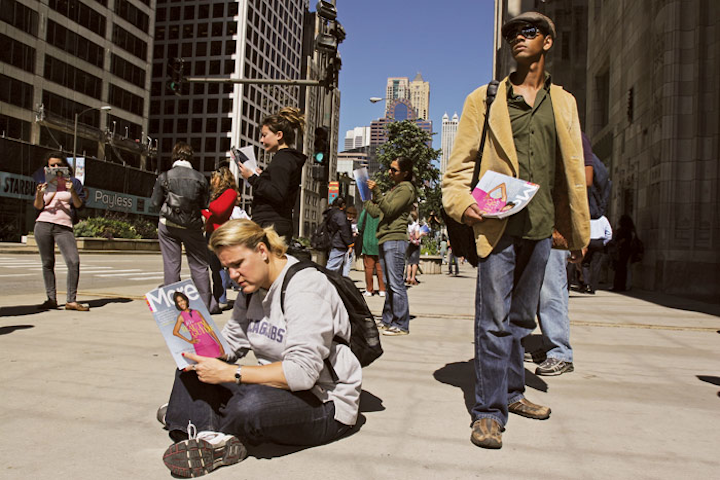 Photo: Attack! Marketing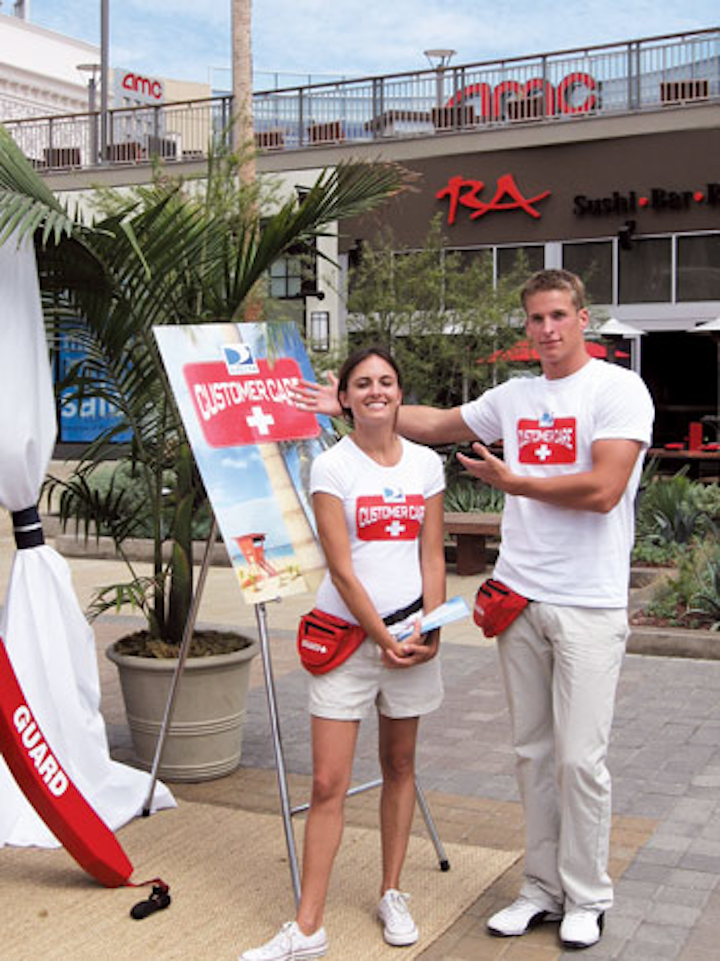 Photo: Attack! Marketing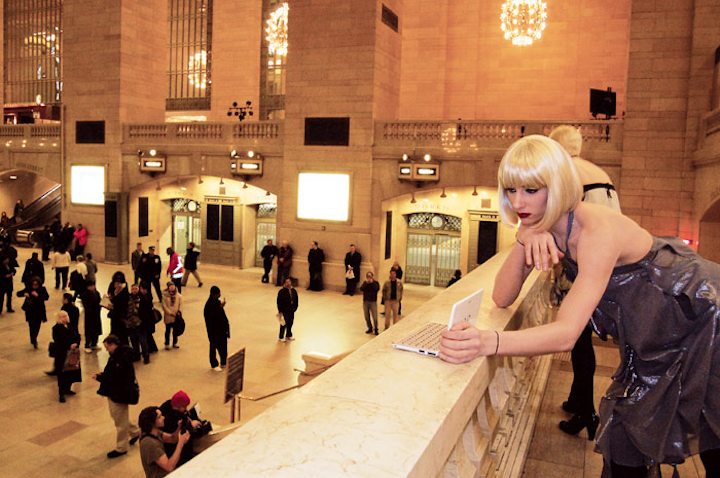 Photo: Jessica Torossian for BizBash
Photo: BizBash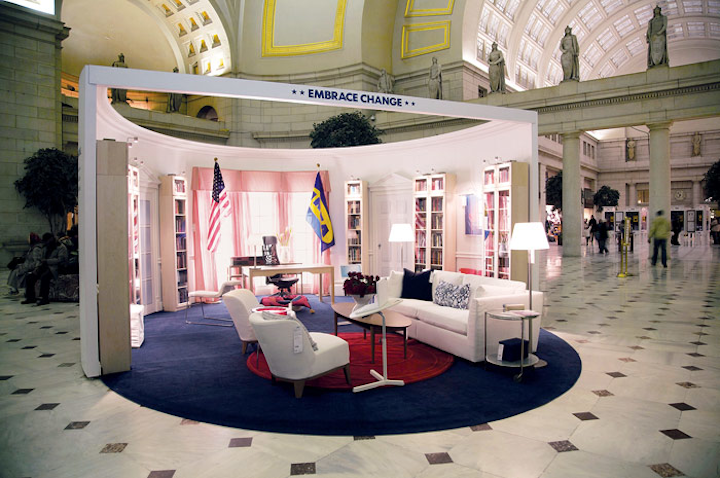 Photo: Jason M. Weil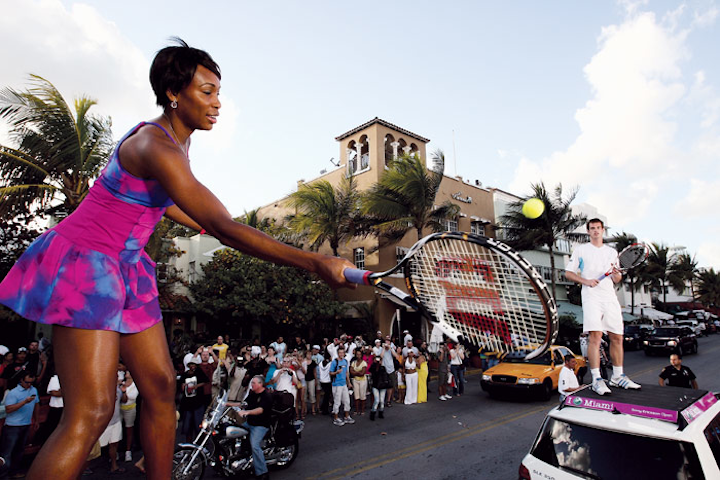 Photo: Getty Images
Featured Venues/Suppliers: