Branding Fest
To take advantage of the assembled Lollapalooza crowds—without participating in the actual festival—brands such as Playboy and Cafe Bustelo set up lounges at downtown hotels.
August 11, 2009
More than a mile long, crowded, and totally exposed to the elements, last weekend's Lollapalooza grounds were enough to wear down even the most die-hard music fans. But brand marketers offered a respite at off-site retreats for musicians, publicists, agents, press, and other tastemakers looking for a break from the festival—and free merch.
Near the northern end of Grant Park, the Hard Rock Hotel Chicago hosted the weekend-long by-invitation Music Lounge, which BMF Media produced and filled with brand activations. Now in its fourth year, the lounge stayed open from Friday through Sunday, offering daytime and nighttime activities. During the day, a cafe sponsored by Cafe Bustelo and housed on the hotel's second floor offered complimentary lunches and live acoustic sets from singers such as April Smith and Danni.
Staffers in T-shirts splashed with the coffee brand's logo manned a table in the cafe, offering hot and cold espresso drinks and Bustelo-flavored chocolates and ice cream. Local yogurt shop Berry Chill had a cart within the room, and a bar slung cocktails—such as Stolichnaya vodka mixed with Fuze juices or bloody Marys made with Tabasco sauce—that incorporated several more of the Music Lounge's sponsoring brands. To showcase the event to those without access to the lounge, a Web site showcased footage from performances that took place in the cafe throughout the weekend.
Other areas that were open from 11 a.m. to 6 p.m. included a Ravinia suite, sponsored by the Highland-Park-based music festival. Lined with an Astroturf carpet that evoked Ravinia's grassy grounds, the room offered everything from Alize-spiked snow cones to DJ sets, complimentary tattoos, video games, and velveteen bean bags to lounge in.
Throughout the hotel's third floor, gifting suites included a room filled with Dickies apparel, where publicists for the brand snapped photos of Lollapalooza artists who passed through and stocked up on free pants and shirts. (The complimentary clothing offer was extended to all guests of the lounge, not only the musicians.) In another room, attendees could get free massages from David Barton Gym technicians, haircuts from Red 7 salon stylists, products from Blue Microphones, and so-called "phone tattoos" from Coveroo, which offered adhesive images of everything from the Red Sox logo to fairies.
From 10 p.m. to 2 a.m., the Music Lounge opened for Rock the Vote nights, which showcased Lollapalooza acts such as Santigold, the Virgins, and Passion Pit in the hotel's Fender ballroom. According to Bruce Starr of BMF Media, the nighttime events invited executives from sponsoring companies to attend with clients or guests of their choosing, and consequently align their brands with a hip, exclusive happening. Starr estimated that 5,000 people passed through the lounge over the course of the weekend.
Near the southern end of Grant Park, the Hilton Hotel hosted Saturday's Playboy Rockstar brunch, the first event of its kind, from 11 a.m. till 4 p.m. Lisa Kolodny, the magazine's senior manager of marketing, said that the idea to host the brunch came to her when she attended last year's Lollapalooza and realized that no brands were putting on similar events in conjunction with the fest. "I thought it would be a perfect opportunity," she said. "Chicago is a great market for us, our headquarters are here, and I thought it would be really great if we could do something during the day. A lot of people don't end up going to Lollapalooza till 4 or 5 p.m., when the bigger bands start to play, and in the mornings they're exhausted from the late nights. And they're hungry." 
The goal of the event, Kolodny said, was to "entertain our fans and the artists, and also make a statement that would make us stand out from all the other events that were going on, which were mostly Lolla after-parties." She added that the target guests were musicians, other music-industry folk, and festival attendees between the ages of 21 and 35. 
In the hotel's penthouse suite, the promotion offered a breakfast buffet, chilled Southern Comfort cocktails filtered through a bunny-shaped ice luge, cupcakes topped with the magazine's logo, and Playboy Bunny hostesses, who posed with guests and helped usher attendees from the hotel lobby to the upper-level venue.
Apart from bonding with Bunnies, guests were invited to snap keepsake photos in a booth, get colored hair extensions from a Bumble and Bumble hairdresser (a service referred to as "festival styling"), and do what they wished in a room known as the "Make Out Lounge," which was sponsored by Lifestyles condoms and housed beds covered in Playboy-branded blankets, dim lava-lamp lighting, and bowls of the protective product.
Axe Instinct, a fragrance infused with leather scents, was another brunch sponsor. Playing off the phrase "unleash the power of leather," which appears in the cologne's marketing collateral, Playboy planners arranged for leather accents to decorate the Hilton suite, bringing in picture frames, table covers, and bedding in the material. "We did an [advertorial] feature in-book and online about the power of leather," said Kolodny. "It was part of a big program that we did with Axe, with the brunch being the event end of it all." In the coming months, an advertorial spread devoted to Axe will appear in Playboy and will include pictures from Saturday's event.
Kolodny said that she would like the brunch to "become a franchise for us, and make it bigger and better and something we do every year." This year's iteration drew about 500 guests, including band members from Hey Champ, Thievery Corporation, and Brazilian Girls.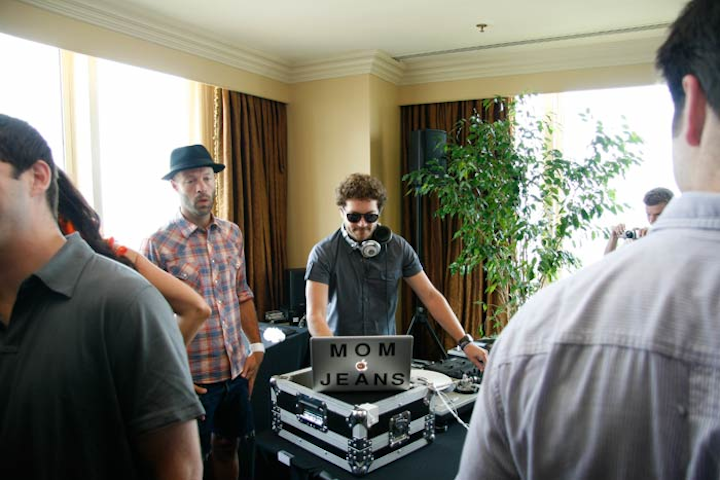 Photo: Courtesy of Playboy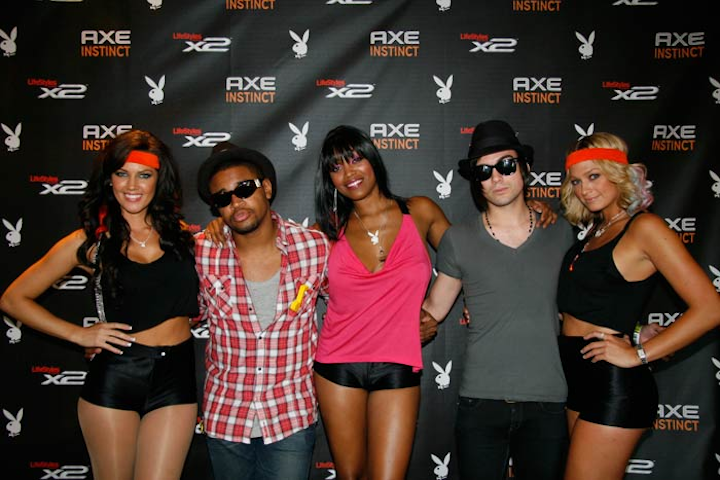 Photo: Courtesy of Playboy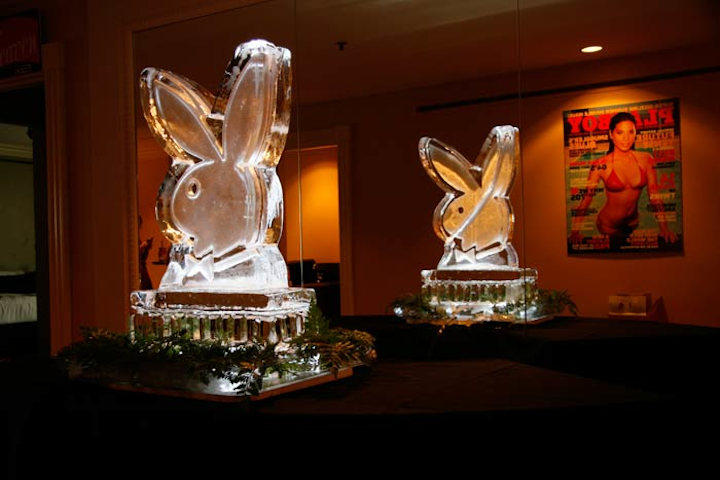 Photo: Courtesy of Playboy
Featured Venues/Suppliers: