Could a Dance Party Save the World? These Dudes Think So
Using crowdsourcing and social media, Tom and Gary's Decentralized Dance Party is showing how small events can grow quickly into a major force with the power to bring people together.
June 14, 2013
At first glance, Tom and Gary's Decentralized Dance Party may just seem like two party dudes goofing off. But when you hear what they've accomplished—50-plus dance parties of 1,000 people each roving throughout cities in the United States and Canada with a simple but highly effective arsenal of 200 synchronized boom boxes—you start to suspect Tom and Gary are at least accidentally genius, and even someone event planners and producers can learn from. Plus, they've done it all completely through crowdfunding, social media, and a team of volunteers.
At the center of it all is Tom and Gary's belief that "Partying" (with a capital P) is an important cultural institution designed to bring people of all ages, races, and beliefs together, and the Decentralized Dance Party (DDP) is their social experiment to prove it. Because the dance party has no central audio source and no central location, it is "decentralized." This decentralization makes the dance parties like raves mixed with flash mobs transformed into parades, so the events interact with the public as they occur and participants join during the five-hour journeys through public spaces.
Gary, founder of the DDP and a Canadian filmmaker, calls it the evolution of a flash mob. "The definition of a flash mob generally means an event where people get together to do something silly for five minutes, where what we do lasts for four or five hours," he says. "It's interesting in that it is not a show people are watching. Everyone becomes the show, a performer for the others."
While the DDPs appear like spontaneous mayhem, they are actually highly orchestrated events. Gary and Tom spend 10 to 12 hours the night before a DDP scouting a city, deciding on a safe route that incorporates cool public spaces and landmarks while avoiding residential areas. While they do not get any permits because they have found them to be cost- and time-prohibitive, they call the local police precincts through which they will be traveling in advance to give them a heads up about what they are doing.

Tom and Gary control the crowds with upbeat music and promote a positive atmosphere, including one where alcohol and drugs are not necessary to have a good time. Gary is the guy on the mic during the dance parties, wearing an FM transmitter in his backpack that sends the music to the vintage boom boxes handed out among the crowd. "Having a microphone lets us direct people and get them to stop at red lights," Gary says. "Everything is very highly controlled and that has been important to our success."
Meanwhile, Tom leads the roving party with the glowing "disco trident" and is in charge of corralling the Elite Banana Task Force. These half-dozen or so costumed volunteers help out during the prep and execution of the events, handing out about boom boxes tuned to the right station to receive the FM transmitter broadcast. Because their banana suits stick up about three feet over the heads of the crowd, it is easy for participants with problems to spot them and ask for help. Plus, the banana suits have turned out to be great for interacting with the cops. "It keeps everyone lighthearted and nonconfrontational," Gary says.
Tom's U.S. Marine Corp background also makes him a perfect first point of contact with law enforcement. So far the DDP has had no fights, drinking tickets, acts of property destruction, or problems with the police. In fact, police often end up providing full impromptu escorts across the cities—and even dance. Plus, the DDP is conscientious. "I walk the entire route in reverse afterward and clean up after ourselves—with crew and volunteers—and even pick up trash that isn't ours," Tom says. "We leave the city better than we found it." (While this Tom is not the original Tom of the duo, he good-naturedly answers to it in the spirit of the cause. He studies international relations at the University of Idaho and regularly ventures to Alaska for commercial fishing gigs to pay the bills.)
After Gary and the original Tom started the idea in their hometown of Vancouver in 2009, a DDP planned there to coincide with the one-year anniversary of the Olympic gold medal party catapulted the event from 20 people to 20,000 in six months. "There were millions of people on the street already," Gary says. "It's everyone's favorite Vancouver memory, so it inspired a lot of people to come out." After that success, Gary and Tom set up a series of Facebook events across Canada to gauge further interest. When they blew up, they extended their credit, rented a huge RV, filled it with 200 boom boxes and six friends wearing banana suits, and embarked on the first Party Safari adventure.
Promoted solely through Facebook, Twitter, and word of mouth, they have now completed five tours, bringing the event to 50 cities that raised the targeted goal of $1,000 on Kickstarter and piggybacking on larger events with like-minded crowds at Burning Man and South by Southwest (their 2012 experience there was chronicled in a Wired article—and the DDP was featured in a separate Wired article earlier this year—while their 2013 trip was featured in a Nightline segment).
Recently, the DDP began working with friend and crowdfunding strategist Ian Mackenzie to raise $25,000 on Kickstarter to finish their documentary film about the DDP and take the DDP global. Gary and Tom have been collecting emails from people all over the world who want them to bring the DDP to their country, and they are working on writing a DDP Field Manual to explain the underlying ethos of the events and how to pull them off from the ground up. The vision is to have hundreds of Autonomous DDP Party Cells set up across the globe. "I've seen war and I think it's horrible," Tom says of his experience as a Marine in Iraq, "but I want to go to places where there is a lot of violence and bring people together regardless of their beliefs and show them that they are really no different. We can all party together, so we've got that in common."
While Tom and Gary would ideally like to keep the operation completely crowdfunded so they can retain complete creative control, they recently accepted free batteries for their boom boxes from Rayovac because the sponsorship is a natural fit. "It's an important distinction that we don't want extraneous sponsors that have nothing to do with the project," Gary says. "It's been great because they don't ask us to put up banners. It doesn't compromise the experience for anyone."
While so far the DDP has been an investment more than a paying job, Gary and Tom are confident that someday they can make a living "Partying" full-time, while not necessarily becoming rich. "Maybe we could make big money, but that's not the objective," Gary says. "We want to build a reputation as the most fun and engaging party experience we possibly can and trust that down the road people will recognize the integrity of what we're doing."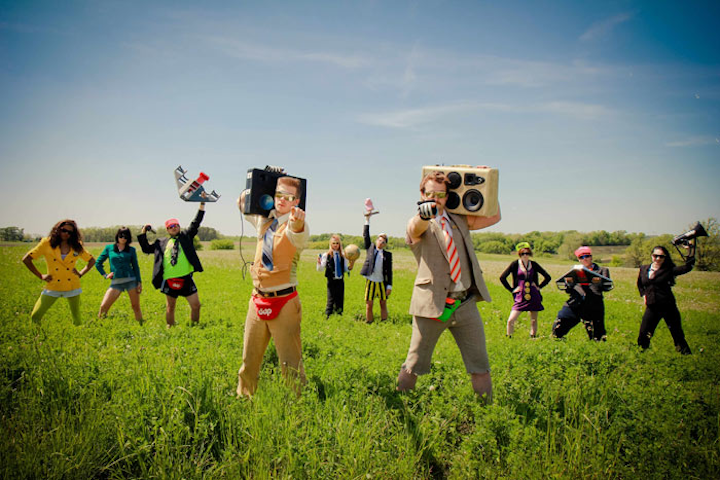 Photo: Courtesy of Tom and Gary's Decentralized Dance Party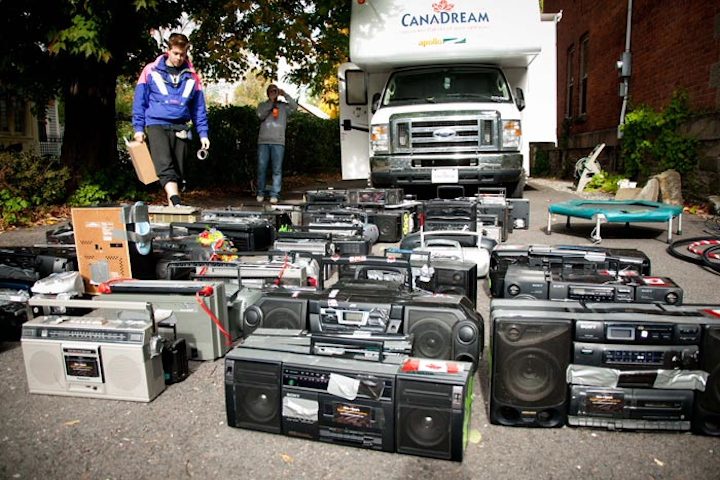 Photo: Courtesy of Tom and Gary's Decentralized Dance Party
Photo: Courtesy of Tom and Gary's Decentralized Dance Party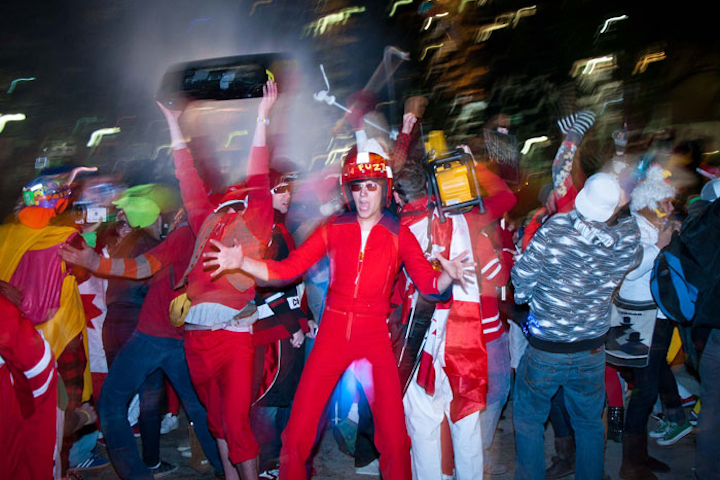 Photo: Courtesy of Tom and Gary's Decentralized Dance Party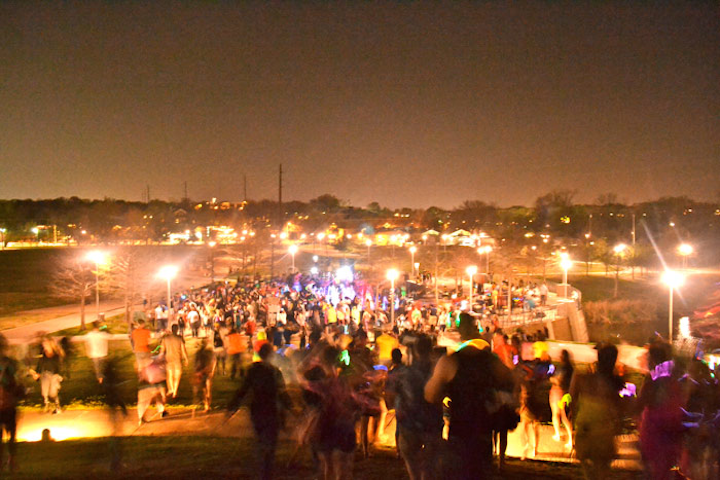 Photo: Courtesy of Tom and Gary's Decentralized Dance Party