Find Out What's Inside This Life-Size Gingerbread House
The 4-D immersive experience in New York's Madison Square Park is part of Taste of Home's Gingerbread Boulevard.
December 12, 2017
Through December 20, a section of Madison Square Park has been turned into "Gingerbread Boulevard," an interactive experience hosted by Taste of Home, a multi-platform producer of food, home cooking, and entertaining content. The center of the attraction is a 12- by 16-foot house decorated with faux icing and licorice to look like a gingerbread house. This is the fourth year the brand has created the free holiday activation, but this year the experience includes new 4-D immersive elements once guests step inside the house.
"What we were looking to do is find a way to literally bring Taste of Home to life in a way we have never done before, and to look at experiential opportunities where when we can connect Taste of Home to our current audience but also to new audiences," said Joe Losardo, executive brand director for Taste of Home.
As guests step inside the house, a synchronized video plays on three LED screens that are mounted on the walls and designed to look like windows. "So you are looking out into this Gingerbread Boulevard universe and the story unfolds around you," Losardo said. The story shows the home's owner, the gingerbread man, decorating his tree outside in the park—but in this video version it is made of candy. As the two-minute video plays, sensory elements such as the scent of gingerbread and sound and light effects fill the house.
Outside the house, the brand has created new social-sharing opportunities with a custom Snapchat filter and signage encouraging people to share photos with the hashtag #GingerbreadBLVD. Taste of Home will share some of those photos across its social-media platforms.
Gingerbread Boulevard opened Thursday. On Friday, the brand hosted a Facebook Live experience from the activation. One of Taste of Home's test kitchen editors showed the house to the live audience and explained how to replicate some of the decorative elements.
Folgers Coffee is a presenting partner of Gingerbread Boulevard for the third year, and Domino Sugar is a first-time partner.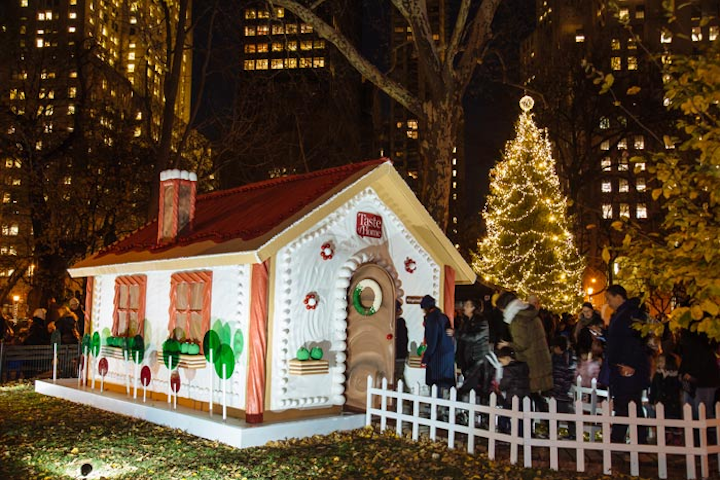 Photo: Margarita Corporan/Taste of Home
Photo: Margarita Corporan/Taste of Home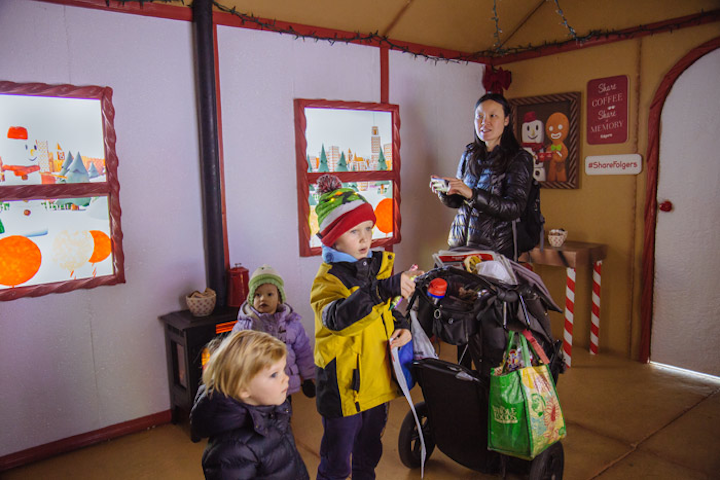 Photo: Margarita Corporan/Taste of Home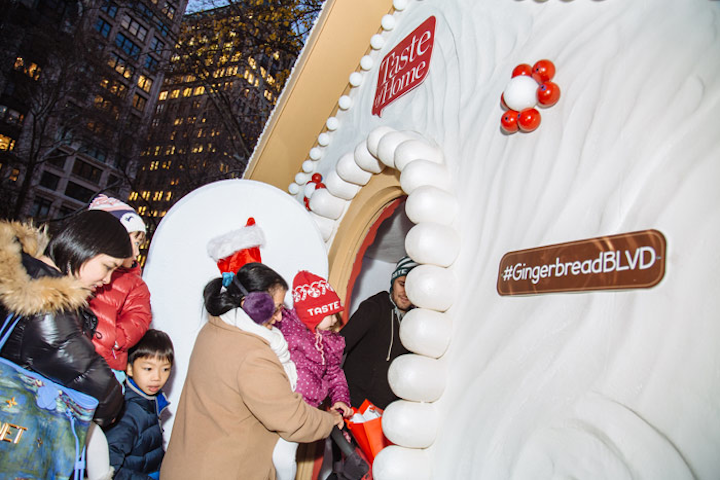 Photo: Margarita Corporan/Taste of Home
Featured Venues/Suppliers: