Fila's New Pop-Ups Help City-Dwellers 'Explore' Nature
The Italian sportswear brand's new Explore collection inspired super visual retail experiences in 11 cities around the world.
August 8, 2019
The 360-degree blue Mountain installation features photographs of snow capped mountaintops reflected in a quadrilateral mirror in the center.Photo: Andrew White

It's not easy for most city dwellers to regularly hike in the mountains or walk through a forest, but this summer, Fila is bringing its fashion-fueled interpretation of exploring nature to 11 major cities around the world. To celebrate the launch of the new Fila Explore collection and introduce products to consumers, the Italian sportswear brand has launched a multi-market retail pop-up tour, highlighted by four experiences that evoke outdoor environments.
The limited-edition collection features apparel, footwear, and accessories inspired by four categories: Canyon, Woods, Mountain, and Elements. To bring these categories to life in an interactive way, the brand tapped experiential marketing agency MKG to produce and design the pop-ups, the first of which launched in New York after a scaled-down preview at ComplexCon in Chicago. Pop-ups have also opened in Los Angeles, Mumbai, Beijing, Guangzhou, Tokyo, and Santorini; others are slated to open in London, Sao Paolo, and Seoul this summer. 
"The Fila Explore collection offers another glimpse at our ability to tap into iconic brand moments, while offering a fresh, contemporary, on-trend approach to design," said Louis W. Colon III, vice president of heritage and trend at Fila North America. "With pop-up shops opening worldwide, we also have an opportunity to engage consumers with a one-of-a-kind experience and our authentic approach to storytelling."

Johan Gerdin, associate creative director at MKG, said conversations with Fila began at the end of last year, with the initial concept presented as pop-ups that would bring nature-theme sensorial experiences to life in the concrete environment of a city.
"We thought of designing an overall store environment that was almost like our neutral canvas," said Gerdin. "We landed on the idea of taking inspiration from topographical shapes like you might find on a map. That's what consumers see when they first step inside."
Gerdin explained that each pop-up will have the same topographical aesthetic, while the designs of the four Explore installations will differ slightly in each city.
"We created a 'trail' within the store where people could find themselves in these drastically changing environments. You'll notice how Canyon is aesthetically different from Mountain, which is aesthetically different from Woods." said Gerdin. "That was a deliberate design choice on our end. Just like you can find yourself in different environments in actual nature, we wanted to translate that on an experiential level."
In New York, the Canyon installation offers a geometric photo op; the Mountain installation features photographs of snowy mountains that surround a four-sided mirror; Woods offers a photo booth where guests can surround themselves in greenery; and Elements features a psychedelic painting inspired by images in Fila's lookbook.
This is Fila's second year collaborating with MKG on a pop-up; in spring 2018, they created a pop-up in New York that celebrated the re-launch of the Mindblower sneaker. 
See below for highlights from the Fila Explore pop-ups in New York and Chicago.
VENDORS
Design, Production: MKG
Fabrication: Pink Sparrow
Photo Booth: The Bosco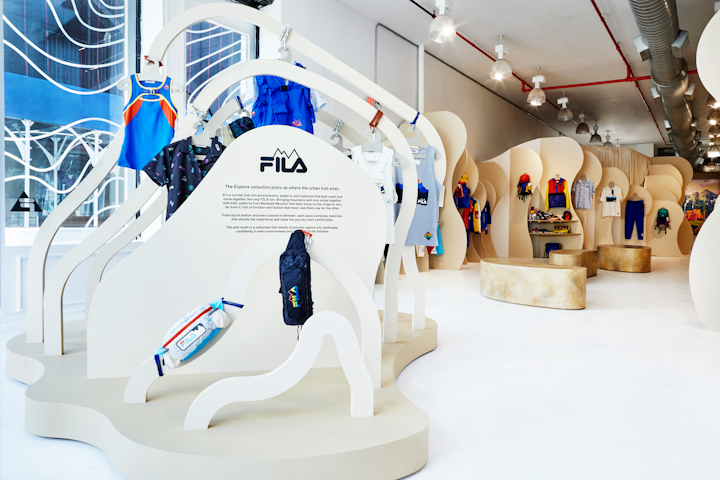 Photo: Andrew White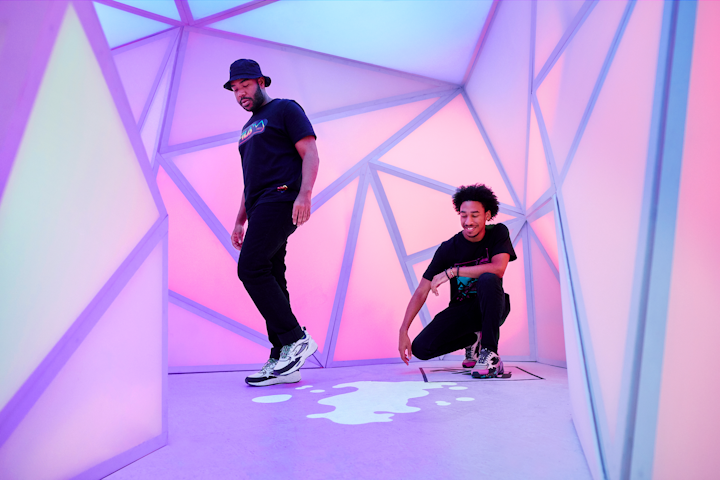 Photo: Andrew White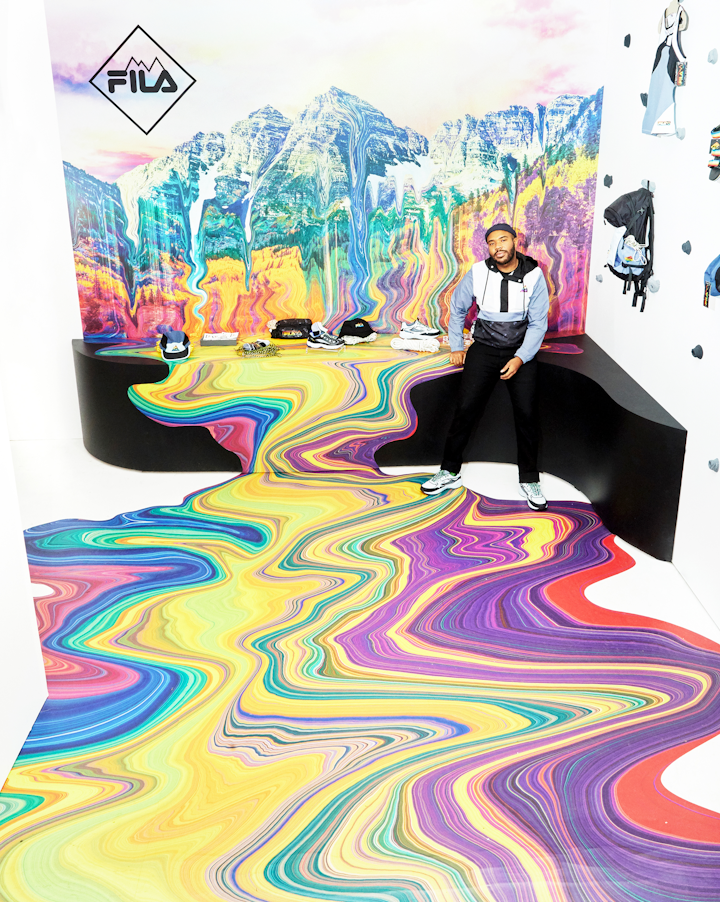 Photo: Andrew White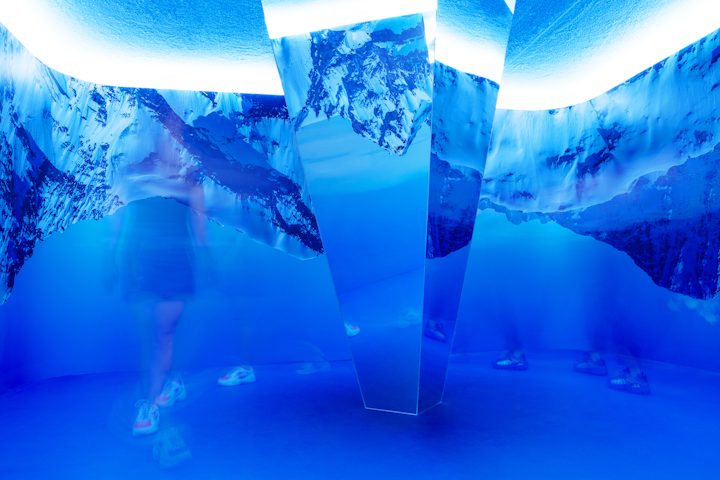 Photo: Andrew White
Photo: Andrew White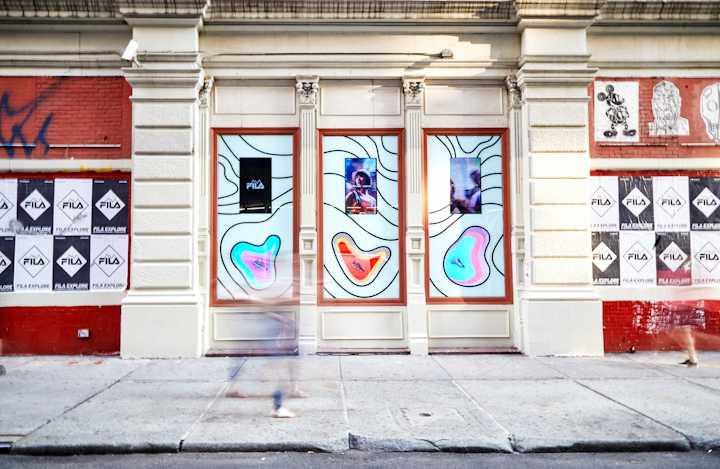 Photo: Andrew White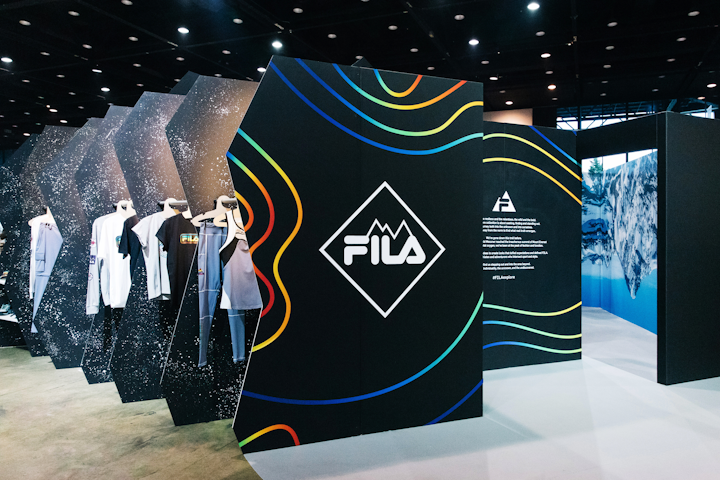 Photo: Courtesy of Fila
Featured Venues/Suppliers: