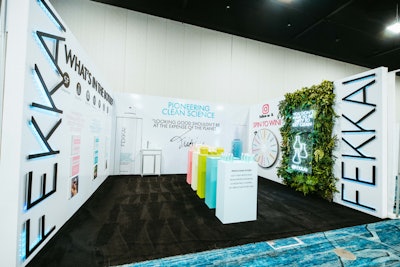 Photo: Courtesy of Gladiator Productions
ORLANDO—Behind the Chair (BTC), a go-to media platform for salon professionals across the world, hosted The BTC Show earlier this month in Orlando. The annual hair-centered bash—which was themed "Make Believe" this year—is a place for hairdressers and salon owners alike to "find their people," learn from celebrity stylists in the field, and return home inspired.
Programming took place Aug. 13-16 at the Orlando World Center Marriott, and included pool parties and educational sessions courtesy of Redeken, Ulta Beauty, L'Oreal Professional, and Moroccan Oil (just to name a few). Also on the schedule? Sunset soirees, networking opportunities, and activations from dozens of brands—three of which were produced by Los Angeles-based Gladiator Productions.
BizBash caught up with the event production company's founder and chief creative officer, Seth Dolan, to gain insight on activating three times at the same event and how to manage the seemingly daunting task, as well as manage stress levels and more.
When it came to delegating tasks, Dolan said that he "funneled everything for BTC through a core team, but assigned producers to each individual project so they got plenty of focus for the client," adding that this strategy also helped Gladiator's team "manage the various assets."
The result? "Three uniquely distinct activations," Dolan said.
Keep scrolling for a closer inside look at each one.
---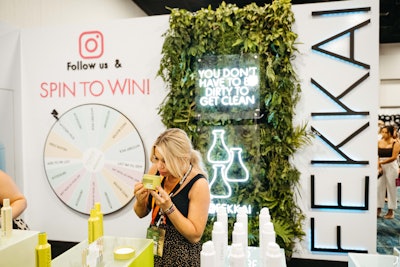 FEKKAI
As Dolan pointed out, activations are all about "focusing on the client story above all." He and his team did just that when it came to FEKKAI's booth, which boasted testers and a portable sink, a plant wall photo op, and a "Spin To Win" game where the 3,000 eventgoers in attendance could walk away with a full-size product.
Dolan said of the brand's interesting background: "FEKKAI is the namesake brand of Federic Fekkai, the famed hair stylist. He previously sold his brand, and then bought it back to make it 100% clean with performance that matches any 'non-clean' product."
The activation played on FEKKAI's story from the moment guests entered the booth. On the left-hand side, a wall read "What's in the bottle?" and informed attendees about what sets the brand apart. The product stations also boasted facts about FEKKAI's clean styling products, and a photo moment made sure to nod to the motif with neon signage that said, "You don't have to be dirty to be clean."
Aside from the cheeky quote, Dolan noted that the plant wall "was 100% real plants [that were] sustainably sourced," and although "we've all seen plant walls 100 times, that felt super special." And after being misted daily on-site throughout the four-day trade show, "they were returned to their soil homes in a greenhouse."
---
Schwarzkopf Professional
When it came to building out an activation for Schwarzkopf, Dolan noted the importance of capturing the brand's "massive heritage," while also being "always on the pulse."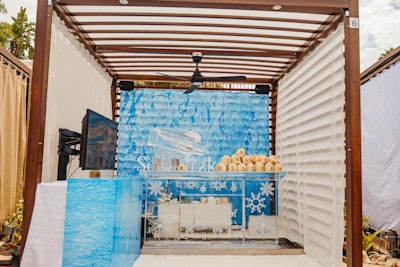 "Blonde is so in right now in the professional world, and Schwarzkopf was launching new Level 10 toners," Dolan said. (For non-industry members, toners dictate how deep or light the blonde coloring is, with 10 "creating a nice, icy blonde tone in the hair," he explained.) Naturally, Gladiator ran with the "icy" concept and produced a booth alongside the venue's pool complete with an ice bar and "luge in the shape of the product," plus "snow machines and cocktails, which made it super fun," Dolan added.
Schwarzkopf even activated during BTC's pool party and, as Dolan pointed out, the ice bar was the perfect accompaniment to the 98-degree heat in Orlando that day. On the flip side, producing an ice-clad experience in August made for the biggest challenge Gladiator faced throughout BTC, according to Dolan, who also noted that the payoff was worth it.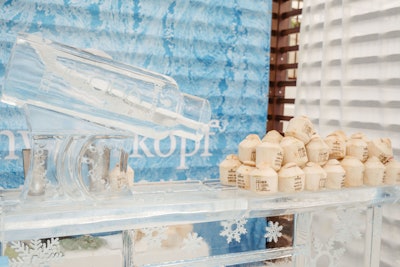 Alterna
Alterna's activation also took place during the pool party, and what else do sun-soaked eventgoers need other than something to cool off? Hydration!
"Everything in the experience was to invoke hydration," Dolan explained of the booth, which evoked feelings of a cabana and offered product samples. And the design focused specifically on products from the brand's "Caviar Anti-Aging line that infuses moisture into the hair," with moments that the chief creative officer described as "edutainment."
Standout elements included "a massive, branded water wall and free boxed water that kept everyone hydrated," especially "while drinking cocktails from Schwarzkopf," Dolan said.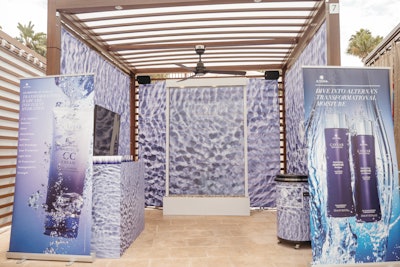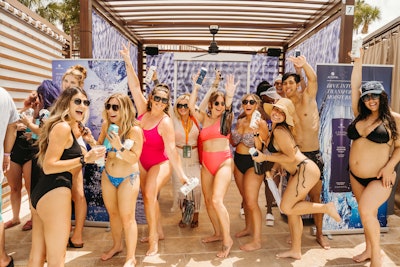 So what's the ultimate key to pulling off three activations at one event? Organization. "We have to keep everything super organized," Dolan said. And to prevent his team from getting overwhelmed, "everyone at Gladiator had visibility to what each team was doing at each time, [plus] had very clear assignments and division of responsibilities."
At the end of such an event production extravaganza, Dolan noted the importance of "pausing to celebrate each day and saying 'well done' and 'thank you' to everyone." Unfortunately, "that's hardly done frequently in our business because it's so go go go," he added.