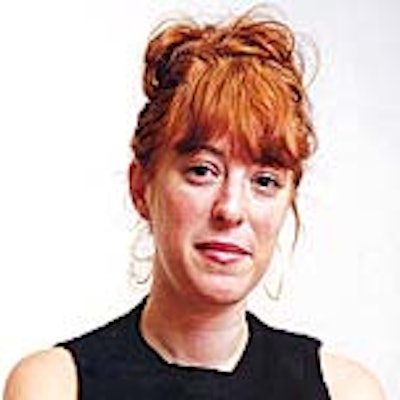 Title
: Creative Projects Director
What she plans
: More than 50 events, including promotional parties and V.I.P. trips with once-in-a lifetime experiences for big customers. Plus integrated marketing programs for some advertisers and tie-ins with travel trade shows.
Staff
: An event coordinator, promotions manager and art team
Career path
: After studying feminist and social theory at UCLA and getting "burnt out" on theory, she went to cooking school and tried catering, but "cooking for work was too much of a grind." Then she spent three years planning benefits for AIDS Project Los Angeles, did event production for three years at Merv Griffin Productions, and came to New York for
T&L
three-and-a-half years ago.
Age
: 33
Favorite magazine
: "Shelter magazines like
Nest
and
Cote Sud
, a French magazine-it has great ideas."
Where she grew up
: Los Angeles
Where she lives
: SoHo
How do you to get the most from your budgets?
We form strategic partnerships. We barter where we can. But every time we form partnerships it's a carefully choreographed dance where we ask, "What's the value for us? What can we give you?" And I work my vendors.
Where do you find new vendors?
For the most part, I work with people that I've worked with forever. There are so many variables with events, I don't need to add more unknowns. That's why I don't change my vendors often. I form teams that I stick with.
How do events fit into the magazine's overall marketing strategy?
They play a very large part. Part of what I bring to the table is that I don't come from a magazine event background. The problem I see with so many magazine events is that they are so formulaic. A lot of magazines have been doing events the same way for a long time?they have the cover blowups, the magazines displayed all around. Because I don't come from that world, it's not where I start?it's also not where I end up.
At
Travel & Leisure
there's a feeling that strategic event planning is a huge opportunity. We use our invitations as marketing tools. We send them to a wide array of people. We just did an event in Miami for 300 people, but we sent invitations across the country to show clients what we're doing, how we're being creative with our brand.
Do you measure the response to your events?
We very actively track everything. We track response in terms of ad pages. That's the hardcore measure of success at a magazine. There's the image part as well, the buzz, but that's not so quantifiable. Of course press counts.
How do you adapt the magazine's brand to an event?
Basically the trend in events revolves around the same buzz words: "experience," "interactive." Everybody says, "Bring the magazine to life." I say that my job is presenting the magazine in 3-D. I have an advantage—
Travel & Leisure
is basically about having insider access, it's about destinations, it's about escaping. It fits all the goals that everyone's talking about, so I'm really lucky.
A lot of times I sit down and ask our editor and publisher, "What are you doing with the magazine now? What are you focusing on? Give me words." And then I build around those concepts. When we did our 30th anniversary party, the words that our editor gave me were "passion," "escape" and "adventure," and I created different areas within that event that brought those words to life.
When you do a weekend-long event, how do you make sure guests have a good experience the entire time?
It's definitely a huge challenge of my job, because such a big chunk of what I do deals with working within different cultures. This is the most meticulous, detail-oriented, obsessive thing that I've ever done.
How do you prepare for when things go wrong?
All you can do is plan well. You can't necessarily control every variable, but you work in things. You have rain contingencies for everything. The best quality to cultivate is learning how to be flexible and learning how to pull it off on the fly.
You love the nitty-gritty of production. How come?
Part of it is that I come from a production background?being on-site has always been my favorite part of an event. You see everything you've done come together. There's no glory to me like load-in. Load-out?watching it all come tumbling down?is so painful.
What do today's guests expect at an event?
I don't know that people's expectations are so high. Most eventgoers from New York and Los Angeles are all so jaded. They respond to the unexpected, and being able to participate in something. For example, every event has food and usually the way you eat food is very passive. At our World's Best awards event, we had an open kitchen where people actually went up, got their food, put sauces on the food. We got so much feedback for that because it was an active way for them to participate.
I don't understand why having a celebrity show up at an event is such a big deal. I can see the attraction for the press, but I don't understand how that enhances the guests' experience.
How do you keep yourself engaged in your work?
What drives me is staying on the edge creatively. That's the challenge, the creative puzzle—figuring out how to do things in a way no one's done them. My charge is to give people an experience that they can only get from
Travel & Leisure
.
—
Chad Kaydo
Posted 03.31.04
Photograph by Dan Hallman for BiZBash.
This Q&A originally appeared in our newspaper, the BiZBash Event Style Reporter.