At EventCamp East Coast, Planners Explore "Unconference" Model, Discuss  Engagement Strategies
November 18, 2010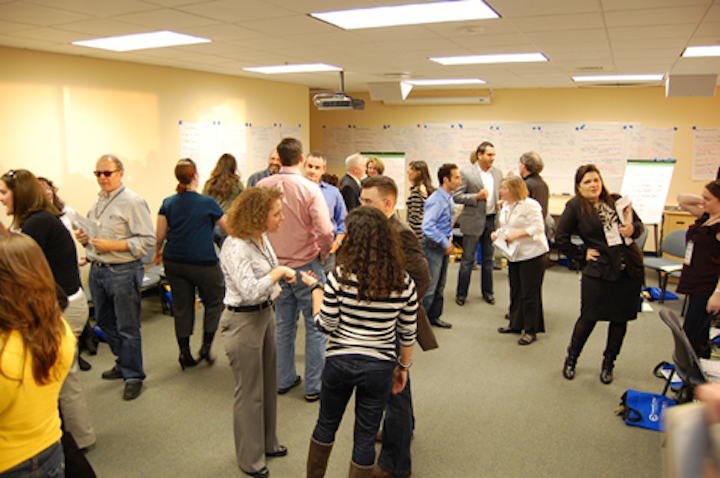 Photo: BizBash
Building on the momentum of the first EventCamp conference in February—a face-to-face gathering of the active online community of event and meeting professionals who interact through the Twitter hashtag #eventprofs—the first iteration of EventCamp East Coast took place Friday and Saturday. The regional spin-off held in Plymouth Meeting, Pennsylvania, near Philadelphia, was organized by Red Cedar Marketing president Traci Browne, Events for Good founder Lindsey Rosenthal, and Adrian Segar, author of Conferences That Work: Creating Events That People Love. It was also designed to introduce the Segar's brand of unconventional, attendee-driven seminars, which put a premium on interaction and networking. (BizBash was also an event partner.)
The growing "unconference" movement is being increasingly readily adopted by corporations and associations, shaking up the traditional format of conventions, meetings, and other such formal discussions by eschewing preplanned agendas, speakers, and less participatory forms of presentations. Under Segar's model, one he has dubbed "peer conferences," the 35 or so attendees of EventCamp East Coast selected the topics to be discussed, voicing their interests and goals for the conference via a democratic, transparent process. What emerged was a program that focused on issues relevant to the group and its individuals—namely engagement through social media, technology, design, and layout, as well as tactics for more successful events.
There is some apprehension about the viability of the various types of unconferences, with some people arguing that the concepts benefit more outspoken attendees and could fall prone to grandstanding from those who want to pitch their own products and services. But Segar and EventCamp attendees contended this didn't happen, asserting that the environment built over the two days felt collaborative and inclusive.
"I was skeptical about coming to something like this, because I'm not the first person who's going to share. I'm not going to volunteer to share my thoughts; I'm more on the introverted side," said Sarah Weiss, event manager at the Foundation for Jewish Camp. "[But at the sessions] no one really had an ego about it, and everyone was on the same playing field, making it easier to open up."
To foster this sense of community, Segar's approach included an initial roundtable that invited attendees to introduce themselves, their field of expertise, and what they wanted to take away from the conference. For many at EventCamp, this was a pivotal point in the process. In a recap of the event on his Web site, Howard Givner, executive director of the Event Leadership Institute, wrote that although this session was lengthy, it was "extraordinarily valuable. The 'group therapy' environment initially seems a bit goofy, but it's literally an express elevator for everyone to get to know each other." It also provided an opportunity for networking, while setting the stage for the next step in the schedule, a period where attendees suggested topics for discussion the following day.
With attendees vocally identifying an interest in increasing the involvement of guests at events and conferences, and a broad array of experience—in areas from international trade show management, R.O.I. strategies, and selling sponsorship to brain-friendly practices, social media and technology platforms, and improv—the roundtable established a common ground and rooted out what potential subjects could be broached. At a relatively informal reception an hour later, attendees proposed such topics, writing suggestions anonymously on paper spread across a large table. After this, everyone was invited to essentially vote on the topics, indicating their level of interest, whether they'd be willing to lead a discussion, and whether they felt they had expertise in the area without specifically committing to participate. An informal committee, which anyone could volunteer to be a part of, then chose the dominant topics and produced a schedule for the next day.
"One of the things I really like about Adrian's peer conference model compared with some other open conference models is that it's very deliberative about making sure it's not just the squeaky wheels that get to present. And that's because of both the process of deciding and the process of proposing. It's so egalitarian," said craigslist Foundation director of conferences and camps Paige Buck, who is responsible for her organization's 1,500-person community-building workshop. Buck was chosen to facilitate a session on common problems planners face, while others, including BrainStrength Systems founder Andrea Sullivan and event technology consultant Samuel J. Smith, led discussions on integrating Web and mobile technology at events, basic and advanced ways to use social media, conflict management and negotiation, and brain-friendly ways to keep attendees engaged.
For Jay Daughtry, social media consultant with communications company Chatterbachs, the discussions were "insightful." He found that the session on repackaging conference content "really got my wheels going as we discussed the before, during, and after of events, particularly with regard to how information from the conference can be disseminated to attendees, potential attendees, and potential members of that professional community." Daughtry's favorite, however, was one of the most unexpected sessions, a seminar on the use of improv in business, which was proposed by an attendee after hearing about the background of Icon Presentation co-owner Jenise Fryatt during the roundtable. "It was fun, engaging, and educational. I'm definitely going to use exercises like '8 Shakes,' 'Red Ball, Blue Ball, Yellow Ball,' 'Zip Zap Zop,' and 'Rants' with other groups I'm a part of."
To end the weekend, Segar brought the entire group back together for what he called a personal introspective and a "group 'spective'" that encouraged all attendees to specify what they would take away from the conference, how they could implement certain ideas, and the things they liked and didn't like about what took place. "I have heard from attendees that I want to work with instead of talking heads who aren't relevant to me. An event that is focused around attendee feedback is a better event," said Cameron Toth, president of Toth Communications and social media chair for the WestField chapter of Meeting Professionals International. Similarly, Smith said, "I thought it was remarkably empowering to get to know the people around me and then say, 'I want to learn from you,' and then go have a discussion with 10 to 18 other people who feel the same." Toth did note, however, that he was less pleased with the limited amount of conversation on Twitter during EventCamp East Coast.
In discussing how they could adopt Segar's model for the conferences and meetings they plan, Buck, Weiss, and others raised questions of scalability. "I think it would be risky for us to do what Adrian did for a group of 40, for a group of 600," said Weiss. "But to implement some of what he discussed into more structured networking would be interesting."
Buck, too, acknowledged this with large-scale conventions, but was particularly drawn to the idea that the approach gives everybody a voice. "Peter Block and John McKnight [authors of The Abundant Community] say that we take for granted the gift that everybody has to share with each other, that knowledge. The fact that Adrian's model asks, 'What do I want to get out of this?' and 'What do I want to share?' really celebrates those gifts that we all have and even take for granted in ourselves. So that makes absolute sense for the specific community-building work I'm doing. You really talk the talk if you lead a conference from that framework."