IMEX America 2013: What the Meeting Industry Is Talking About Right Now
From politics and industry advocacy to corporate social responsibility and sustainability, several themes echoed through the convention at the Sands Expo in Las Vegas.
October 17, 2013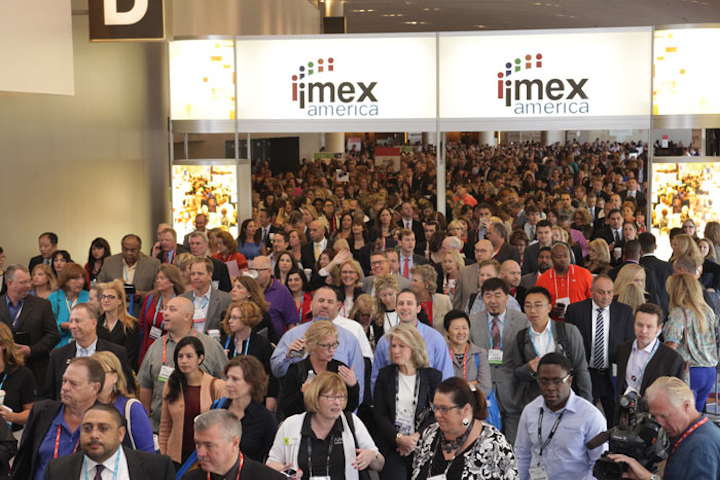 Photo: Courtesy of IMEX America
The third edition of IMEX America opened Tuesday and wraps today at the Sands Expo in Las Vegas amid a thick crowd of international attendees. At today's closing press conference, organizers are expected to announce a significant increase in hosted buyers, a signature feature of the event. There's also a 12 percent increase in exhibitors over last year on the show floor, which is occupying a 17 percent larger footprint. With close to 50,000 appointments made before the show doors even opened, business is certainly getting done.
But learning and information exchange is also a draw. According to the content of the educational programming, here are the top nine topics most salient to the meetings industry right now.
1. Industry advocacy and politics
A timely event while the government shutdown was still underway yesterday, IMEX America and the U.S. Travel Association hosted a forum designed to continue advocacy efforts on behalf of the meeting and event industry in the United States. Bringing major political influence to the discussion, Washington, D.C., Mayor Vincent Gray linked in via live video, joining in-person panelists former Las Vegas Mayor Oscar Goodman and Mayor David Coss of Santa Fe, New Mexico.
IMEX Group chairman Ray Bloom (one of BizBash's most innovative people this year) said, "Today's forum demonstrates the importance of ongoing political advocacy in our industry and reminds us of the full economic power of meetings and events and their role in building knowledge economies." U.S. Travel Association president and C.E.O. Roger Dow (another BizBash innovator) said his group's top priorities are improving the visa and entry process for international visitors, increasing awareness on the need to improve America's travel infrastructure, and supporting the meeting segment of the travel industry. He acknowledged there's much to do, but said, "Six to seven years ago the travel industry was not all that relevant and was seen as more frivolous versus other industries. This time, when the government shut down, the White House called the U.S. Travel Association to come in for a meeting and asked us our thoughts on the impact that could be expected to the tourism sector."
As part of the program, an association panel discussed that while the industry has come together to demonstrate its importance, the next step is for the global community to develop unified and lucid messaging about meetings' value.
2. Innovation
Meeting professionals at the show were looking for ideas and inspiration for innovative conferences and conventions, though some expressed obstacles in the form of reluctant, change-resistant executives or meeting delegates.
"Because we're so busy on a day-to-day basis, we don't give ourselves and our staff time to play and be innovative and come back [to our obligations with fresh ideas]. We're always grinding away at the same thing," said the Meeting Pool C.E.O. and founder Dahlia El Gazzar. "Getting out of the comfort zone is a huge deal."
Teri Jordan, the vice president of member programs at the Association Forum of Chicagoland, said risk aversion stands in the way of innovation and identified structure as a primary barrier to innovation and change. "Shortsighted leaders focus on structure. If the structure stops you, the idea will die—even if it's a great idea with buy-in. So get rid of [a structure that impedes progress] or work around it," she said.
And there can be no meaningful steps forward without a few small ones back along the way to progress. Putting it succinctly, the Fresh Conference founder Maarten Vanneste said, "To make way for innovation, you need to create room for failure."
3. Apps and mobile
Threads involving mobile technology and apps wove through nearly every conversation during the show floor sessions. "Right now all of the buzz is around mobile, but the real disruptive force, the thing that's changed, is we're just not going offline anymore," said DoubleDutch C.E.O. and co-founder Lawrence Coburn. "You can talk about whether that's good or bad. It's a problem, but it's also a trend that can't be ignored."
Trevor Roald, mobile technology evangelist for Quickmobile talked about various ways to monetize event apps: sponsored splash pages, sponsored listings, rotating banner adds, push notifications, videos, and adding elements of gamification.
4. Gamification
Speaking of gamification—the use of game mechanics and design in a non-game setting—the marketing tactic remained a big-time buzzword at the event. Aimia senior director of strategic planning Mike McWilliams cited the statistics that $2.8 billion will be spent by companies on gamification initiatives by 2016, and an average 21-year-old in an industrialized country will have spent 10,000 hours gaming—and "they're in the workforce," he said.
Geoteaming director of sales Jeannette Davidson spoke about the ways in which the approach can spur not only engagement but also revenue. "It also drives loyalty and gets early adopters in and gets them to stay in," she said. "It changes behaviors. It's also a great way to get people to move physically from one place to another."
5. Social media
It's hardly a surprise that social media continues to dominate the discussion. McWilliams stressed the importance of using these media to give attendees opportunities to provide input and then use that to create relevant content.
Seven Degrees Communications president Jessica Levin provided some somewhat staggering supporting data: For instance, every 20 minutes there are 10 million comments made on Facebook. "That's 10 million opportunities for you to have a conversation about your product, your association, your event," she said.
Meeting Professionals International education content designer Jessie States emphasized the importance of monitoring social media feeds in real time during an event and responding immediately—for instance adjusting the room temperature if people are complaining it's too cold.
Event Manager Blog editor Julius Solaris put it bluntly: "If you aren't on Twitter, you don't exist." But he said that the key is relationship-building through these platforms. He cited a statistic that 96 percent of Facebook fans of a brand page never return to it after liking it. "That tells the story of how getting a like is not a social media strategy. You have to keep it going."
6. Corporate social responsibility
As the industry continues to emerge from the shadow of the public outrage surrounding a perception of extravagant meetings during the recession, corporate social responsibility continues to be a major focus. Of course in addition to good PR, the benefits of implementing such programs include internal benefits like improved morale and camaraderie building, said Access Destination Services C.E.O. Christopher Lee. But how can meeting professionals make it happen? A first step, he said, is recognizing that many companies already have a charitable initiative, "but more often than that, there's a total disconnect between that and the meetings department. So identify what's already in place within your own organization and align yourself with those campaigns." Meeting pros can also apply for government or private foundation grants or matching funds, he said.
In keeping with discussions surrounding corporate responsibility, IMEX Group C.E.O. Carina Bauer announced details of the next so-called "IMEX Challenge," designed by the IMEX Group to create a lasting impact in a local community. With support from the Las Vegas Sands Corporation, the parent company of the show's venue, the challenge will call on members of the meeting and event industry to help with the landscaping and construction of a new healing garden and children's play area for the Shade Tree shelter for women, children, and their pets in Las Vegas. It will be the third challenge in the company's history and will take place over the weekend prior to IMEX America 2014, with volunteers being asked to pledge a few hours of their time toward the effort.
7. Sustainability
By now, it's well established that greening meetings doesn't have to negatively impact the bottom line, and there are standards in place for measuring various approaches. But Footprint Management Systems trainer Judy Kucharuk suggested that meeting pros challenge themselves and their organizations to embrace less tangible and measurable benefits to sustainability—results that significantly move attendees in lasting ways beyond the walls and time frame of the conference.
She suggested: "Value of investment is the development of social goodwill or the creation of collateral value. Providing sustainability options and layering in value allows attendees to make the right choice. This layering can distinguish your event. Attendees not only will remember your event positively six months later, but also feel confident in returning the next time it is held."
8. Hybrid meetings
At this point, the concept of hybrid meetings can be considered a "traditional" approach, argued Aimia senior director Mike McWilliams, "and we know they work." So now the goal is to make them as efficient and effective as possible. "What we really need to do with any of our digital extensions is heighten interaction on site," he said. "The best thing a digital support solution can do is help us make that handshake better when we're on site." McWilliams also prefered to call such meetings "blended" rather than "hybrid," given how many nuanced digital and live event platforms can be at play. "Remember that in an event, every single touch point matters. Then, design around your goals and let nothing muddy those waters. Put a moat around them and don't let anyone touch those objectives. Make sure that you're not spending money in ways that aren't most effective to meet your goals," he said.
9. The future of meetings
The German Convention Bureau released findings from "Meetings and Conventions 2030: A Study of Megatrends Shaping Our Industry," which revealed five major themes to look out for.
First, nearly 42 percent of respondents identified technology in work and life to be very influential in the future of the meeting business. Expect new forms of knowledge transfer to influence all phases of the planning process—for instance a further blurring of lines between live and virtual events.
Second, expect further globalization and internationalization, with nearly 29 percent of respondents feeling strongly that globalization will have a major impact. And that makes face-to-face even more important to address issues that arise through increased interconnectedness of cultures. It will also increase the need for careful protocol procedures.
Getting to and from events easily and with a small ecological footprint will continue to effect the planning process, with host organizations planning accordingly. Along similar lines, sustainability will continue to influence all aspects of planning, from venue construction and renovation to transportation and sourcing local food.
Lastly, the German findings showed the industry can expect more demographic diversity, such as an increasingly older meeting attendee population and more women traveling for meeting business.
Featured Venues/Suppliers: