8 Tips to Help You Manage Your Event's Big Data
Find out what types of data three industry experts say is worth collecting and how to use it to improve your event.
June 19, 2014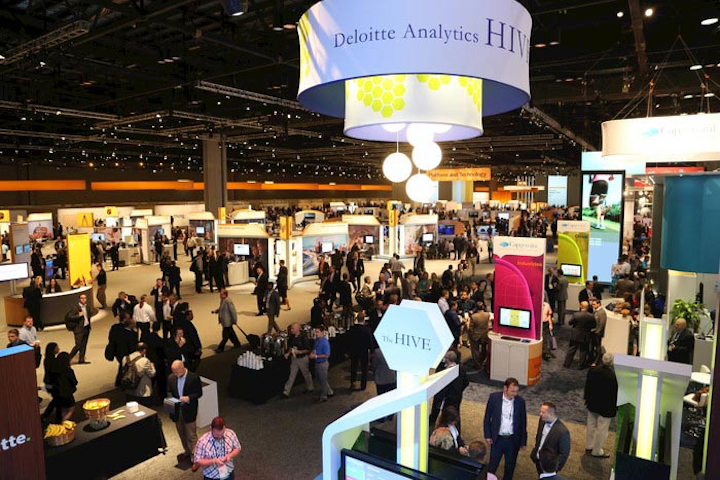 Photo: Eventrix AG/SAP
It wasn't that long ago that the primary—and in some cases only—tool for gathering data from an event was a post-event survey. Now we are in an era of "big data," a buzzword that refers to the huge amounts and complex structure of data that is available thanks to modern technology. For planners, big data creates new opportunities to understand their attendees, create custom experiences, and tweak future events. But it also creates challenges, as planners try to determine what to measure, how to measure it, and how to use the data in a meaningful way.
We asked three people with experience on the topic to share their insights: Christopher Korody is a partner with Audience Metrix, a market research and consulting firm; David Haas is director of digital solutions for Freeman XP, the experience marketing division of Freeman; and Paola Zeppa is senior vice president of strategy and planning at George P. Johnson. Here are their tips for an effective event measurement strategy.
1. Start by determining the event's purpose and goals, beyond just attracting more people than the last event. Is the event intended to drive sales or to increase brand awareness? Or is it to establish the host as an education leader? "It's really understanding with your executive team what they care about. Each event has a stakeholder who owns it, budgets it, and approves it, and who has expectations of what the results will be," Korody says. Those goals will determine what data should be collected to measure success.
2. Track usage on all of your Web properties, for example with Google Analytics. "It amazes me how many people don't do that correctly," Haas says. "They put Google Analytics in there but then they don't go as far as setting objectives or setting alerts to figure out when spikes are happening. There's so much you can do and it's free—why wouldn't you take advantage of it? It gives us a really deep understanding of what elements of our marketing are working." Examples include tracking which campaigns have the greatest influence on registration, or the impact of social media activities.
3. Integrate survey questions into your registration system. "So many planners use these basic registration sites, and I get it: You don't want to put a barrier to entry. But there's a fine balance, and a lot of really great information you could be asking your audience during that registration process," Haas says. Examples include asking why they are attending the event and what they hope to get out of the experience, as well as what topics interest them the most. "With the amount of content marketing going on there's no longer much reason to come to an event to get content," Korody says. "There have to be new reasons to come to events, and networking appears to be the number one reason right now. So find out what makes the event valuable to your customer and what will make them attend again in the future. If you can get those insights and then apply them to your audience acquisition and event marketing, you've just hit a home run." A pre-event survey can also be an opportunity to find out what social networks your attendees use the most and what types of mobile devices they carry, answers that can be useful for future marketing efforts.
4. Harness the power of social media. Along with a survey during registration, planners can post quick questions on social networks to gather feedback from attendees. In addition to using social media for communication, hosts should also use it for listening. "You have these fantastic tools where you can go in and have instant accessibility to what anyone, anywhere is saying about a topic. So you can really drill down to who is talking about what, what are their social circles, who are the real influencers," Zeppa says. "Now you are starting to use measurement from a really prescriptive standpoint. For example, who are the key influencers we need to invite in that we may not have had in our database?" After the event, data from social networks can be useful to see what was said and shared, for example, from specific sessions or at specific times during your event. "You can really dive in. These tools give you the ability to slice and dice and interpret data, so the return on your effort is great, because it's not just a big huge vault of data that you need an analyst to decipher," he says.
5. Understand how attendees used your mobile app. Similar to tracking actions on a website, most apps include analytics that can tell you which sessions guests clicked on, what topics they shared, how long they stayed in the app, and when during the event they used it. "In your post event wrap-up, you can figure out if you spent $5,000 on this app, was it a worthwhile investment? I think that's a big one that planners aren't doing," Haas said. "And if I only had 10 percent of my community use it, is that $5,000 I could have spent better somewhere else?"
6. For customer-focused events, integrate event data and strategy with customer relationship management systems. "When you are dealing with key customers or C-level events, it's so important to personalize and tailor the experience based on the individuals. Not just based on their preferences and who they are, but their relationships, and you can't do that if you don't have that kind of integration," Zeppa said. In developing the post-event evaluation, planners may also need to gather information from other departments within the company, such as sales, to add context to their data. "You will paint a more robust picture," Korody said. "You can have the happiest people in the world at your event, but if you didn't sell anything, it's not a successful event and they won't want to do it again. So this is why understanding the business purpose has to be a part of developing any kind of measurement program."
7. Use visualization technology to track attendees' movements and actions within your event space. Depending on what you want to track and how much you want to spend, options include Wi-Fi and G.P.S. tracking, near field communication, floor sensors, iBeacons, and low-energy Bluetooth. "Now you can see not only where people are moving, but zero in and select the individuals that are part of that graphic representation and zero in on what is their specific use within the space," Zeppa said. "That is so much more actionable than what it used to be." For example, after a sponsor presentation, these types of technologies can track which attendees went straight from the presentation to the sponsor's booth, or how many people approached a booth but then turned away.
8. Gather real-time information during education sessions. This can be done with standalone audience response systems or with one integrated into the event's app. "We had a client that does an event for their top 200 most important customers. They created an app with us that had a survey attached that was pushed automatically at the conclusion of every single session. We collected more than 6,000 data points from 200 of their best customers. It was amazing what they learned. And it took two minutes max to answer these things at the end of a session," Haas said. Second-screen solutions, which allow attendees to access presentation slides on their personal devices, can also provide useful real-time information such as whether attendees took notes on each slide or at what point attendees decided to check email or turn their device off. "They give you ways to measure speaker engagement," Haas said. You gain insight down to the slide level into all these speakers that you've spent so much time and energy on so you know how well it was received by your audience."
Featured Venues/Suppliers: