Virgin Atlantic's Pop-Up Panel Invites Questions Via Twitter
October 9, 2012
To build buzz for the newly redesigned bar in its business-class cabins, Virgin Atlantic chose to tap into its social media following—and the active Twitter presence of its founder Sir Richard Branson—for a pop-up business panel called "Conversations in a Cloud." The promotional event on Tuesday, October 2 brought Branson, along with panelists Kate Sekules and Howard Roberts, to a makeshift version of the drinking spot built 20 feet in the air outside the New York Stock Exchange. The British airline then invited the public to tweet questions (using Virgin Atlantic's U.S. handle, @VAAintheUSA, and the hashtag #CloudConvos) to win the opportunity to pose the query to the billionaire.
"It was a different approach to a business campaign. We went along with the concept that you never know who you're going to meet at a bar—especially our on-board bar—you never know what ideas can come or what brainstorming sessions could come out of it. We also took into account that so many businesses have started from a casual conversation, so we wanted to bring that to life," said Laura Kilroy, Virgin Atlantic's event specialist.
By positioning the structure in Manhattan's financial hub and using the microblogging platform to ask questions like "How will business change the world for the better?" the brand hoped to engage the new bar's key audience—business travelers. "People immediately associate the stock exchange with business men and women and we really wanted to reach out to those potential and current business passengers," said Kilroy. "Our target business members are folks who are engaging on social media and are innovative and creative creatures."
Even Branson's cohorts on the panel were part of the outreach, the result of a contest for the airline's flying club gold card members. Sekules is an entrepreneur, the founder of couture swapping Web site ReFashioner, and Roberts is a director with ad agency Grey Group.
Despite the drizzle that prevented more crowds from gathering, Virgin Atlantic may repeat the concept elsewhere. "We hope to take it to some of our East Coast gateways in the next six months or so." added Kilroy.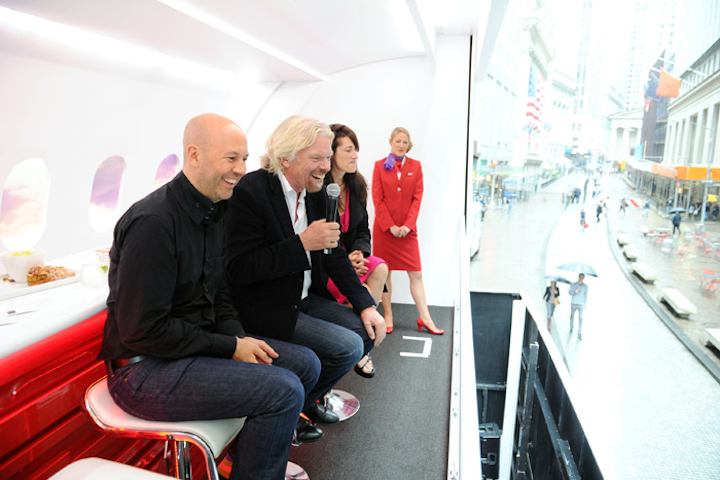 Photo: Craig Barritt/WireImage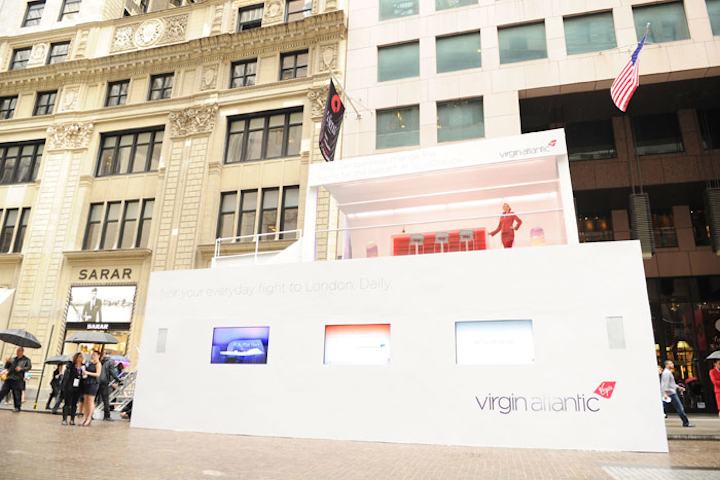 Photo: Craig Barritt/WireImage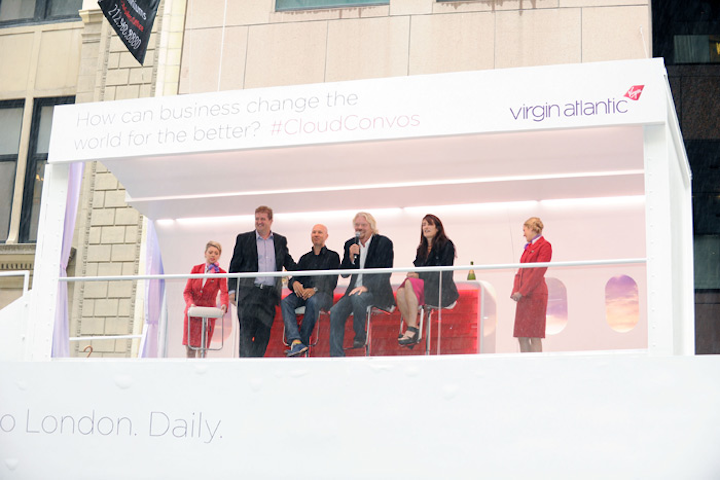 Photo: Craig Barritt/WireImage
Featured Venues/Suppliers: