Cisco Live Creates Social Media Command Center
Cisco Live is monitoring and responding to online comments from a sleek lounge prominently positioned at the event.
June 27, 2013
Cisco is putting social media in the spotlight to create engagement both online and offline at Cisco Live, the company's annual education and training event that wraps up today at the Orange County Convention Center. At the center, organizers have created a bright, contemporary 7,200-square-foot lounge known as the Social Media Hub. Positioned near the event's main entrance and registration, the lounge is both the command center where Cisco monitors and responds to comments on social networks and a comfortable destination for attendees to gather, view live social media feeds, and share content.
A team of 12 people is staffing the hub, monitoring posts to Twitter, Facebook, Instagram, and Flickr that use the event's hashtags #CLUS (Cisco Live US) and #IoE (Internet of Everything). "They are showing Cisco products in action, they are showing Cisco as a leader in brands listening, and they are showing the attendees a behind-the-scenes look at how all this comes off," said Staci Clark, Cisco Live's global marketing manager. In addition to those actively listening and responding on social networks, the team also includes a graphic designer who is creating graphics to enhance some of the tweets from the @CiscoLive handle, plus a person who is posting photos and videos from the event.
Cisco's primary purpose for monitoring the social media activity is to serve as a help desk for both in-person attendees and those experiencing it online through the Cisco Live 365 platform. That assistance runs the gamut from providing a link to someone looking for more information about a Cisco product to sending event staff to increase the air conditioning in a room where people are tweeting it's too hot. The value of that rapid response strategy became evident Monday morning when the event's mobile app went down and attendees complained on Twitter. "People began tweeting that they didn't know what rooms certain sessions were in, and we were able to look those up and reply back," said Charlie Treadwell, Cisco's digital and social marketing manager. "Even just saying, 'We're working on it,' slows down the escalation of a problem."
"The whole communication plan for the event comes through here," said Kathleen Mudge, Cisco's social media manager. "We have a detailed escalation plan so we know who to go to depending on what the issue is."
Online activity spiked during certain parts of the program. Tuesday's keynotes drove nearly 2,500 mentions an hour on Twitter, exceeding 2012 figures by more than 200 percent. Also on Tuesday, the #CLUS hashtag was used more than 8,000 times on Twitter and impressions totaled 11.5 million.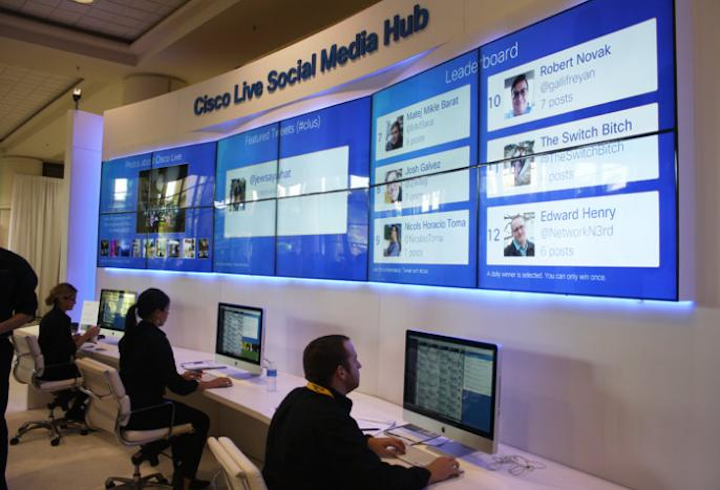 Photo: Mitra Sorrells/BizBash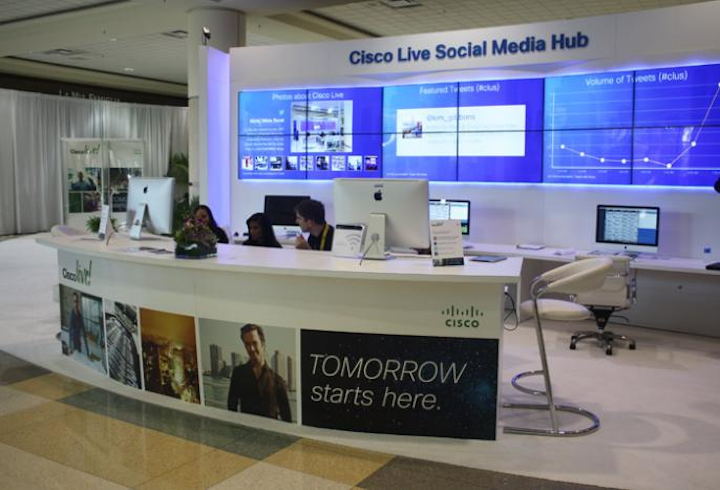 Photo: Mitra Sorrells/BizBash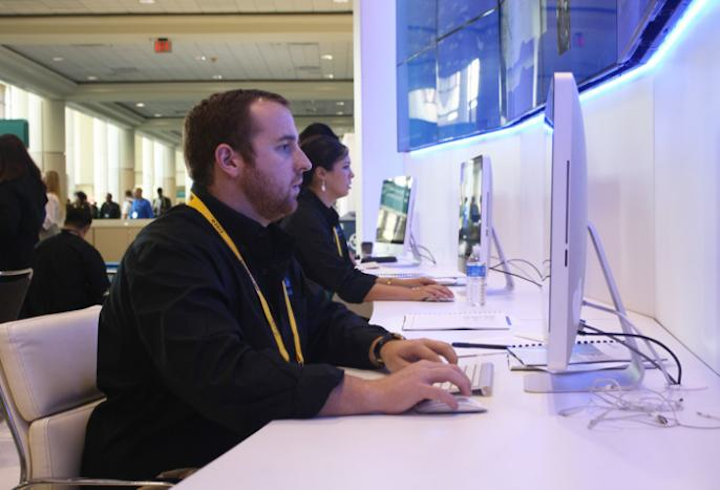 Photo: Mitra Sorrells/BizBash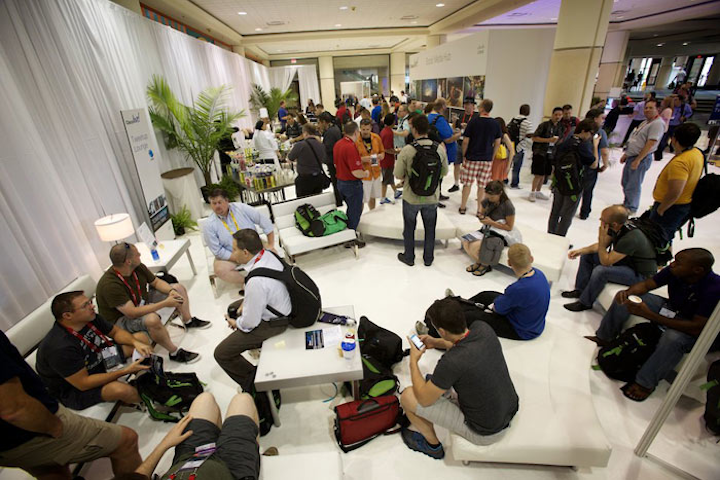 Photo: Courtesy Cisco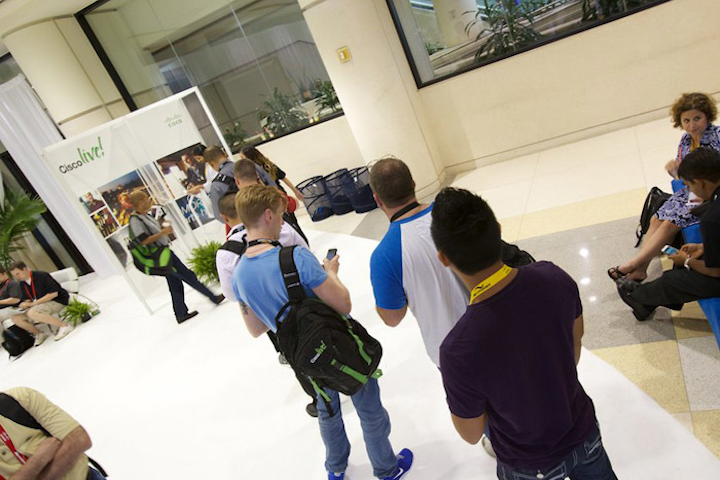 Photo: Courtesy Cisco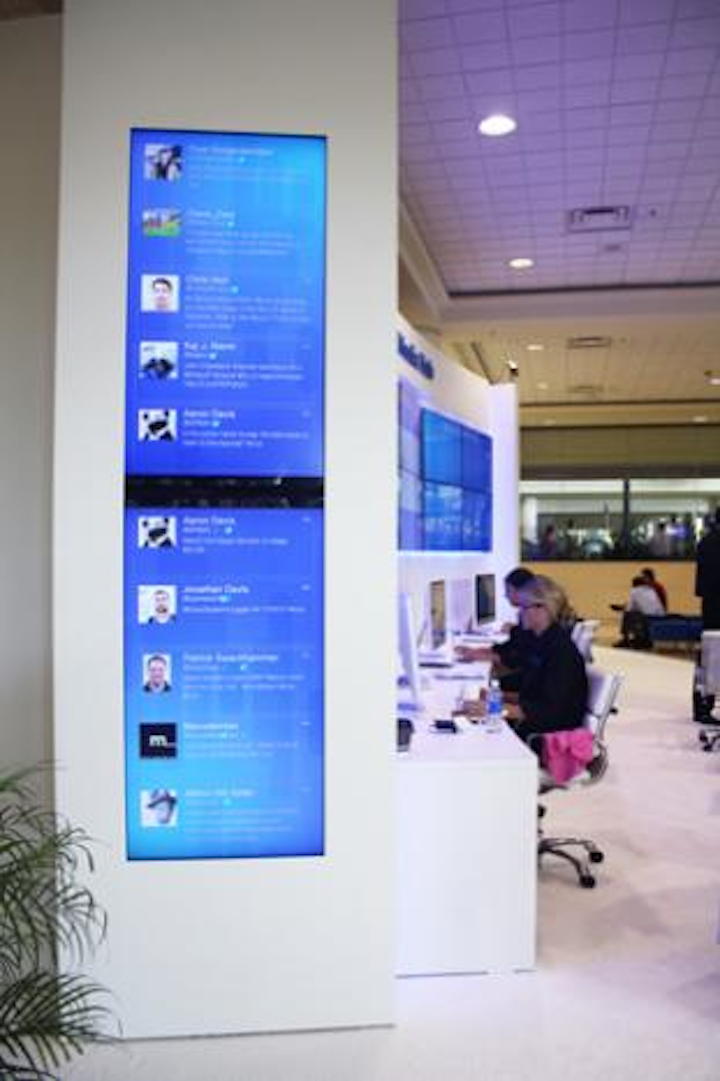 Photo: Mitra Sorrells/BizBash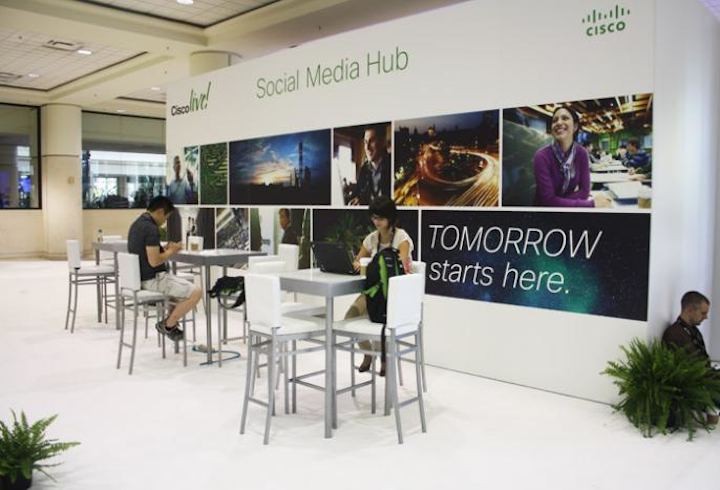 Photo: Mitra Sorrells/BizBash
Photo: Mitra Sorrells/BizBash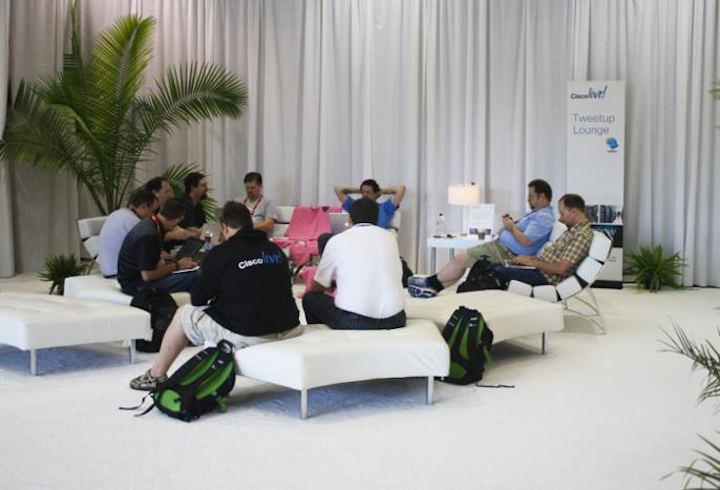 Photo: Mitra Sorrells/BizBash