How This Experiential Pop-Up Uses Food to Teach Kids About Tech
Sue's Tech Kitchen is the brainchild of entrepreneur and tech media personality Randi Zuckerberg.
December 7, 2017
Liquid nitrogen dessert-making, coding with candy, and making s'mores on 3-D food printers are some of the 25 activities attracting visitors to Sue's Tech Kitchen, a temporary exhibit at the Bridge at Cornell Tech on Roosevelt Island in New York. The event, which launched November 25 and runs through January 1, was created by Randi Zuckerberg, C.E.O. of Zuckerberg Media and former executive at her brother Mark's company, Facebook. The immersive activation is intended to encourage people of all ages to enjoy technology and to inspire children to embrace STEM (science, technology, engineering, and math) skills.
The traveling exhibit debuted in Chattanooga this summer. "After the success of our 'Beta Taste' in Chattanooga earlier this year, we knew we had something very special with Sue's Tech Kitchen," said Zuckerberg. "As a mother myself, I'm always looking for places to bring my children that will be fun and enriching for everyone. I couldn't wait to bring Sue's Tech Kitchen to New York City to share it with my own family and all families."
Additional experiences for visitors include a virtual-reality activity presented by the N.B.A. and a "Kid Maker Zone" where they can race smart cars around a special track and learn conductivity with "electro-dough." Zuckerberg is also sharing her favorite tech-based holiday gifts from presenting partners Foodstirs, Tech Will Save Us, Thursday Finest, Piper, Primo Toys, and more.
The activation is also available as a site for holiday parties, team outings, birthday parties, and more. Organizers say in the coming year Sue's Tech Kitchen will expand and visit new markets.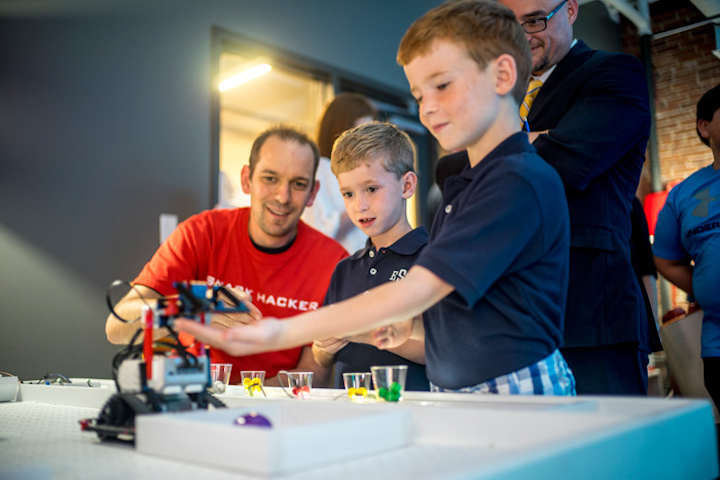 Photo: Rob Shook
Photo: Rob Shook
Photo: Rob Shook
Featured Venues/Suppliers: