BizBash's 20 Most-Liked Images on Instagram in 2016
The most popular photos captured by editors on Instagram this year.
December 21, 2016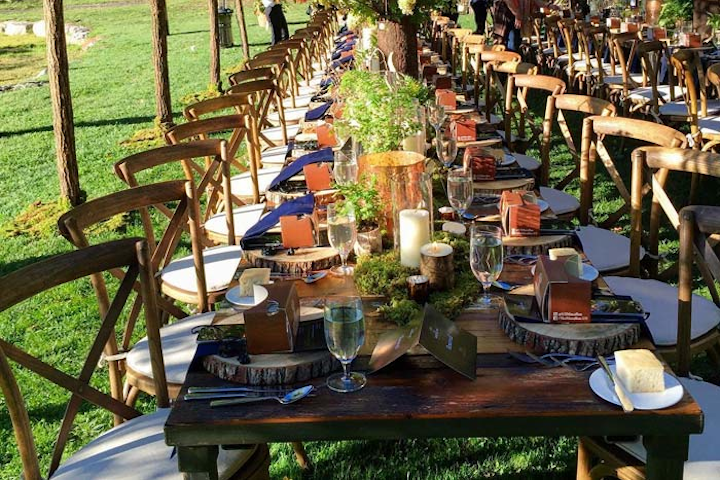 Photo: Michele Laufik/BizBash
As 2016 comes to a close, BizBash editors are reflecting on the biggest events and innovative ideas featured in stories on our site and our social media channels. Here are the 20 images we posted to our Instagram account that garnered the most likes. (You can follow us at @BizBash.)
1. Macallan Double Cask Launch
The outdoor dining table setup at the Macallan Double Cask launch event, held at Cedar Lakes Estate in New York in October, included virtual-reality headsets at each place setting.
2. Tassels and Tastemakers
The Tassels and Tastemakers wedding industry showcase in Los Angeles interpreted the theme "fancy" with chandeliers, greenery, a piano, and candlelight.
3. Netflix's Gilmore Girls Coffee Shop Activation
To celebrate the Gilmore Girls revival, Netflix partnered with Allied Experiential to transform 200 coffee shops in the United States and Canada into Luke's Diner from the original series. The activation included branded coffee cups with quotes from the show.
Related: Why Coffee Shops Across North America Received a 'Gilmore Girls' Makeover
4. Dîner en Blanc Washington, D.C.
On August 27, the third annual Dîner en Blanc Washington, D.C., drew a sold-out crowd of about 3,500 people who gathered at the corner of 23rd Street NW and Constitution Avenue near the Lincoln Memorial for a "surprise" dinner. The event, which has local editions in other cities, requires that participants dress in white for a dinner in which the location is not announced until the day of the event.
5. Panorama
The inaugural Panorama music festival took place in New York in July. The art- and tech-focused event included an attendee-powered color wall from HP.
Related: Panorama 2016: See How the Inaugural Music Festival Brought Its Tech-Art Theme to Life
6. Metropolitan Museum of Art's Costume Institute Gala
At the the Metropolitan Museum of Art's 2016 Costume Institute benefit, towering florals by event producer Raul Avila included a 65-foot-tall double helix rigged from the ceiling.
Related: See How Tech and Fashion Mixed at the Met Gala
7. Post-it's #MakeItStick Event
At a New York event for Post-it, columns were disguised with chandeliers made of colorful adhesive notes.
8. David Monn's The Art of Celebrating Book Launch
At a book launch party for designer David Monn's The Art of Celebrating, the steps of the New York Public Library were dramatically strewn with candles.
Related: David Monn On His New Book, Design Rules, and the Ultimate Event Job
9. Netflix's Gilmore Girls Coffee Shop Activation
As part of Netflix's Gilmore Girls coffee shop takeover, each location featured a Luke's Diner sign.
Related: Why Coffee Shops Across North America Received a 'Gilmore Girls' Makeover
10. Amfar Inspiration Gala New York
At the Amfar Inspiration Gala New York, guests were given special tokens to retrieve mini champagne bottles from a vending machine stocked with Moët & Chandon.
11. Four Seasons New York Downtown Opening Event
At an opening event for the Four Seasons New York Downtown in September, Preston Bailey provided glamorous floral design and decor.
Related: Best of 2016: 10 Most Notable New York Venue Openings of 2016
12. Janie and Jack's Summer Collection Launch
Children's clothing brand Janie and Jack created a bright photo backdrop using lemons for its summer event in Los Angeles.
Related: 10 Ideas for Creating a Sophisticated Kid-Friendly Event
13. Museum of Ice Cream
The Museum of Ice Cream pop-up, a project from creative strategist Maryellis Bunn and Lightbox founder Manish Vora, took place in August at a space across from the Whitney Museum of American Art in New York. Ice cream-inspired installations included hanging ice cream cone lightbulbs with a waffle cone pattern backdrop, produced by Vance Garrett Productions.
Related: 10 Best Ideas of the Week: an Interactive Door to the Olympics, Tinder's Ice Cream-Theme Playground, a Jerky Airstream Tour
14. CNN Political Hangover Brunch
The day after the White House Correspondents' Association Dinner, CNN hosted a Political Hangover Brunch at Long View Gallery. The bar brought color to the industrial space with a pop art-inspired bar featuring stripes of dripping paint.
Related: How Google, Tinder, and Twitter Engaged Guests During White House Correspondents' Dinner Events
15. Veuve Clicquot Polo Classic
At the ninth annual Veuve Clicquot Polo Classic at Liberty State Park in New Jersey in June, a step-and-repeat wall featured champagne bottles and a cut topiary hedge.
16. Weinstein Company and Netflix Golden Globes Party
Moët & Chandon offered a champagne vending machine at the Weinstein Company's Golden Globes party in Los Angeles.
Related: Golden Globes 2016: How HBO, 'In Style,' Netflix, and Others Celebrated
17. #FendiRoadTrip
Luxury fashion brand Fendi launched a "road trip" over the summer with a converted Vespa van that hold handbags and more. Its first stop was at Montauk's Surf Lodge in the Hamptons.
18. Fresh 25th Anniversary Event
Beauty brand Fresh celebrated its 25th anniversary in New York with citrus-theme tableaux.
19. Edible Schoolyard NYC Spring Benefit
Lush overhead decor by Bronson van Wyck consisted of carrots, radishes, and ferns at Edible Schoolyard NYC's Spring Benefit in May.
20. Metropolitan Museum of Art's Costume Institute Gala
Guests at the Met Gala were greeted by a sisal carpet that featured a hand-stenciled hot-pink-and-red DNA double helix, inspired by the exhibition theme "Manus x Machina: Fashion in an Age of Technology."
Related: See How Tech and Fashion Mixed at the Met Gala