BizBash's 20 Most-Liked Images on Instagram in 2019
The most popular photos captured by editors on Instagram this year.
January 2, 2020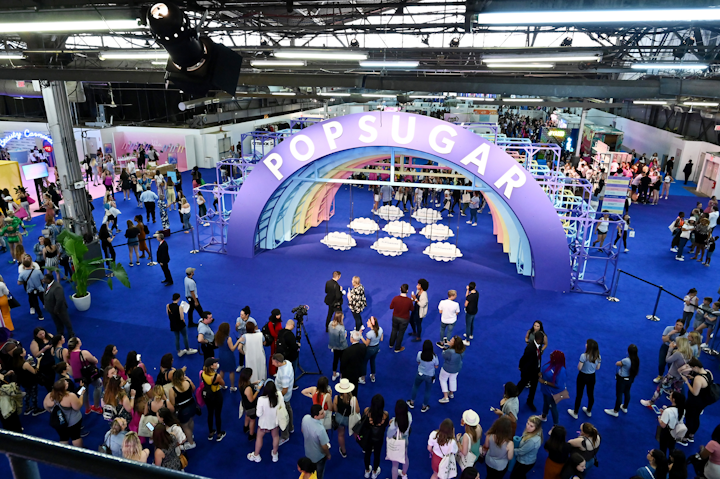 Photo: Astrid Stawiarz/Getty Images for PopSugar and Reed Exhibitions
As 2019 comes to a close, BizBash editors are reflecting on the biggest events and innovative ideas featured on our social media channels and website. Here are the 20 images we posted to Instagram that collected the most likes. (You can follow us at @BizBash.)
1. Univision Upfront
Riviera Caterers offered a make-your-own sangria wall for the Univision Upfront in New York in May. The wall was designed and built by Univision and First Events.
Related: 23 Highlights You Missed From 2019 Upfront and NewFront Season
2. Robin Hood Benefit
Colorful rows of 7,000 backpacks filled with school supplies (to be donated) welcomed guests to the Robin Hood Benefit, which had a theme of "Robin Hood to the Power of You." The event, held in New York in May, featured design and production by David Stark.
Related: Do the Math: New York's Biggest Benefit Turned an Equation Into Event Design
3. Murray's Cheese Holiday Preview
For its holiday preview event in New York in August, Murray's Cheese shop created a massive cheese table. 
4. Humane Society's To the Rescue Gala
Hologram centerpieces at the Humane Society's To the Rescue Gala, held in New York in November, showed images of animals with key messaging and goals. Event production was by Eventique.

5. Adidas Sports Club at Coachella
At the Coachella Valley Music and Arts Festival in Indio, California, in April, Adidas took over a private estate with branded courts, artwork from Alexa Meade, and plenty of stylish logos. The Corso Agency handled production, with assistance from Clear As Day.
Related: Coachella 2019: See Inside the Biggest Parties and Brand Activations
6. PopSugar Play/Ground
The second PopSugar Play/Ground, held in New York in June, had a swing set photo set-up at the entrance. The event was produced in conjunction with Reed Exhibitions.
Related: What Was New at This Year's PopSugar Play/Ground?
7. Neiman Marcus Hudson Yards Opening
At the Neiman Marcus Hudson Yards opening in New York in March, the Laser Sandwich created customized grapefruit garnish twists for the evening's signature smoky bourbon punch cocktail.
8. Aperol Spritz Italian Social Club at Governors Ball
Aperol Spritz celebrated its 100th anniversary at the Aperol Spritz Italian Social Club at the Governors Ball Music Festival in New York in June. The outdoor space, which was produced by Swell, had marquee signage and a swing set photo op.
Related: Governors Ball 2019: 29 Instagrammable Ideas From Festival Organizers and Sponsors
9. Nordstrom Grand Opening
A three-dimensional step-and-repeat featuring the Nordstrom name in various sizes and depths greeted guests at the grand opening celebration of the retailer's first New York women's flagship in October.
10. Diffa Dining by Design
At Diffa's Dining by Design in New York in March, Rockwell Group's tablescape had digital wall covering and a handmade peacock feather tablecloth.
Related: 18 Dining and Tabletop Ideas From Diffa's 2019 Dining by Design
11. The Breaking Bad Experience
The interactive Breaking Bad Experience in Los Angeles this fall had set re-creations, photo ops, and on-theme food, including a menu of chemically reactive cocktails. 
Related: When Fandom Meets Foodies: This Team Builds Restaurants Inspired by Your Favorite '90s Entertainment
12. Ciroc's Coachella Party
Ciroc's Coachella party in Palm Springs, California, in April celebrated its new Summer Watermelon flavor with red florals, colorful balloons, and real watermelons in the fountains and bushes. LA Weekly co-hosted the event and W2 Creative handled production.
Related: Coachella 2019: 6 Design Trends to Steal for Your Next Event
13. Evian x Virgil Abloh Pop-Up
At the Evian x Virgil Abloh pop-up in New York in May, guests placed their tickets under a stream of fountain water to reveal if they'd won a signed bottle. 
Related: How Evian Captured Hypebeast Culture at its First Pop-Up
14. Campo Viejo's Governors Ball Activation
At Governors Ball in New York in June, Spanish wine brand Campo Viejo's activation featured a vintage New York taxi cab overflowing with colorful flowers. IMG Live produced and B Floral created the flower bomb display.
Related: Governors Ball 2019: 29 Instagrammable Ideas From Festival Organizers and Sponsors
15. Ocean Spray's Cranberry Harvest
Ocean Spray and Vineyard Vines announced a partnership with Bright Pink, a nonprofit organization dedicated to women's health, with a whale-shaped cranberry harvest in Rochester, Massachusetts, in September. About 15.5 million cranberries formed the Vineyard Vines logo.
Related: Why Is This Cranberry Bog Shaped Like a Giant Whale?
16. Essence Black Women in Hollywood Luncheon
Essence's annual Black Women in Hollywood awards took place in Los Angeles in February. The colorful luncheon was produced by Essence's Jovanca Maitland with longtime collaborator AGENC and floral designer Bloom & Plume.
Related: Oscars 2019: Glamorous Party Highlights From the Week's Biggest Events
17. Fortnite Booth at E3
Fortnite's massive booth at E3, held in Los Angeles in June, has neon details and fun photo ops and games. FGPG handled production. 
Related: E3 2019: Check Out the Coolest Booths, Parties, and Brand Activations
18. Absolut Activation at Coachella
Absolut's activation at Coachella in April showcased the brand's commitment to sustainability and equality. It was designed and produced by MKG.
Related: Coachella 2019: See Inside the Biggest Parties and Brand Activations
19. Subaru's Chicago Auto Show Party
Catered by Limelight Catering, the Subaru Chicago Auto Show party in February served a special Belgian Golden Ale cocktail featuring a branded Subaru lemon peel.
20. PCMA EduCon
Fun serving ideas from the JW Marriott Los Angeles L.A. Live during PCMA EduCon in June: Juices were served inside a greenhouse, and planters held muffins and fruit.
Related: 4 Tips for Creating Better Conferences Today