BizBash's 20 Most-Liked Images on Instagram in 2017
The most popular photos captured by editors on Instagram this year.
December 27, 2017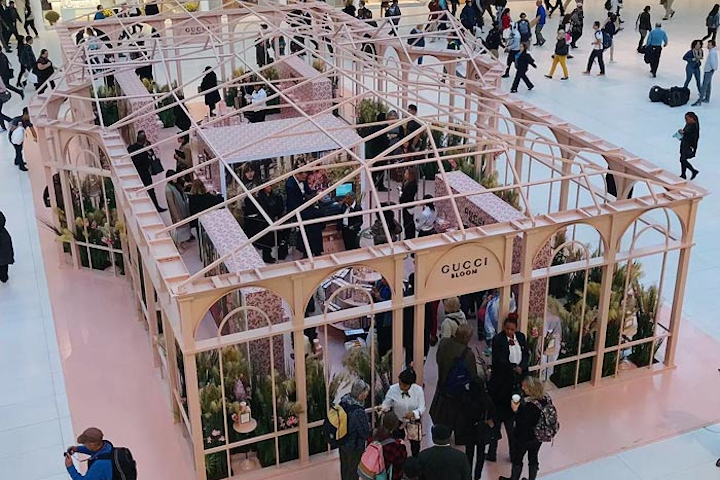 Photo: Jim Shi for BizBash
As 2017 comes to a close, BizBash editors are reflecting on the biggest events and innovative ideas featured in stories on our site and our social media channels. Here are the 20 images we posted to Instagram that collected the most likes. (You can follow us at @BizBash.)
1. Tiffany & Co.'s Blue Box Cafe Preview
Tiffany & Co.'s first-ever eatery, Blue Box Cafe, opened to the public in November. Naturally, it's awash in the jeweler's signature shade of blue.
2. Weinstein Company and Netflix Golden Globes Party
Popular Moet champagne vending machine at the Weinstein Company and Netflix Golden Globes Party at the Beverly Hilton in January.
Related: Golden Globes 2017: Party Pictures From Fox, HBO, 'InStyle,' Weinstein Company, and More
3. Museum of Ice Cream Miami
The popsicle wall at the Museum of Ice Cream Miami in Miami Beach's Faena District. The pop-up museum debuted in December.
Related: Art Basel 2017: The Most Buzzed-About Events, Parties, and Installations
4. Saks Fifth Avenue Holiday Windows
Saks Fifth Avenue and Disney partnered on the retailer's 2017 holiday windows celebrating the 80th anniversary of Snow White and the Seven Dwarfs with a fireworks spectacular in November.
5. Tiffany & Co. Global Fragrance Launch
At Highline Stages for the Tiffany & Co. global fragrance launch in September, an ingredient bar has stations for the top, middle, and base notes.
Related: Inside Tiffany's Interactive Fragrance Launch
6. Facebook Holiday Party
The Instagram logo created with makeup brushes at Facebook's holiday party in New York in December.
7. Despicable Me 3 x Goop
At the Goop x Despicable Me 3 party in Amagansett, New York, in August, cool desserts and finger foods by Peter Callahan Catering included lemon ices served in carved-out lemons.
Related: Steal These Kid-Friendly Party Ideas From Goop's 'Despicable Me 3' Event
8. Diner En Blanc New York
A sea of diners in white at the New York City edition of Diner En Blanc at Lincoln Center in August.
Related: Colin Cowie on the "Beautiful Kind of Chaos" of Dîner en Blanc
9. Victoria's Secret Angel Oasis at Coachella
Enormous lakefront balloon installation for the Victoria's Secret Angel Oasis event in April during the Coachella Valley Music and Arts Festival.
Related: Best of the Coachella Parties: 30 Ideas for Activities, Drinks, Decor, and Branding
10. Prevent Cancer Foundation's Spring Gala
David Tutera designed a modern Italian ambience for the Prevent Cancer Foundation's Spring Gala in March with tables of white and silver topped with cloud-shaped arrangements of babies breath. The event took place at the National Building Museum in Washington.
Related: A Reason to Rethink Your Event Partnerships and Sponsorship Targets
11. Tiffany & Co. Global Fragrance Launch
A central display was a tower in the shape of the perfume bottle filled with Tiffany & Co.'s iconic blue boxes. It made for a popular Instagram backdrop.
12. Gucci Greenhouse Pop-Up
To introduce Gucci Bloom women's fragrance to a larger audience, Gucci partnered with Saks to operate a week-long pop-up metal greenhouse—painted the same shade of pink as the bottle—at the Oculus in New York filled with scent stations, floral potted plants, and social media ops. The event took place in October.
13. L'Oréal Paris Galentine's Day
Balloon step-and-repeat at L'Oréal Galentine's Day event at West Edge NYC in February.
Related: How This Beauty Brand Kept Guests Engaged With D.I.Y. Ideas
14. The Knot Gala
A photo op with a floral backdrop at the Knot Gala, held at the New York Public Library in October.
Related: 12 Enchanted Forest-Theme Highlights From This Year's Knot Gala
15. Ocean Spray's Thanksgiving With CranMa
At Ocean Spray's influencer Thanksgiving lunch at Rockefeller Center in November, activations and giveaways educated consumers on using cranberries in their meals.
Related: How Ocean Spray Helped First-Timers Get Ready for Thanksgiving
16. Giovanna Battaglia Book Party
Masses of balloons in all shapes and sizes filled the main floor of Bergdorf Goodman in celebration of fashion muse Giovanna Battaglia's new travel/style book in September.
17. Anti-Lemonade
A glow-in-the-dark bar at a Beyoncé-Rihanna-theme Anti-Lemonade event from Brianni T. Presents in New York in March.
18. Rosé Project Dinner
Dining table setup at a Rosé Project dinner at the Surf Lodge in the Hamptons in July.
Related: 12 Summer Entertaining Ideas From a Rosé-Inspired Dinner Series
19. Emmys Governors Ball Preview
A preview of the golden decor for the upcoming Emmys Governors Ball featured a ceiling installation of 5,000 paper cylinders.
Related: Emmys 2017 Preview: Golden Governors Ball Commits to Sustainability
20. L'Oréal Paris Galentine's Day
A floral ceiling installation at L'Oréal's Galentine's Day event in February.