7 Teambuilding Activities With Philanthropic Tie-Ins
Build group skills while benefiting communities in need, environmental causes, and more.
July 13, 2016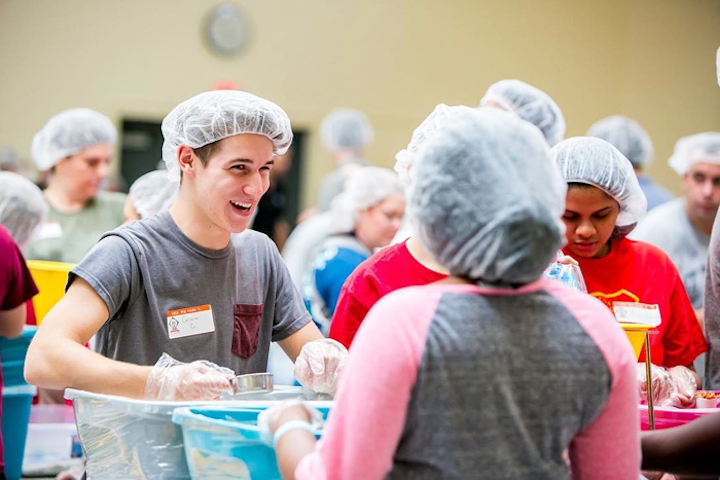 Photo: Courtesy of Feeding Children Everywhere
With corporate social responsibility front of mind for many brands and corporations, teambuilding activities with philanthropic tie-ins can serve as major multitaskers: In addition to unifying groups and building skills like organization, efficiency, and financial management, such activities can simultaneously benefit charitable organizations while also building goodwill. Pertaining to the environment, hunger and homelessness, children in need, military families, and other causes, these options are available in locations across the country.
Military Families
Impact 4 Good offers an option to design and put together gift packages for military families from the local community where the event is located. Think picnic totes filled with reusable items useful for relocating families, as well as game night kits, picture frames, memory boards, and notes. The task-oriented activity compels teams to call on and build skills like financial management, time management, and skills analysis, while they work on the project benefiting the U.S.O. 
Homeless Support
Clean the World offers a teambuilding event in which groups can participate in building hygiene kits for the less fortunate; those kits are later distributed where they are needed, to homeless shelters or aid groups. In addition to the teamwork involved, the activity also helps teams renew their focus on community. 
Developing Nations
In the U.S.-Mexico border community of Mexicali, a women's cooperative is using beekeeping as a way of generating alternative income. In a competitive C.S.R. teambuilding activity from TeamBonding, teams take part in a scavenger hunt and then construct beehive frames that will be donated to the women in that city, who will use them to produce and sell beauty products, candles, baked goods, bee pollen, and more.
Recycling and Environmental Education
As part of the Go Green Racing program, also from TeamBonding, teams create solar cars from kits, as well as from materials used and thrown away every day across the country. Groups will then have their solar and recycled cars judged on performance and speed, as the activity ends with a round-robin drag race tournament. The groups' cars, along with new solar car kits and a solar classroom curriculum, are later donated to a local school, which uses them to teach about energy conservation and alternative methods of transportation.
Children in Need
Feeding Children Everywhere offers a teambuilding activity known as Hunger Projects, high-energy and hands-on opportunities for groups to take action against global hunger. Workers don hairnets amid motivating music to package healthy meals for hungry children in an assembly-line formation. Volunteers have a sense of making a difference, while building skills such as efficiency, organization, and inclusivity.
Disability Assistance
Teambuilding Unlimited offers a program called Wheels to Mobility, in which group members help to assemble, test, and decorate wheelchairs that are then donated to the elderly or disabled through charitable organizations, senior centers, and individual families. On site during the activity are trained facilitators who guide teams through challenges to receive parts and supplies, as well as inspect the portable wheelchairs and coordinate the donation. 
Rescue Animals
Through a teambuilding activity known as Happy Trails, Charity Team Building Events offers help for animals in need in local communities. Donations can be made to the A.S.P.C.A., a local pet shelter, or a program of the group's choosing. In the workshop, teams put together care packages full of necessary items like food bowls, collars, chew toys, and other essentials for rescue pet adopters.
Featured Venues/Suppliers: