Photo: Courtesy of Leah Design
We always love to talk gifting at events. Event profs continue to raise the bar when it comes to giving attendees a memento to help them relive an experience long after it's over. A trend we've spotted recently in this arena? Live calligraphy and engraving. It's one thing to gift an eventgoer a personalized item of swag—it's a whole different ballpark when the eventgoer can see said personalization in action.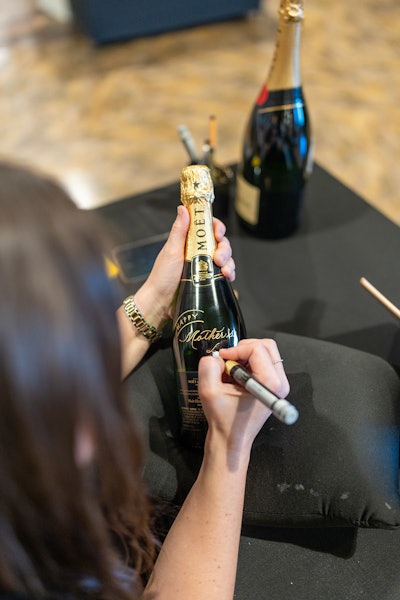 "When a guest or customer goes through the experience of having the item customized live, on the spot for them, it's engaging and unique," says Singapore-based lettering artist, calligrapher, and illustrator Leah Chong of Leah Design. "Oftentimes, they take photos or videos and share them on socials and with their friends."
Live calligraphy or engraving usually involves customizing a brand's actual product, product packaging, or a gifted item with a purchase for a traditional takeaway. At live events that aren't consumer-facing, it might involve personalizing an item of swag—think: with a guest's name or custom illustration.
Jenny Blaschke is a Texas-based artist who runs Olive + Cedar Designs, a luxury calligraphy and engraving company for brands and live events. She began her full-time calligraphy and engraving career with department stories like Dillard's, Nordstrom, and Saks Fifth Avenue. She's since worked with brands like Kendra Scott, Cartier, and Victoria's Secret.
When it comes to live events, Blaschke says live calligraphy and engraving have "really taken off." When working with clients, "I really want them to know that it's not about me and showcasing what I do—it's about representing them well," she says. "I want to be able to help build that brand loyalty for them."
Considering adding live calligraphy or engraving to your event? Keep these tips in mind...
1. Remember that this can work with a wide range of budgets.
Blaschke says a perceived high price tag could be preventing event profs from incorporating live calligraphy and engraving. But a steep invoice isn't always the case. "I think that there's a way to fit it within everyone's budget, and I have tons of ideas of lower-cost items that [planners] can utilize, as well as higher-end items," she explains.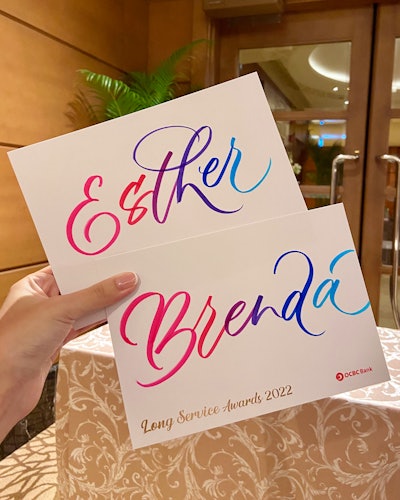 2. It's also not as time-consuming as you might think.
Chong says that event planners might have a misconception that creating a custom piece is a long or drawn-out process—"which isn't true, of course," she says. "A custom calligraphed/lettered/engraved item usually takes anywhere from one to five minutes for me, depending on the size and complexity. The most intense event I've ever done was completing 250 cards in a three-and-a-half-hour event!"
3. Know what you're looking for.
Think about who your attendees are, and aim to provide them with "something they care about and want to actually keep," Blaschke says. Or tie it into the theme of the event. We saw this earlier this year at the College Football Playoff National Championship game in Los Angeles. Gifts for the Good Life's limited-edition footballs have become collectibles and a go-to grab at the CFP VIP gifting suite. This year's footballs were personalized by lettering artist Lauren Nisenson. (Read more here.)
We also love this use of customized luggage tags—an item surely any busy corporate attendee will appreciate—by California-based calligrapher and engraver Alex Hirsch of Signs of Our Lives.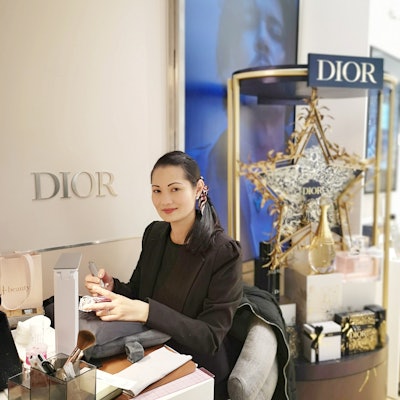 Chong also recommends searching on Pinterest for inspiration.
4. Look through an artist's portfolio beforehand.
U.K.-based calligrapher Maria Vig of Intue Mindful Art suggests perusing an artist's previous work, so event planners "can see if their work aligns with their events," she says. "This can be done by going to the artist's website or Instagram, or email the artist to request a portfolio."
Chong agrees. "When you hop on a call or have a consultation with the artist, you're able to share some visual examples of what you like," she explains.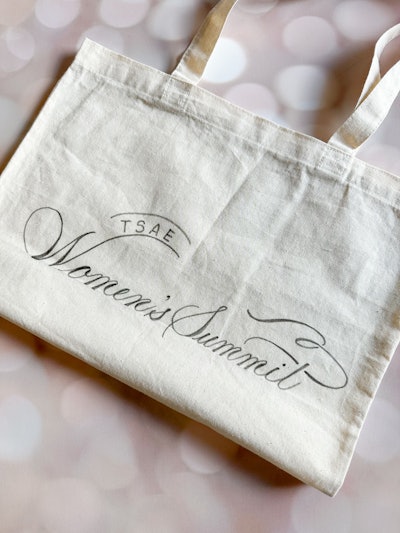 And never be afraid to ask questions, Blaschke says. "There are really so many options," she says of creative ways to incorporate this kind of service for guests. "Talk to me or whoever's in your area—we have lots of ideas."
5. Check with the artist on their processes.
Chong advises that event planners check with an artist on things like their process, on-site requirements, and time taken to personalize one item.
"You can then gauge whether or not the artist is able to fulfill the volume or demand based on your guest list," she explains. "If you have more guests than what the artist is able to fulfill, consider hiring more artists or reducing the complexity of personalization. For example: Instead of having the artist customize the guest's full name or long quote, it could be reduced to first names or initials to increase the turnover rate. Or you can also just make it a first-come, first-served complimentary personalization."