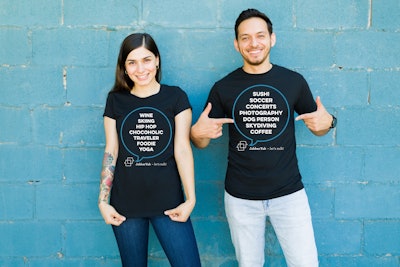 Photo: Courtesy of JabberYak
The demand for flawlessly executed, high-impact, in-person events that wow audiences, offer memorable experiences, and leave them wanting more is at an all-time high. Companies have emerged from the pandemic with renewed confidence and even larger goals. Expectations have grown exponentially, challenging producers to think outside the box to ensure they curate an inclusive event where lifelong connections are easily made.
How often do people arrive at events only to find large groups standing around aimlessly with no apparent purpose? Apprehension is high as guests slowly navigate the room, unsure of whom to approach or how to initiate a new conversation. Others may choose to stare absently at their phones or withdraw altogether. How can you, the organizer, overcome this hurdle and reduce the stress to improve guest participation? JabberYak creates an appealing social atmosphere where conversations are more enjoyable and attendee satisfaction soars.
At JabberYak, we believe the gateway to building powerful networks is the exchange of mutually significant interests. Our patent-pending technology provides an easy, user-friendly solution that relieves social tension, helps conversations flow, and adapts to fit all your specific business needs. Our icebreaking products are thoughtfully designed to help people bond by discovering interesting fun facts about each other. Combined with the mobile scavenger hunt and useful data analytics, your next event will even the playing field, dramatically improve attendee engagement, and foster new gateways to long-term relationships.
Featured at MPI's highly successful Hosted Buyer Program during the 2022 World Education Congress in San Francisco, JabberYak took attendees on an unexpected adventure. Upon arrival, name badges printed with seven pre-selected personal interests were worn. They then participated in an hourlong scavenger hunt that proved to be the perfect way to engage all 300 attendees. Over the course of four days, guests attended meetings and networking events where the JabberYak badges remained the star of the show.
The event producer, Marcel Coleman, had this to say: "It was important to create an environment where attendees could connect on a human level before the business appointments began. This icebreaker allowed guests to meet casually first to maximize the 15-minute appointments that would happen later in the program. The things we enjoy outside of work inform the kinds of events we create and the risks we are willing to take, and set the tone for authentic exchanges. Having this information is critical when forging new connections. By partnering with JabberYak, satisfaction scores increased from 78% to 96%. The team was knowledgeable and supportive—and certainly a group you want to partner with."
Patty Kieffer, one of the Hosted Buyer Partners from Visit Mobile, shared her experience: "In our business, it's all about relationships, so when you're able to have these one-on-ones talking about your family, your kids, your interests, travel—which we all love—it just really takes it to another level."
Partnering with JabberYak helps you break free from predictable and boring and unlocks new adventures for your attendees. Contact us for more details.