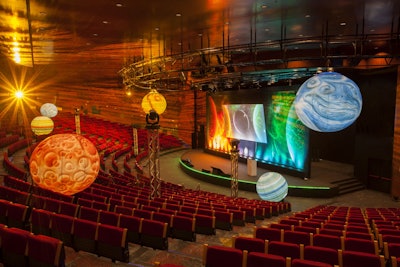 Photo: Courtesy of RendezVerse
This column offers a monthly check-in on all things event tech, from new virtual platforms to social distancing-focused tools to software that will make your job easier.
Want more content like this sent directly to your inbox? Then sign up for our brand-new BizBash Event Tech monthly newsletter to stay in the know on the latest event technology news and tools to elevate your meetings and events.
In Case You Missed It
At BizBash, we recently learned how to host a product launch in the metaverse and explored five ways the metaverse may improve meetings. We also weighed the pros and cons of hosting an audio-only event and checked out an NFT ATM in New York.
---
Event Technology We're Excited About This Month
To find a one-stop shop for planning your next hybrid conference
Freeman, one of the world's leading event production companies, is teaming up with global event tech platform Hubilo to bolster its virtual and hybrid event offerings. Customers will now be able to tap into both Freeman's expertise and event production skills combined with Hubilo's robust platform, leading to a turn-key, comprehensive approach to planning all aspects of in-person, digital and hybrid events. Capabilities through Hubilo now available to Freeman clients include custom branding, personalized networking, breakout sessions, digital booths, virtual happy hours and more.
To manage health safety protocols at a large, in-person event
Last month, Salesforce officially debuted Safety Cloud, a new product that helps businesses, communities and event organizers better manage their testing and entry protocols at in-person gatherings. Built into the Salesforce platform, Safely Cloud offers a streamlined way to build flexible, scalable protocols surrounding testing and vaccine status requirements, identity and registration, plus personalized communication journeys as public health guidelines change. The platform combines ID and health status into a Dreampass—a secure, multifactor pass for validated access. Click here to learn more in our interview with Salesforce's chief medical officer.
To improve audience engagement and accessibility at virtual events
Event technology platform Hopin has debuted a number of new updates based on feedback and current event-industry trends. Highlights: Closed captioning for increased accessibility, along with new audience engagement tools like speaker recognition and a new UI for Q&A management. Other updates include added customization like background music, enhanced security with options such as OneTime Passcodes, and integration with ActiveCampaign and Marketo for better event insights. Show/hide segments based on event ticket types have also been added to lead to a more seamless attendee experience.
To revamp the old-fashioned event icebreaker
JabberYak is a unique ice-breaking experience designed to get the conversation flowing by connecting guests with similar interests. Prior to an event, attendees will receive a JabberYak link in their email inbox prompting them to select seven personal interests from an extensive list on an event-specific template, which are then printed on name tags, T-shirts or badges and worn to the gathering. There's an Analytics Dashboard, which provides a comprehensive report of guests' interests selections; the dashboard is made available prior to an event so planners can craft relevant activities and experiences geared toward what they know their attendees enjoy. Click here to learn more in our interview with the company's founder.
To easily track capacity to ensure social distancing
Event management solution VenuIQ has launched the SafeWatch, a wearable tech solution that uses individual, reusable wristbands to ensure social distancing at in-person events. Each wristband is fully integrated with a Bluetooth tracking solution; the product can monitor the number of attendees in any given event space and will vibrate if attendees get within 2 meters of each other for more than a few seconds. SafeWatch also offers contact tracing capabilities in case someone tests positive for COVID-19.
To study the ins and outs of hybrid events
Newly-merged companies MeetingPlay and Aventri have launched Meetinglay + Aventri (MPA) University, an event education platform designed to be a hub for planners and producers alike. A free, six-week-long course titled "The Hybrid Master Class," kicked off on Feb. 24 and runs through March 31; it features bite-size webinars from industry experts. Event professionals knowledgeable in technology trends, content creation and actionable marketing will also offer their expertise throughout the course.
To learn more about the local culture before your next business trip
Planning an incentive trip and destination meeting? Get some itinerary inspiration from Playsee, a map-based video-sharing app that invites users to highlight must-do activities from top locations around the world. Travelers are encouraged to focus on authentic local experiences rather than tourist attractions. The app's latest feature, Ask Nearby, allows users to ask a question anywhere on the interactive map or share a response through either video or text replies—sparking global conversations and allowing travelers to learn more about the local culture of destinations before actually being there.
---
The Latest Promotion, Funding and Merger News
Swoogo recently secured a $20 million Series B investment, led by Bain Capital. The funding will help the event management software implement a number of new developments this year, including a refreshed mobile app, new speaker management and exhibitor resource center modules, expanded customer support and more.
South by Southwest (SXSW) is taking place March 11-20 as a hybrid festival in partnership with technology platform Grip. Grip's AI-powered matchmaking and networking platform will help attendees discover new exhibitors, products and sponsors via interactive floorplans, one-on-one virtual or in-person meetings and more. Grip will also sponsor an event tech meet-up at the festival on March 15.
Oddmund Braaten, Interprefy's former COO, will take over as CEO of the Zurich, Switzerland-based company, which is a leading provider of managed remote simultaneous interpretation technology and services. Braaten takes over for outgoing CEO Annett Polaszewski-Plath, who helped the company double its revenue and team across 29 countries over the last two years.
Array, a leading content engagement solution for life sciences events, has hired Chris Bryant as vice president of analytics and insights management. Bryant will help lead the new Analytics and Insights Management team, which will partner with clients through every step of the event lifecycle from content planning to post-event analysis and insight interpretation.