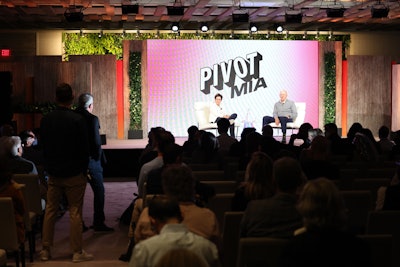 MIAMI/SOUTH FLORIDA—Vox Media recently brought the podcast franchise from hosts Kara Swisher and Scott Galloway to life with the inaugural Pivot MIA event—a cross between a fan fest for listeners and a laid-back tech conference.
Over the course of three days, from Feb. 14 to 16, at the 1 Hotel South Beach and Faena Hotel Miami Beach, Swisher and Galloway chatted with some big names in media, finance and tech including Brian Chesky, CEO and co-founder of Airbnb; Sandeep Mathrani, CEO of WeWork; Meredith Kopit Levien, CEO of the New York Times; David M. Solomon, chairman and CEO of Goldman Sachs and more. The event was produced by Liberty & Co, and sponsors included Klaviyo, TriNet, Klarna, Salesforce, SoftBank Latin America Fund, Alto and Knight Foundation.
Other Vox Media staffers such as Preet Bharara, Olivia Nuzzi and Casey Newton also hosted interviews throughout the event, which was an extension of the brand. In 2020, Swisher and Galloway hosted a virtual five-part series, called "Pivot Schooled," that covered how COVID-19 had transformed the global economy.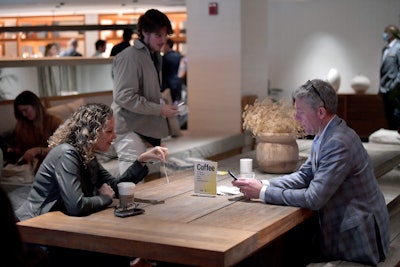 Tara Reilly, vice president of experiential at Vox Media, said that this year's event "felt like a good opportunity for us to think about a new type of conference, especially given everything that's been going on in the pandemic and people looking for a little bit of an escape and also a new version of what work looks like for them. So it felt like a really great way for us to think of this as a combination of a conference, but also a little bit more of a retreat in feel."
As Miami attempts to become the new Silicon Valley, organizers tried to embrace this energy and infuse the event with the city's vibes.
"There are a few reasons why we decided on Miami. The first is the most obvious one in that Miami is a new emerging city for start-ups and tech companies, and it has such a new life. I think from that perspective it definitely was the right fit for us," explained Reilly. "But then it's also one of America's most vibrant cities in terms of culture and diversity. And as Kara and Scott said themselves, everyone loves the beach."
As for the programming, organizers took cues from the tone of the podcast itself, leaning on Swisher and Galloway for their input regarding guest speakers. "What is the point/counterpoint? What are the educational moments? What do we want that thought leadership and the provoking conversations to come out of this event to be and really to create that dynamic," Reilly said. "Sometimes that means putting people on the stage that we don't necessarily know where the conversation is going to go. But we really want to make sure that we're giving everyone an opportunity to have a voice on stage."
Although the event didn't include a virtual component, the conversations are being repurposed as podcast content, which, Reilly said, was a natural fit.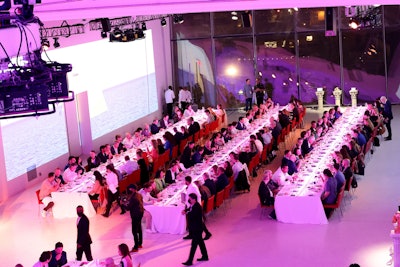 In addition to the on-stage discussions, the 300 attendees also enjoyed an interactive dining experience presented by the Hygienic Dress League (HDL), followed by a choose-your-own-adventure-style after-party at the Faena Forum. HDL is an American art duo founded by Dorota and Steve Coy who are known for creating fleeting projections, guerilla marketing campaigns, video holograms and installation art critiquing society. The custom performance, titled "Museum of the Future," immersed guests into a commentary on the future of the workplace with a gallery of objects from the "future."
Featuring a dystopian tone, guests were seated at long rectangular tables in the center of the space with performers surrounding the perimeter of the room. Guests received notes "from the future" that contained a QR code that led to a special NFT offer. At the after-party, guests were able to wander between different setups including a customized burlesque show.
"Creating an Immersive dinner was such a huge objective for us to make sure that we could create those organic moments where attendees could network and have an experience that they've not had before," Reilly said.
Regarding health and safety protocols for the event, Vox Media partnered with CLEAR for vaccine authentication, and all attendees were tested for COVID-19 upon arrival before they received their credentials. Organizers also distributed at-home tests, allowing attendees to test themselves on days two and three.
As organizers begin planning next year's event, Reilly said that adapting to the needs of the attendees and their new way of working is key. "There is this sense that conferences and these types of events in the future will replace some of those one-on-one meetings that they schedule and will replace that work style that we had previously known," she said. "How do we make this worthwhile for attendees? These live experiences have to be not only engaging during the event, but there has to be a long tail afterward as well. That's really important for us to think about for next year."
See more from inside Pivot MIA below.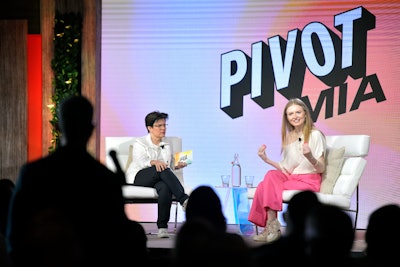 Photo: Jason Koerner/Getty Images for Vox Media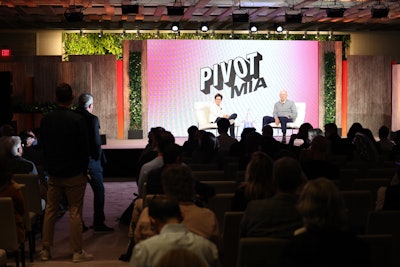 Photo: Alexander Tamargo/Getty Images for Vox Media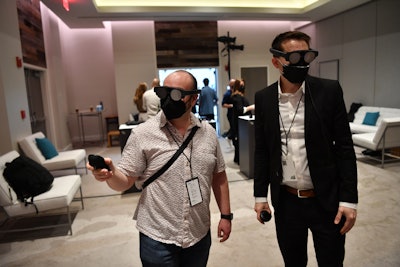 Photo: Jason Koerner/Getty Images for Vox Media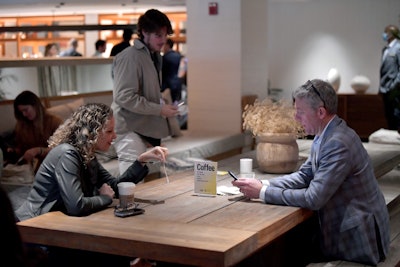 Photo: Jason Koerner/Getty Images for Vox Media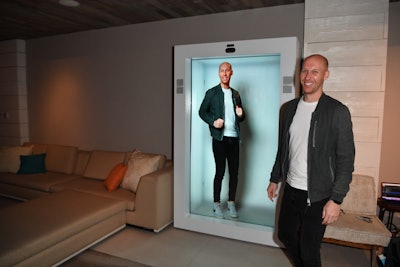 Photo: Jason Koerner/Getty Images for Vox Media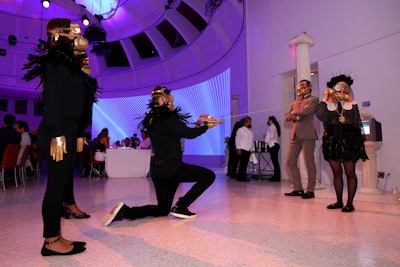 Photo: Alexander Tamargo/Getty Images for Vox Media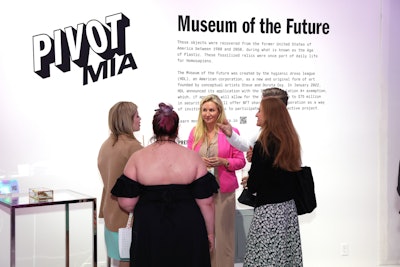 Photo: Alexander Tamargo/Getty Images for Vox Media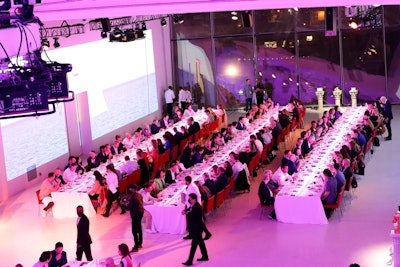 Photo: Alexander Tamargo/Getty Images for Vox Media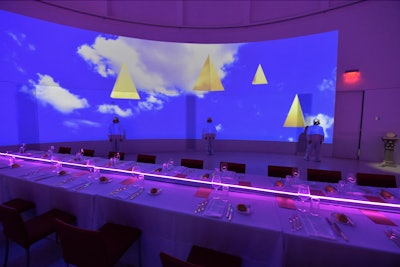 Photo: Melody Timothee/Getty Images for Vox Media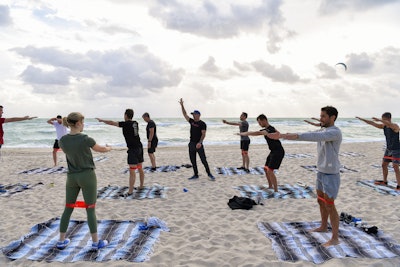 Photo: Jason Koerner/Getty Images for Vox Media