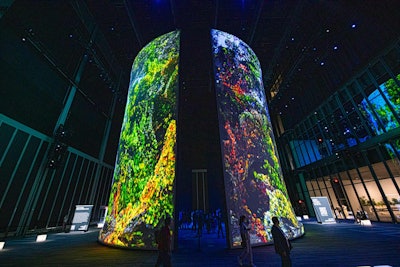 Photo: Courtesy of Jack Morton
This column offers a monthly check-in on all things event tech, from new virtual platforms to social distancing-focused tools to software that will make your job easier.
Want more content like this sent directly to your inbox? Then sign up for our brand-new BizBash Event Tech monthly newsletter to stay in the know on the latest event technology news and tools to elevate your meetings and events.
In Case You Missed It
At BizBash, we recently took a deep dive into the hot topic of data security, outlining what every event professional needs to know now to keep their attendees' information safe. We also explored five ways CVBs are successfully using the metaverse to draw attendees and business travelers to their destinations. Finally, we sat down for in-depth chats with Hubilo and Freeman, who discussed their new turnkey digital platform for virtual, hybrid and in-person events, and the CEO of AI-powered event platform Grip, who discussed how to measure event success today.
---
Spotlight On
The team at event experience platform Bizzabo has certainly been busy. Alon Alroy—who was recently named to Connect x BizBash's 40 Under 40 list—and co-founders Boaz Katz and Eran Ben-Shushan have released a book that dives into how data, audience engagement and technology drive event impact. Event Success: Maximizing the Business Impact of In-Person, Virtual and Hybrid Experiences, which debuted in late March and was published by Wiley, offers actionable insights into how to identify data maturity, engage hybrid audiences, choose the right tech vendors and more.
"As event software providers, our job is to develop technology that encourages and supports creativity. Too often, its limitations stifle creativity and inhibit event experience leaders from executing their ideas," said Katz, the company's chief data officer. "In this book, we celebrate how we are building solutions to overcome these limits—together. We want to empower today's and tomorrow's event experience leaders by providing a roadmap for utilizing current technology to innovate and drive event success." Get a copy here.
This week, Bizzabo also launched its Global Event Center of Excellence, a dedicated division to provide event expertise, education and resources to event professionals. The center, which is being run by industry veteran Lauren Grady, will curate and share best practices via events, webinars, workshops, templates, toolkits and more.
---
Event Technology We're Excited About This Month
To study analytics and improve your event ROI
Event engagement platform Airmeet has launched Airmeet 360° Analytics, designed to make it easy for clients to study and improve virtual and hybrid event ROI. The new offering gathers in-depth registration analytics, traffic demographics and details on attendee turnout, along with information on how attendees spent their time at the event and what engaged them most. The tool also allows for quick and easy audience segmentation, allowing planners to send personalized messaging that will resonate with specific attendees. Airmeet—which offers AI-driven networking and personalization features like immersive replicas of real-life venues—can scale to host as many as 100,000 virtual participants.
For real-time language interpretation at your next team meeting
Microsoft Teams has partnered with Interprefy, a leading provider of cloud-based solutions for multi-lingual online and hybrid conferencing. The new integration brings real-time language interpretation to any Teams meeting. How it works: Organizers can add a language selector to the meeting, allowing participants to speak, listen and engage in their preferred language. Interpreters can work from anywhere in the world, using the Interprefy platform to deliver translation into the required language in real-time.
To fully customize audience interaction options during a virtual event
Preciate—an interactive virtual meeting platform that allows attendees to naturally move through virtual spaces and strike up spontaneous conversations with users who are "nearby"—has launched new Presenter Settings to give hosts more control over the event using preset audio modes and advanced settings. With the simple push of a button, hosts can decide whether a speaker is presented in full-screen mode and whether users can interact with other participants in the same audio zone while a presentation is happening. There are also "push to speak" options where attendees can speak to the presenter and the entire room at one time, customizable speech mode options, classroom-style options where users can "raise their hands" and much more.
To easily organize all aspects of a hybrid event
Hopin has added new integrated hybrid event capabilities to its event technology platform. Options include the new Hybrid Event Creation feature, which allows users to build a hybrid event directly from a central organizer dashboard. There's the option to quickly choose between a virtual or hybrid event format, and include the address of the physical event powered by Google Maps. Other highlights include the ability to create hybrid tickets and other registration options, quickly build a schedule of what's in person and what's hybrid, organize the check-in area setup with QR codes and more.
---
The Latest Promotion, Funding and Merger News
EventsAIR—an Australia-based company that develops software to manage event registration, attendee engagement, operations, housing and more—has received a major investment from global private equity firm The Riverside Company. The funding will help support EventsAIR's ongoing expansion across the world, which includes the hiring of Matthew Donegan-Ryan as CEO, effective April 1. Donegan-Ryan joins the business after holding roles as Hopin, Swapcard and Cvent.
SquadUp—the event ticketing partner for The James Beard Foundation, Williams-Sonoma, the NYC and South Beach Food and Wine Festivals, and more—has announced an investment in SideChain to create an NFT ticketing platform. The new tool, NFT.SQUADUP, will feature customizable technology to allow event professionals around the world to have complete control over their event's ticketing experience, from branding and social media integration to mobile registration and on-site operations.
Business hospitality company Convene has announced a major internal promotion: Current head of technology Patrick Conroy has been named chief technology officer. Conroy will continue to lead all of Convene's internal technology systems and processes, as well as oversee the company's progress on its Studio product—a virtual and hybrid events platform that can accommodate meetings for up to 10,000 virtual attendees, including full production services.
Dan Culic is the new director of client services at Thinkingbox, where he'll focus on strengthening client relationships. Tasked with overseeing Thinkingbox's portfolio of clients out of the Vancouver office, Culic plans to bolster the output of current clients and consistently onboard new brands—both national and international—through the agency's lens of craft and curiosity.