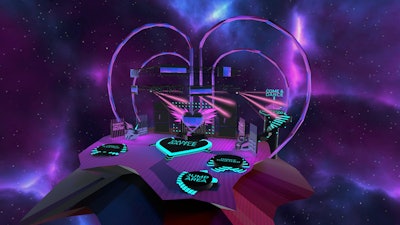 Photo: Courtesy of Rove
Want more content like this sent directly to your inbox? Then sign up for our brand-new BizBash Event Tech monthly newsletter to stay in the know on the latest event technology news and tools to elevate your meetings and events.
In Case You Missed It
It was a tech-heavy month on BizBash.com! Our reporters recently took a look at the coolest, most creative concert tech we're seeing right now. We also explored how Asia's Hackathon is shaping the future of Web3, how Chicago's largest mural festival hosted its first-ever NFT gallery, how PATRÓN Tequila hosted a metaverse-based experience, and how an upcoming comic book convention will take place entirely in virtual reality.
We also researched why some hotels are converting bookings into tradable NFTs in an effort to increase revenue and occupancy rates, learned about a new platform that allows planners to create their own metaverse, and got to know the CEO of Translit, a remote simultaneous interpreting platform that's offering free services to Ukrainian refugees.
---
More Event Technology We're Excited About This Month
To calculate the environmental impact of your events
Global travel consultancy Advito has teamed up with BCD Meetings & Events to develop the industry's first carbon emissions calculator that's certified by the International Organization for Standardization (ISO). Planners can input a wide range of data in the pre-event planning stage, and quickly learn what impact their choices have and how they can be adjusted to decrease emissions.
"We are thrilled to be able to offer our clients the industry's most robust emissions calculator that considers traditional elements, like the venue, giveaways, and food, but also measures the most important contributor to overall emissions—where attendees are coming from and how they are getting there," said Charlene Rabideau, managing director of North America for BCD M&E, in a press release. "We want to give meeting planners the tools they need to look at things like economy versus business class flights for attendees, airport transfer options, and even percentage of vegetarian meals, to help significantly reduce the emissions impact of their programs."
For on-the-go phone charging at festivals and events
ChargeFUZE is one of the newest portable charging providers on the market. The company—which recently activated at large events like the US Open and Outside Lands Music and Arts Festival—offers brandable stations where guests can scan a QR code to rent a charger. The devices offer built-in cords that are compatible with all cellular phones. Another useful feature? The chargers can be rented from one station and returned to another, making them a good choice for large-scale gatherings and festivals. ChargeFUZE was recently named the official charging provider of ASM Global's network of arenas, stadiums, theaters, and convention centers.
For an immersive hybrid workspace
Australia-based virtual venue platform Orbits recently revamped its platform and brand identity to highlight more opportunities for hybrid meetings and virtual office spaces. Orbits now offers bespoke virtual venues of all sizes and types, from global conferences and large-scale symposiums to intimate fireside chats and hybrid workplaces. New, advanced features include intuitive, isometric maps that are easily navigated and give users more choice over how they want to interact. There are also enhanced customization options, including features like custom audio that can play when users enter a digital room.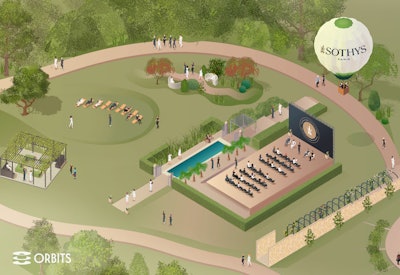 To get more media coverage for your events
PR management platform Propel has released PitchBooster, a new feature that uses artificial intelligence to discover the optimal time to email specific media outlets. PitchBooster analyzes millions of real PR pitches and studies journalist engagement, and then automatically schedules emails to go out at the time and day a journalist is most likely to engage with them. "We've analyzed the data and found that journalists are only responding to 3.25% of the pitches they receive," explained Zach Cutler, Propel's CEO and chairman. "By using PitchBooster, people in communications are able to increase their chances of getting their story seen."
To help prevent food waste
Too Good to Go, a global marketplace app for surplus food, has officially launched in Los Angeles. (The service, which has 3 million app users, was already available in 12 major U.S. cities, including New York, Chicago, Washington, D.C., and Austin.) The two-year-old app, which works closely with hotels and restaurants, but could also be a good option for businesses and event professionals, allows anyone to list their surplus food on the app instead of throwing it out. Customers can then search for food and pre-pay through the app at discounted rates.
---
The Latest Updates, Funding, and Merger News
Event tech platform Eventcombo will host the second edition of Eventicon on Sept. 15-16. The free event, dubbed "Welcome to the Eventiverse," will include an in-person, invite-only keynote and networking experience, along with a larger virtual program with over 25 expert speakers from the likes of Microsoft, IBM, SAP, and Allseated. Discussions will center around the evolving event tech landscape, with a special focus on the metaverse and NFTs.
The tech experts at DAHLIA+Agency are launching a new two-week, online course designed to help tech firms understand the U.S. business-to-business event-technology ecosystem. Launch Shift Go, which launches on Sept. 15, will feature education sessions from five experts in event-technology strategy, business development, and venture capital—including Dahlia El Gazzar, Marco Giberti, Adam Parry, and others. Registration is now open.
Hopin has unveiled a number of new product updates, including the ability to toggle visibility of specific components of an event schedule, along with clear designations of what sections of the agenda are on-site only. There are also improved insights, and the event chat now allows for threaded messages to improve the conversation flow for attendees.
BWH Hotel Group is now the first hotel chain to integrate its central reservation system with the Oracle Hospitality OPERA Cloud property management system through the Oracle Hospitality Integration Platform. This makes it easy for any hotel within the BWH Hotel Group portfolio—which includes Best Western Hotels & Resorts and SureStay Hotel Group properties—to adopt OPERA Cloud to simplify and improve operations. The group's 4,500 properties can now connect all hotel operation information on a single platform, helping them reduce operating expenses and optimize staffing.