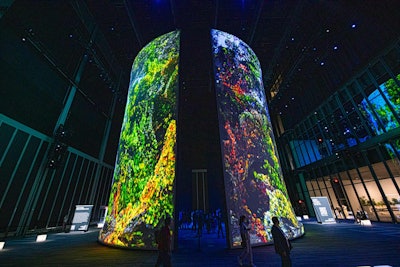 Photo: Courtesy of Jack Morton
NEW YORK—In September, brand experience agency Jack Morton teamed up with Project Liberty, an initiative from Unfinished, which was created by civic entrepreneur and real estate mogul Frank McCourt, to create an immersive experience at The Shed in New York City that blended art with data.
The experience took place at the Unfinished Live conference on Sept. 23 and 24, which drew over 1,500 attendees and included influential tech and cultural leaders focused on exploring the future of digital technology, such as solutions for a more ethical and equitable internet.
The hybrid conference, themed The Future Is Decentralized, included two days of mainstage talks, Clubhouse conversations, live podcasts, networking and interactive exhibits.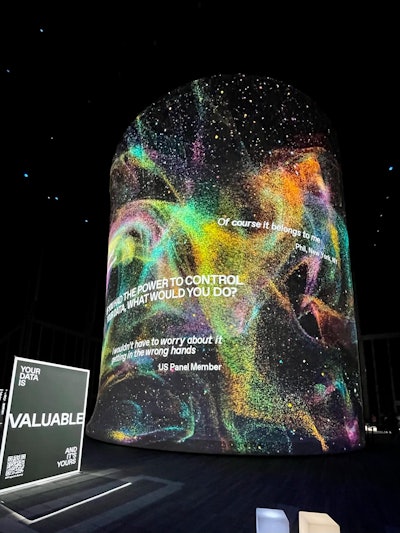 Project Liberty's mission is to create an alternative internet with an open architecture that allows people to own and control their data. The installation took visitors on an interactive journey that explored how much data we create and its value.
The public exhibit featured a 60-foot-tall cylindrical installation housed in a 17,000-square-foot light-, sound- and temperature-controlled space. It showcased an original piece by media artist and director Refik Anadol, along with an animation featuring responses to a crowdsourced survey that asked the question: "If you had the power to control your data, what would you do?"
Projected onto the cylindrical structure by 36 projectors, Anadol's piece, titled "Machine Hallucination," was composed of more than 100 million public images of New York City's architecture, cityscapes and landscapes.
"We wanted to show that when we own and control our data, it's beautiful and valuable, so we partnered with Refik Anadol who creates AI data-driven art," explained Joe Panepinto, SVP and head of strategy New York at Jack Morton. "Our challenge was creating an experience that communicated the messages very simply and engagingly."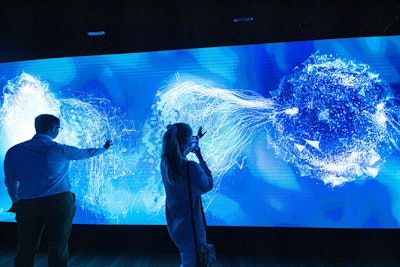 Two horizontal 45-foot-by-8-foot interactive LED screens allowed visitors to "touch and feel" the difference between the current, closed-off world of data ownership by private companies and one where folks had control. LiDAR sensors detected the attendee as they raised their hands toward the screen, breaking the plane.
LiDAR (stands for light detection and ranging) uses laser beams to create a 3D representation of the environment. "You've maybe seen LiDAR sensors on top of autonomous vehicles," Panepinto said. "In this case, the LiDAR mapped the movement of the attendees onto the 40-foot interactive screen on the interior of the activation." This tech was used to illustrate how "data that we generate as we go about our everyday activities is being 'taken' from us and put into walled gardens owned by companies who control that data," he added.
As for COVID-19 protocols, when the team began planning the experience, the city had not yet adopted a mandatory vaccine mandate, but that changed by opening day. All conference attendees were required to be vaccinated, "but since this was also a publicly accessible exhibit, we worked closely with the staff at The Shed to ensure there was a screening process in place," Panepinto added. In addition, there were mask and social distancing requirements.
"Since the exhibit was a large installation, it created plenty of space, and it was designed so people moved around and through it to view the breadth of the work, so people weren't congregating or standing still for long. Also, we had trained brand ambassadors to help move people through the work," he said.