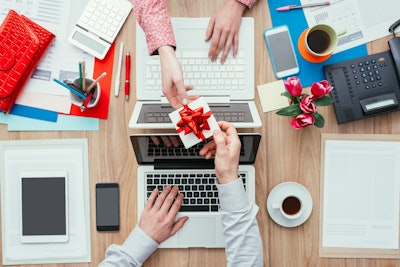 Photo: Shutterstock/Stokkete
Giving Tuesday and the holiday season are upon us, so let's rethink the predictable corporate gifts that—let's face it—might end up in a landfill. While slapping a company logo on a coffee mug, travel water bottle, or notepad-and-pen combo might seem harmless in the moment, it's cliche and doesn't necessarily always get a workforce into the holiday spirit.
But why do companies do it anyway? What constitutes an effective gift? And why is it still a token that employees look forward to, if not expected? Here, BizBash spoke to psychology professionals, corporate consultants, and event experts to find out.
Fittingly, seasoned clinical counselor Leor Ram, president of Beverly Hills-based practice Integrative Psychotherapy Group, looked to Sigmund Freud—often considered the father of modern psychotherapy—to explain corporate gifts as "manifestations of 'love and work,' as Freud might say."
At its core, "the humble swag bag emerges as a masterstroke of strategy, blending marketing savvy with psychological acumen," Ram said, noting that it's also a "token of appreciation that forges an emotional bond while subtly promoting a corporate message. This blend of gratitude and utility triggers a dopamine rush, creating a positive, subconscious brand association in the recipient's mind."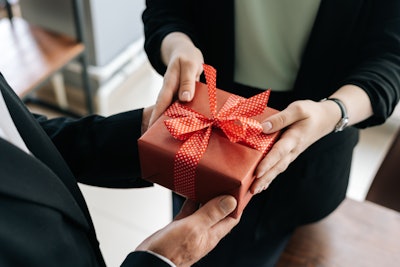 But how does a company stand out? It's not another tin of peppermint bark but rather something customizable, said Dr. Lalia Rach, executive managing director of strategic consulting services at Associated Luxury Hotels International. A touch of personalization "creates a feeling of importance and surprise, which generates lasting positives."
The proof is in the data: A survey conducted by management consulting firm McKinsey & Company earlier this year found that successful B2B organizations focus on hyperpersonalization in everything from marketing initiatives to—you guessed it—holiday handouts.
In fact, 77% of companies that said they take advantage of customization options in their marketing and sales interactions experienced an increase in market share, McKinsey reported.
Another way to stand out is to elicit surprise and delight by not sending out your swag in December like everyone else. Instead, consider gifting a token of gratitude on Thanksgiving Day or Giving Tuesday—Nov. 23 and 28, respectively—or even in the new year.
Taylor Buonocore Guthrie, co-founder of meaningful conversation-starter company Convers(ate), opts for mid-January, when she knows her gifts "are sure to stand out."
"It also plays into the science of surprise—people aren't expecting something in mid-January," she said.
Even still, a plain ol' company logo can do the trick, said Ryan S. Feigenblatt, founder and president of advertising firm The Boca Ratonian—just make sure it isn't on "a pen with ink that doesn't write smoothly, a sticky note with adhesive that instantly curls the edges, a shirt that is scratchy, or a lip balm with a nonpleasant scent."
And "while dopamine certainly plays a role, there's also a sense of community while sporting merch from beloved brands," Feigenblatt said.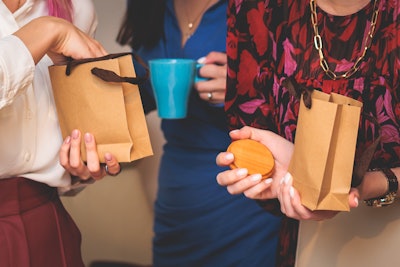 Think of it like this, added Ram, who's also a licensed marriage and family therapist: "What child doesn't like that feeling on Christmas morning when they get to open up gift after gift and feel like the most special kid in the world? I think that experience never leaves us, no matter how old we get."
Ram continued: "Whether it's a holiday, a birthday, a graduation, or any event that follows, something about receiving a gift makes us feel thought of and provides us with a sense of continuity for that magical experience for as long as that gift is useful to us."
Still not sure what to gift your team this holiday season? Get inspired by BizBash's roundup of splurge-worthy surprises here.